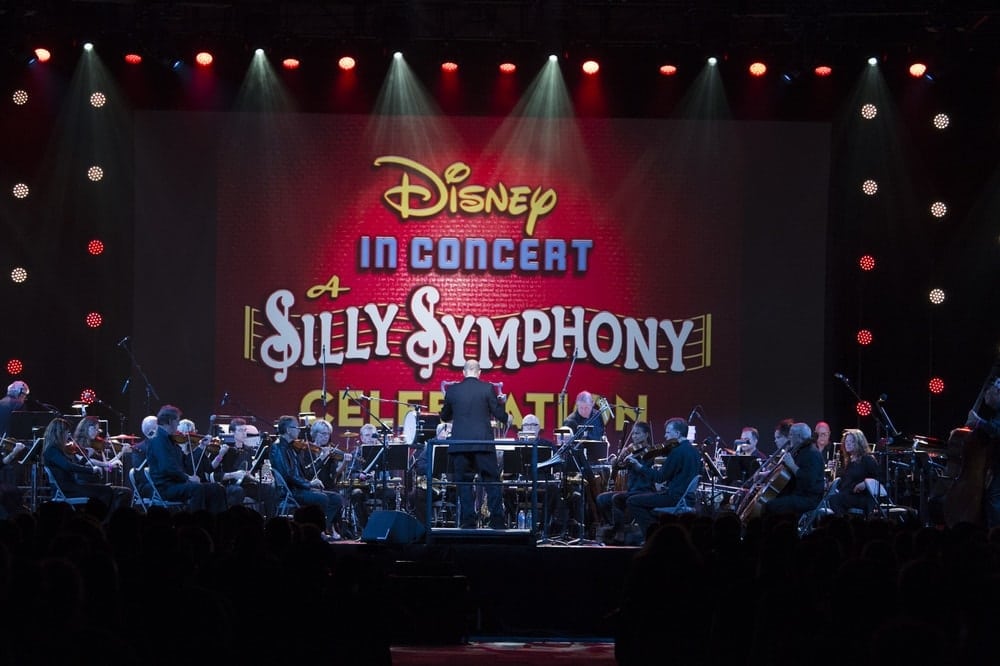 Do you remember watching Disney's Silly Symphony cartoons on TV when you were a kid? I do! It's been awhile, but I'm not sure that I could ever forget "The Ugly Duckling" or "The Three Little Pigs"— the short musical cartoons were part of my childhood! If you need a little refresher, here you go:
Silly Symphony: The Three Little Pigs - 1933
While I watched the Silly Symphony re-runs as a kid (and according to my daughter they're still running on the Disney Channel!), the originals were actually performed LIVE along with the cartoon via a 32-piece orchestra! In all, 75 Silly Symphony shorts were made from 1929-1939.
Disney in Concert: A Silly Symphony Celebration
When I was at the D23 Expo in Anaheim, California earlier this month, I was treated to a special Disney in Concert: A Silly Symphony Celebration — hosted by no other than esteemed film critic Leonard Maltin! The 70-minute presentation included select Silly Symphony shorts from Disney's archives, with music performed live in synchronization with the picture, just as it would have been recorded during the 1920s and '30s at Disney Studios on Hyperion Avenue. It really was incredible seeing the orchestra play live in front of me, just feet away, to digitally restored Silly Symphony classics like "The Skeleton Dance" and "The Old Mill"... just to name a few!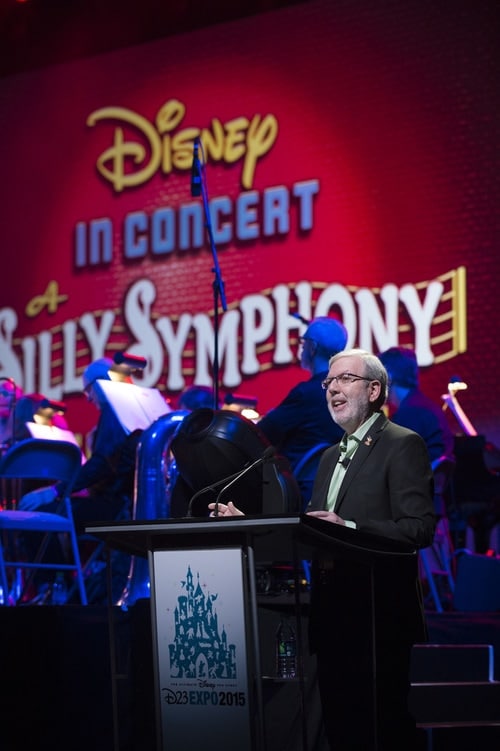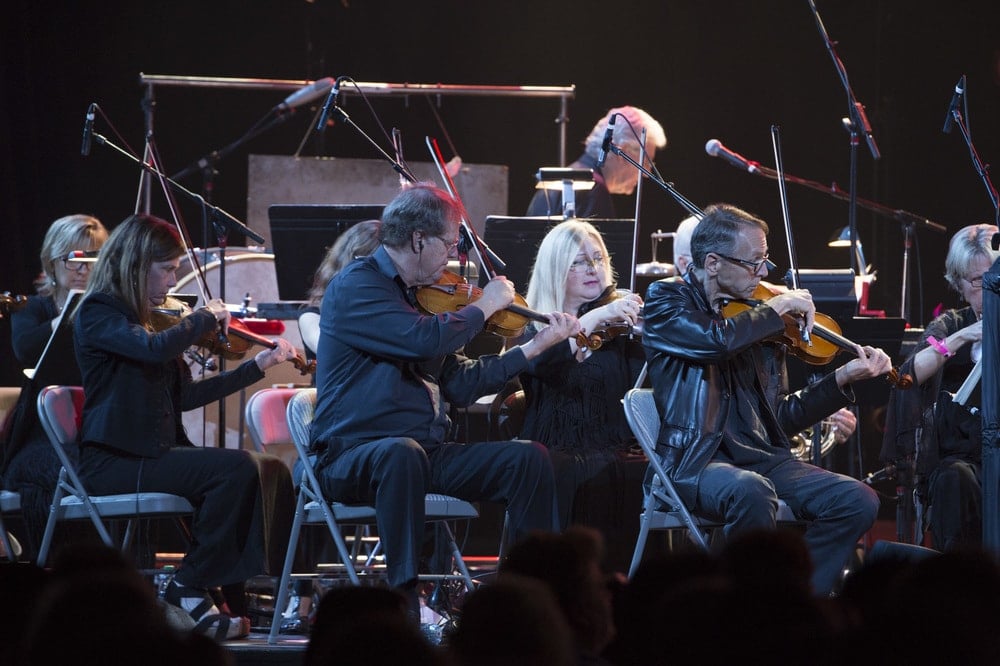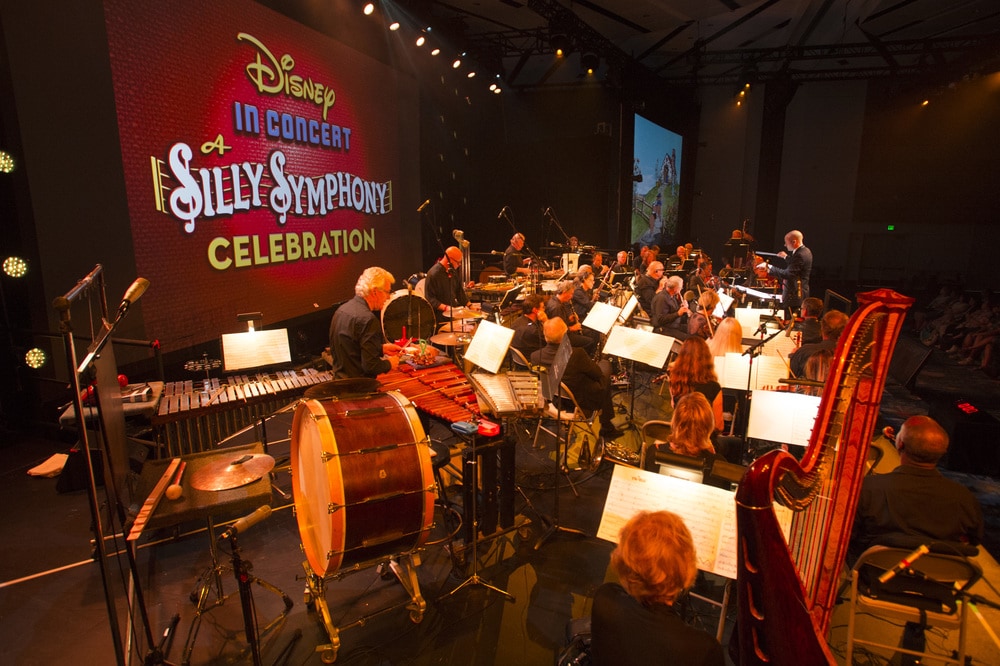 The Silly Symphony Collection
The Silly Symphony Collection is a first-of-its-kind box set from Walt Disney Records and Fairfax Classics featuring the complete restored soundtracks from all 75 Silly Symphony shorts from 1929-1939, with over 8 hours of music spread over 16 vinyl LPs. The collection is housed in 8 tip-on gatefold jackets with original animation art in a beautifully constructed foil-stamped and numbered slipcase. Soundtracks of Disney classics such as "The Skeleton Dance" by Carl Stalling, "Three Little Pigs" by Frank Churchill, and Donald Duck's debut "The Wise Little Hen" by Leigh Harline will be presented in full for the first time ever on record. Each gatefold jacket includes detailed liner notes for every short by Disney historians J.B. Kaufman and Russell Merritt, authors of the definitive book on the Silly Symphonies.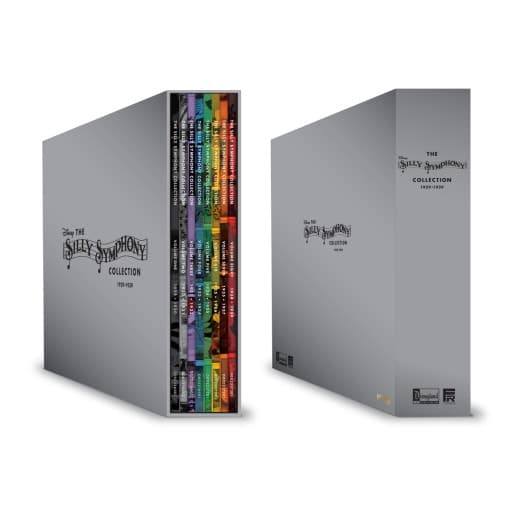 Pre-order is available at disneymusicemporium.com/silly-symphony (would make a fantastic Christmas gift for the Disney/music lover!)
For more information on The Silly Symphony Collection and Disney in Concert: A Silly Symphony Celebration, visit waltdisneyrecords.com/d23expo/sillysymphonies.html
All images: Disney/Image Group LA. Special thanks to Walt Disney Pictures for hosting me at the D23 Expo in Anaheim, California.