Dr. Seuss is, by far, one of the most beloved children's book authors. His stories are timeless, and will go on to entertain children (and adults!) for generations to come. Every year when Dr Seuss' birthday comes around on March 2, I like to pay tribute with a special treat. In the past I've shared Grinch cookies, which were a huge hit — and continue to be popular during both Christmastime and Dr. Seuss' birthday — but this year I wanted something a bit more colorful. I asked my daughter about her favorite Dr. Seuss book and she immediately proclaimed The Lorax, which focuses on the environment.
The Lorax was one of Dr. Seuss' favorite books, too, so it was only fitting that we make a fun dessert featuring the main character to celebrate his birthday. These Lorax Rice Krispies Pops are super cute, and fairly simple to make with a Mustache chocolate mold and Runts banana candies.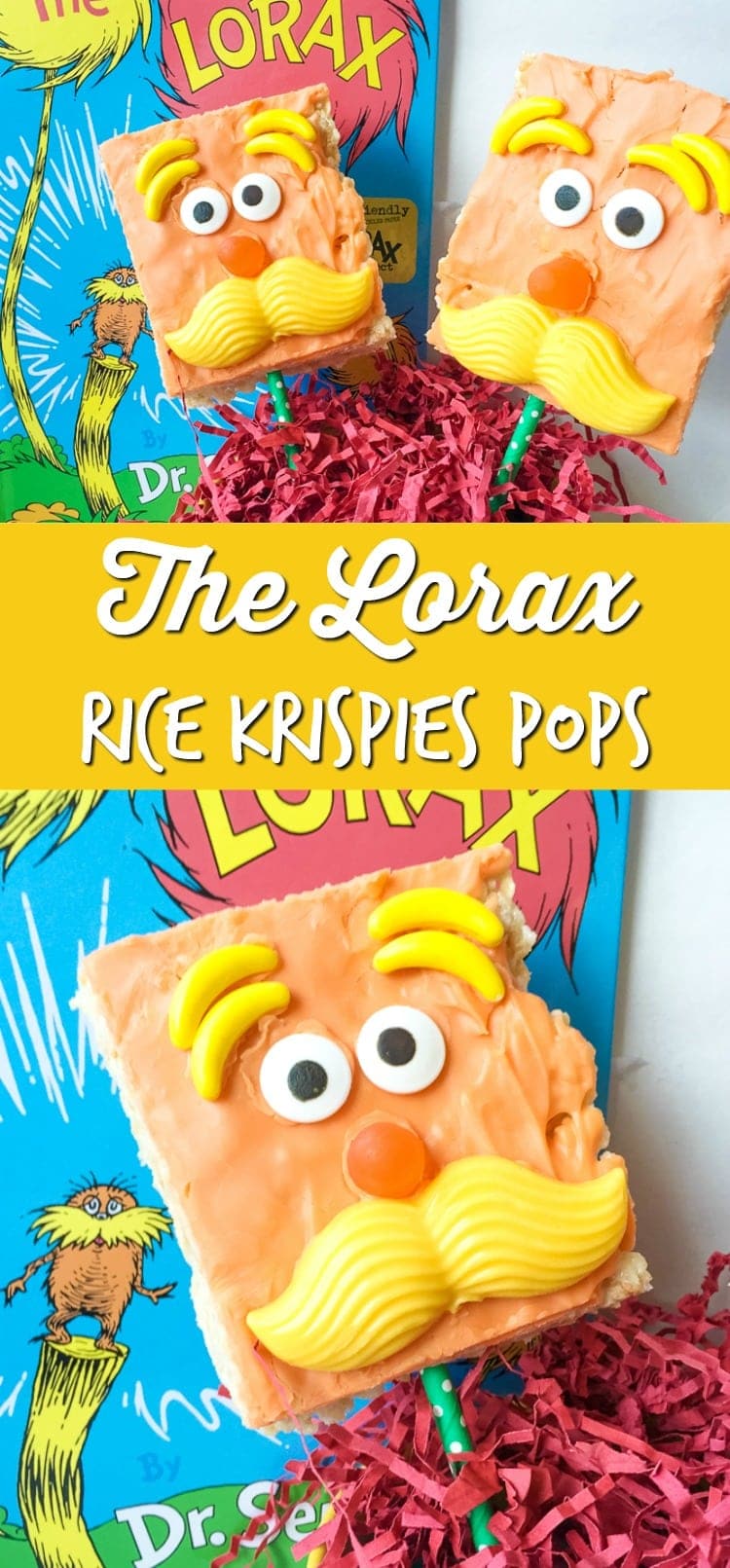 The Lorax Rice Krispies Pops Recipe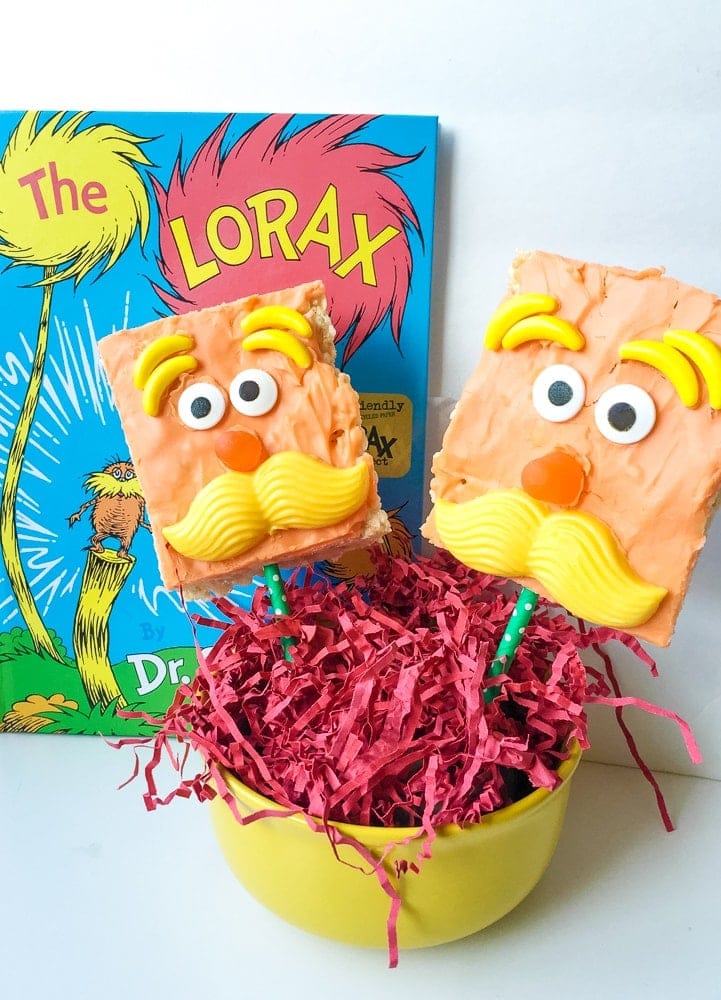 Dr Seuss The Lorax Rice Krispies Pops
Ingredients
FOR RICE KRISPIES
1

cup

2 sticks unsalted butter

Two 10 oz. bags of marshmallows

10

cups

Rice Krispies cereal

1/4

teaspoon

salt

optional
FOR LORAX RICE KRISPIES
Prepared 9 x 13 pan of Rice Krispies

see recipe above - cut into 6 large bars

Mustache candy mold

1

T

solid shortening

2/3

cup

yellow Wilton chocolate melts

2

T

solid shortening

1

cup

orange Wilton chocolate melts

24

yellow Runts candies

12

Large Wilton candy eyes

6

orange Dots candies

Lollipop sticks
Instructions
Line a baking sheet with wax paper and set aside.

In a small microwave safe bowl, microwave 1 T shortening for 40 seconds or until melted.

Add the yellow chocolate melts and stir until completely melted.

Pour the melted yellow chocolate into the mustache molds and refrigerate for at least 1 hour.

In a medium microwave bowl, microwave 2 T solid shortening until melted.

Add the orange chocolate melts and stir until completely melted.

Spread the melted orange chocolate on the top of each Rice Krispies bar. Lay each bar on wax paper lined baking sheet.

Before the orange chocolate "sets" on each Rice Krispies bar, add the candy eyes, Runts for eyebrows and Dots for the nose.

Lastly, lightly press a yellow chocolate mustache onto each bar and set aside for at least one hour to "set."

Insert a lollipop stick into each bar.