Easy Strawberry Shortcake Jars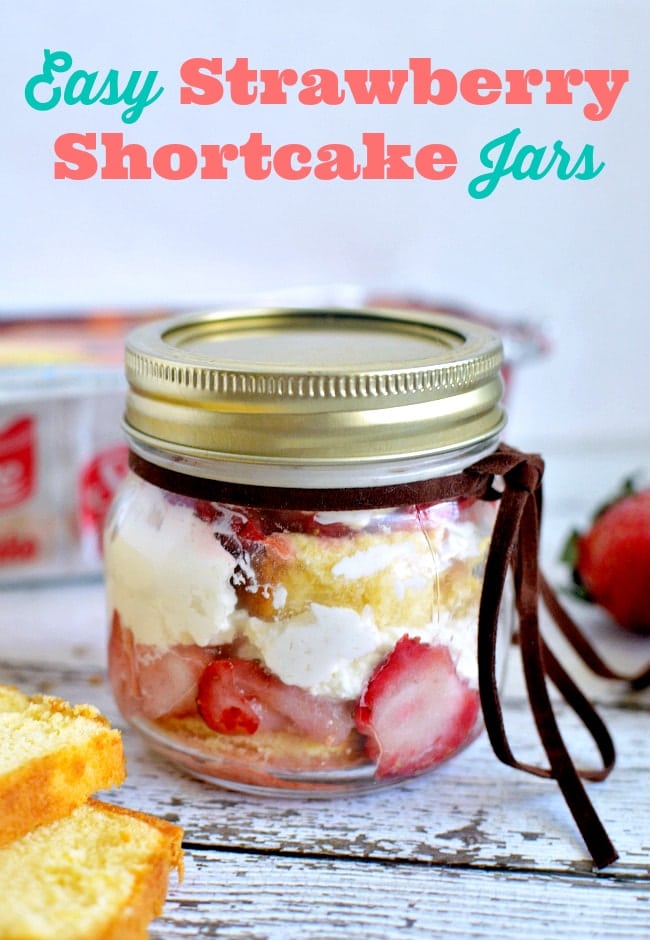 A few weeks back I shared a recipe for some amazing French Toast Pound Cake made with slices of Sara Lee All Butter Pound Cake. It's a decadent take on standard French Toast, and for extra special occasions, it's totally worth the calorie splurge!
Today I'm back with an even simpler recipe— one that my mother used to make for me when I was a little girl: Strawberry Shortcake. The great thing about Strawberry Shortcake is that it can be made easily without even turning on the oven. The secret is, once again, Sara Lee Pound Cake, which is moist and delicious within minutes from the freezer.
Other than Sara Lee Pound Cake, you just need a few more simple ingredients, including fresh Driscoll's strawberries, heavy whipping cream, and a little sugar and vanilla extract. You could take the (even) easier way out and use canned whipped cream, but I think homemade is worth the extra 3 minutes. I also like to prep and serve my strawberry shortcake in half-pint mason jars— the size is perfect for a sweet treat and they store easily in the fridge until ready to serve. I also like the way it tastes when all the flavors meld together.
Easy Strawberry Shortcake Jars
Strawberry Shortcake Jar Ingredients
(makes one half-pint jar - increase as needed)
2 ¾-inch slices of Sara Lee All Butter Pound Cake
5 fresh Driscoll's Strawberries, de-stemmed, sliced & sprinkled with a teaspoon sugar
2oz heavy whipping cream
1 teaspoon sugar
½ teaspoon vanilla extract
How to Make Strawberry Shortcake Jars
With the mouth of the mason jar, cut a circle in each slice of pound cake. Start to layer the shortcake in the jar, starting with one slice of pound cake.
Add half of the sliced strawberries to the jar, creating the next layer.
In a small bowl, whisk heavy whipping cream with sugar and vanilla until light and fluffy. Add a spoonful of whipped cream on top of the strawberry layer.
Repeat with the second layer of pound cake, strawberries, and whipped cream.
Place lid on the mason jar and store in the fridge until ready to serve. Then dig in!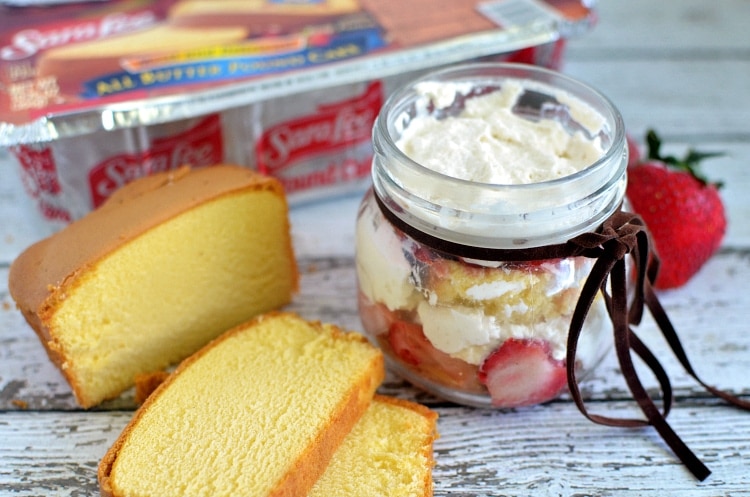 #spon: I'm required to disclose a relationship between our site and Sara Lee. This could include the Sara Lee providing us w/content, product, access or other forms of payment.