My husband and I have been dreaming about the Party for the Senses at Epcot for years now. Its one of those events that we talk about doing every year, just once, to experience for ourselves. Rick and I are both foodies who love wine and other alcoholic beverages (in moderation), so it seems like a no-brainer. Except for the cost. The Party for the Senses does not come cheap at $135 a ticket.
We were fortunate enough this year to be invited along with some of the other Florida magical moms and their husbands. We attended the October 17th Party for the Senses with the theme, Celebrating Classical Cuisine.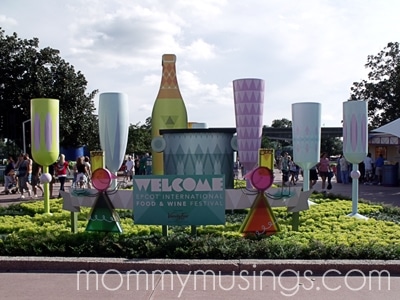 The party is held every Saturday during the Food and Wine Festival at Epcot.  Party for the Senses is a 2 ½ hour event lasting from 6:30-9:00pm and is located in Epcot between Canada and the United Kingdom.
You check in before the party and receive a bracelet that lets you in at 6:30pm.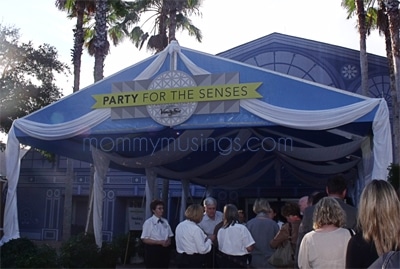 As you enter, you receive a wine glass (which you get to keep) as well as a plate to sample the food.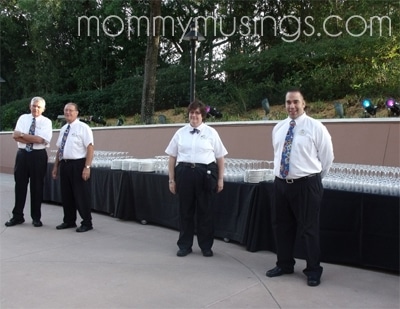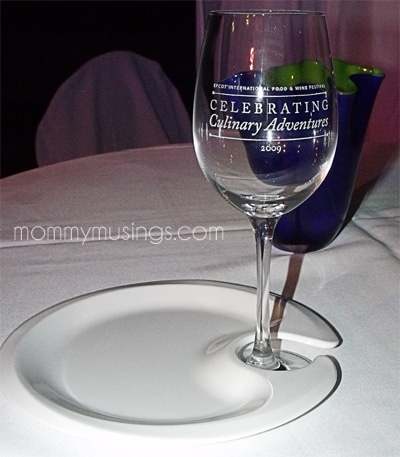 My husband and I were one of the first people inside, but it did not stay empty for long.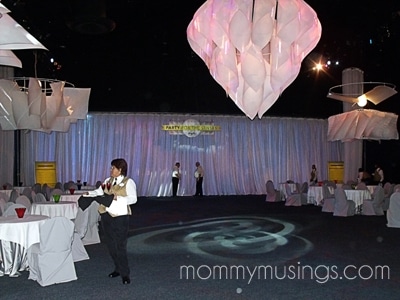 This year there is a VIP section called the Wine View Lounge. For an extra $75 per person you receive assigned VIP seating, open bar, a gourmet cheese station, and some other nice perks. You also receive one of these upon arrival- a wild hibiscus sparkling wine. There is a real flower in there! We were not VIP, but for some reason they still handed us one...so we drank it! I really enjoyed this cocktail.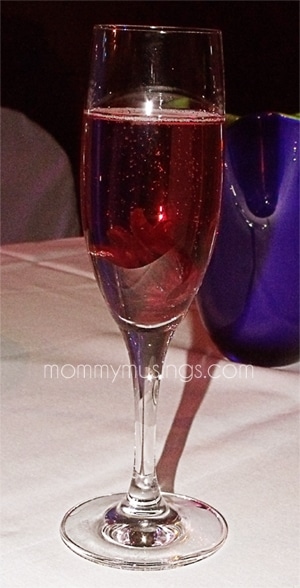 Here is the list of previous and upcoming Party for the Senses themes.  The next one is October 24th, Celebrating Asian Cuisine.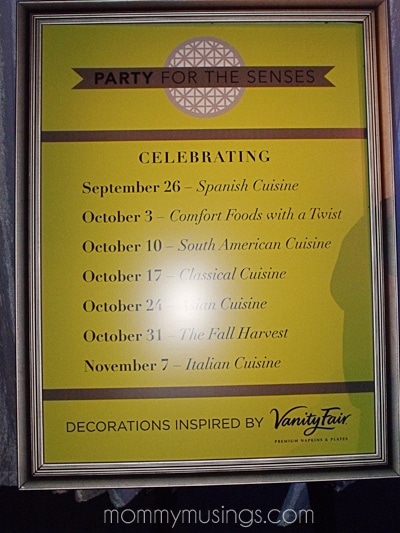 Waiting for the curtains to open, and the party to begin!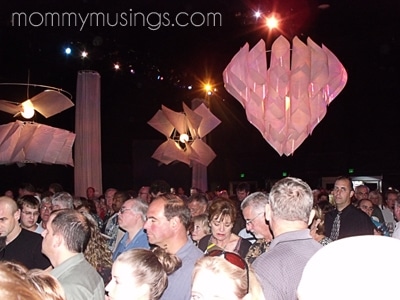 Each section of the party is designated by shapes that are above the food and wine stations. This coordinates with the party guide which lists all the chefs and food/wine offerings for the evening.
We did not use the guide or the shapes and just made our way to every station. We also did not sit down once, and made use of standing at available bar tables.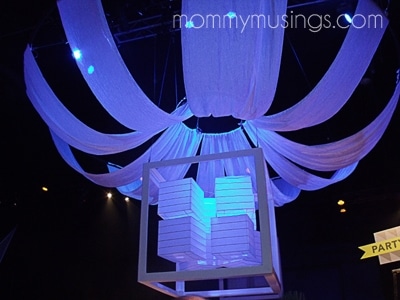 There is a sign for each station with the Chef, location, and dish they are preparing. This scallop dish was one of the first things I tried, as well as one of my favorites.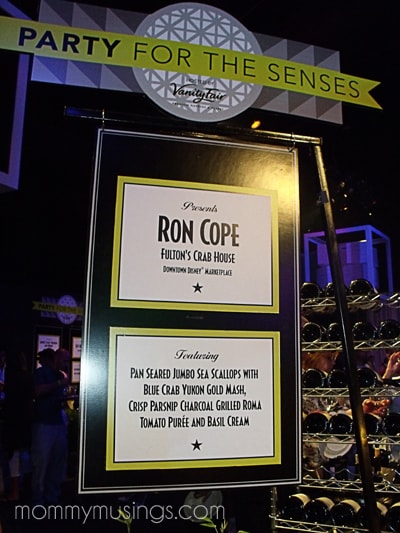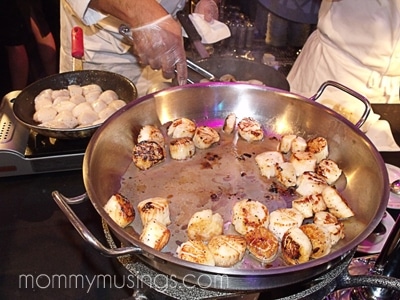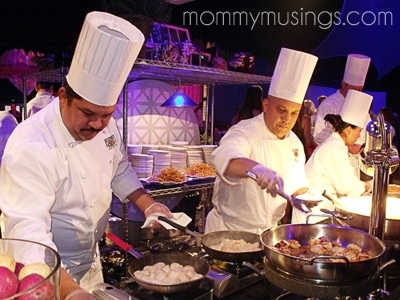 I ate my scallop dish too quickly to get a picture, but here is my lamb from the next station. Each dish is the perfect sampling size, and you may go back as many times as you like throughout the evening. The same goes for the wine.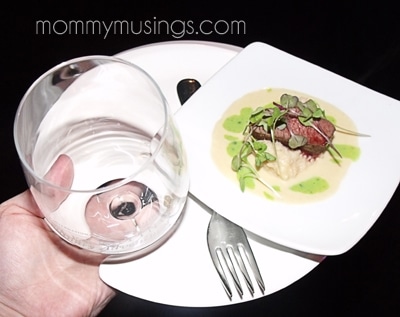 There were also 2 cheese stations with accompaniments. I love me some cheese, and this stuff was good. Presented by iGourmet.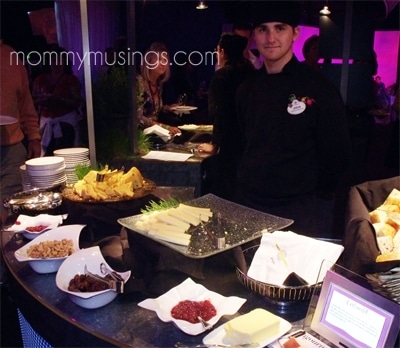 One of my favorite stations was the Moet & Chandon Champagne booth. I LOVE Champagne. If I recall, I made 4 trips to this booth and got to know the reps quite well. My favorite champagne was the Moet & Chandon Nectar. SOOOOO GOOD.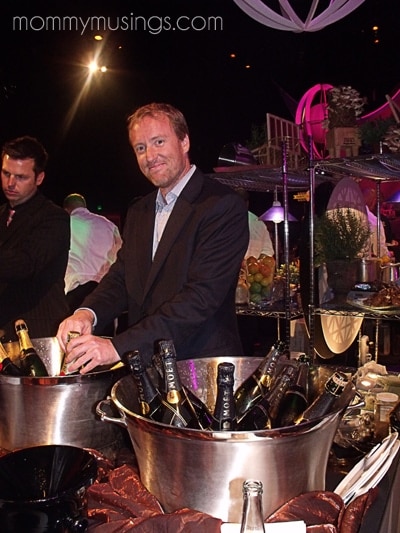 My favorite beverage booth was the Bacardi Mojito booth. Let's not talk about how many of those I had....
My favorite food item was a herb crusted lamb chop. I am still dreaming about that one. Delicious.
Here is Leigh from Theme Park Mom sampling some of the cheese from iGourmet.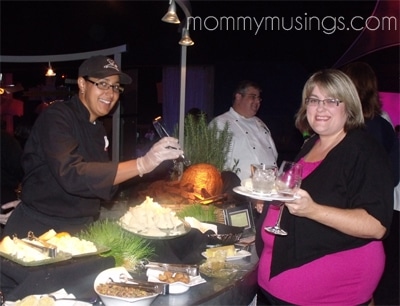 As you can see it is a pretty big venue and there was a fair amount of people in attendance that night. I had heard that the VIP section was completely booked for this evening.
Overall I had an AMAZING time. One of those nights that I won't soon forget. It was also a great date night for my hubby and I. After experiencing Party for the Senses, I can definitely recommend this event-- even at $135/ticket.
Thank you Laura and Leanne, and all the other moms for making this a great evening!
If you are interested in attending one of the upcoming Party for the Senses, call 407-WDW-Fest to make a reservation.