This post is sponsored by Make Your Money Matter, in association with PSCU, though all views expressed are my own.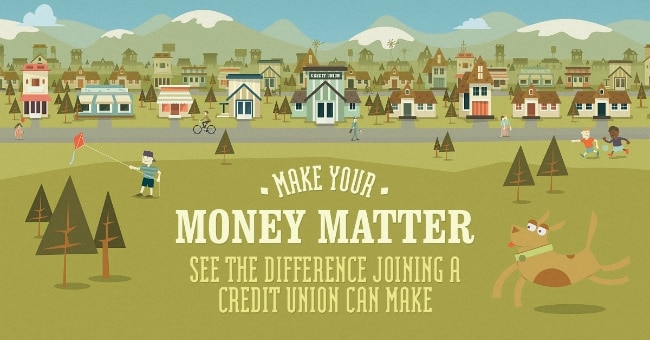 How much do you know about credit unions? To be honest, I always thought you had to have a government jobs or be a teacher to join a credit union. But that's completely not the case.
Credit unions are not-for-profit cooperatives that exist solely to provide financial services to their members, and anyone can find one that he or she is eligible to join. Services provided by credit unions mirror those of big banks, but that's where the similarities end. Members, not corporate shareholders, own the credit union. That means all the profit that credit unions bring in goes back to members in the form of dividends, rebates and lowered interest rates.
On average, credit unions offer lower interest rates on loans and higher interest returns on investments, as well as lower fees for checking accounts, ATM surcharges, overdrafts and stopped payments.
I've been with the same bank for over 15 years, but as I've gotten older, I have become more concerned with where my money is actually going. With a big bank, 97% of the money you deposit leaves the community and all of the profits go to the shareholders, not the members. Loans are harder to get approved for and interest rates are almost always higher. When you think about it, there's no real advantage to using a big-name bank.
My husband and I are considering buying our first home within the next few years and after discussing the advantages of credit unions with a family member who belongs to one, I've decided that joining a local credit union might be a better solution for us, long-term. I'm still going over the benefits, and I will be back next month to share my findings -- until then, do you belong to a credit union? 
About Make Your Money Matter
"Make Your Money Matter" is a grassroots campaign introduced by eight credit unions from across the country and PSCU that aims to educate a new generation of consumers about the wealth of benefits credit unions provide over big banks.
The impetus for this joint campaign came from the fact that credit unions offer all the products and conveniences you'd expect from a big bank, but unlike those big banks, credit unions are built around strengthening communities by providing low-interest loans and giving all their profit back to members, truly 'making your money matter,'" said Fredda McDonald, Executive Vice President, PSCU, a leading provider of traditional and online financial services to credit unions. "With membership, the money you deposit stays in the community – your dollar could become somebody's college degree or a loan for a family's first home – and it's these types of reinvestments that draw local-minded consumers intent on consumption that keeps communities growing. For more info visit www.makeyourmoneymatter.org.