Finger Lakes Wine Country, New York offers visitors a wide range of fall harvest activities to choose from when visiting in the autumn months. Visitors can attend exciting fall festivals, enjoy unique museum events, experience harvest at the award-winning Finger Lakes wineries, and take advantage of fall-themed savings by booking a Fall into Wine Country package at participating accommodations like the Inn at Glenora Wine Cellars on Seneca Lake, the Holiday Inn Express in Horseheads, the Holiday Inn Riverview in Elmira, the Best Western Vineyard Inn and Suites, and the Watkins Glen Harbor Hotel.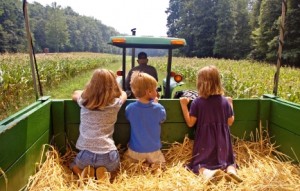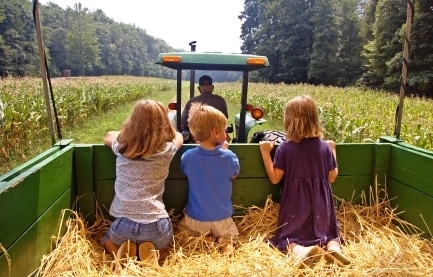 Visitors who book a three night stay at a participating accommodation will receive the Fall into Wine Country passport. The passport offers visitors exclusive fall season experiences and deals throughout Finger Lakes Wine Country. Receive a complimentary wine tasting at Hunt Country Vineyards and Lucas Vineyards. Receive gifts with a wine purchase at both Hazlitt 1852 Vineyards and Glenora Wine Cellars. Receive private tasting experiences at wineries such as Lamoreaux Landing, Three Brothers Winery, and Kings Garden Vineyards. The passport also offers VIP seating at Veraisons Restaurant at the Inn at Glenora Wine Cellars, and complimentary glasses of Finger Lakes wine with the purchase of two appetizers at the Coldwater Bar at the Watkins Glen Harbor Hotel.
Fall is a popular time of year to visit Finger Lakes Wine Country and it's no wonder why. The fall foliage is some of the most gorgeous in the country. Rolling hills and even the vast landscape of vineyards become speckled with rich red, orange, and gold. The fall also means harvest time in Wine Country. Take part in harvest festivals where you can pick, sample and buy the freshest Finger Lakes produce and even take part in grape stomping. U-pick farms are a wonderful way to spend time with the family. The Finger Lakes offers a variety of locations to pick apples, berries, pumpkins and a plethora of other fruits and vegetables.
A sampling of premier fall events in Finger Lakes Wine Country
Harvest Hoopla on the Cayuga Wine Trail
September 1-30, 2010 - A month long celebration of events at each of the 16 wineries. Each winery is hosting an event to celebrate the Harvest. Enjoy fine wine, great food, music and much more. www.cayugawinetrail.com
Twain at the River in Elmira
Each Saturday of September will bring a different "Twain at the River" event.
September 4, 2010 – Trolley to the River; September 11, 2010 – River Bike/Hike Tour; September 18, 2010 - Samuel Clemens Croquet Tournament; September 25, 2010 – Model Huck Finn Raft Race.
www.marktwaincountry.com
Glass Harvest at The Corning Museum of Glass
September 7 – November 30, 2010 (Specific dates vary)
Crystal City Jazz & Harvest Festival
September 10-11, 2010 - Friday night, enjoy live jazz and blues performances throughout Corning's Gaffer District, wine and beer tasting and complimentary limousine shuttles. Bring the family on Saturday for children's activities, hayrides, eating contests, a scarecrow competition and Farmers Market. www.gafferdistrict.com
Grand Prix Festival in Downtown Watkins Glen (N. Franklin St.)
September 10, 2010 - Celebrate the road racing heritage of Watkins Glen. The featured highlight of the Festival is a tribute to the original Grand Prix races using the original 6.6 mile road course. The festival is free to attend. www.grandprixfestival.com
Glenora Wine Cellars U.S. Vintage Grand Prix at Watkins Glen International
September 10-12, 2010 - The Glenora Wine Cellars U.S. Vintage Grand Prix celebrates racing's history at the largest vintage racing event in the country featuring historic cars of the past from as far back as the 1930's. Held in conjunction with the Grand Prix Festival in the Village of Watkins Glen. Weekend tickets are $35 in advance and $45 at the door. Children 15 and under are free. www.theglen.com
German Festival at Lucas Vineyards
September 12, 2010 - Festivities at the event will include Live Music by The Enzian Bavarian band and dancers, grape stomping, alphorn and polka contests, balloon art, face painting and costumes. The event will feature Lucas Vineyards medal winning Dry & Semi Dry Rieslings and Gewürztraminer. Local vendors will be on site selling German food, grape pies, gourmet chocolate, wine ice cream and jewelry. $3 per person, children 12 and under are free. www.lucasvineyards.com
Harvest Tapas at Fox Run Vineyards
September 16 & October 7, 2010 - Executive Chef Heather Tompkins will present a platter with 4 portions each paired carefully with Fox Run Vineyards wines. Winemakers Peter Bell & Tricia Renshaw will present the wine and be here to talk about the pairings. Tickets are $20. www.foxrunvineyards.com
Harvest Tour of Food & Wine on the Keuka Lake Wine Trail
September 18-19, 2010 - Experience the incomparable beauty of the fall season and taste foods bursting with the flavors of harvest time in the heart of the Finger Lakes. Come taste the exquisite wines of Keuka Lake and sample fine dishes prepared from the finest locally produced foods. Join us in celebrating New York's agricultural heartland an experience that is certain to delight the tastes, please the eyes and warm the soul. Tickets are $25 per person in advance, $30 per person at the door, $19 per person Sunday Special in advance. www.keukawinetrail.com
Leaves & Lobsters at Glenora Wine Cellars
September 18-19, 2010 - An unbeatable combination of live music, the autumn view of Seneca Lake and a "Down East Lobster Feast." Lobster Dinner ticket is $50 per person, general admission ticket is $15 per person. www.glenora.com
First Friday at the Rockwell Museum of Western Art
October 1 & November 5, 2010 – Friday evening enjoy free admission to the museum along with Finger Lakes wines and cheeses. www.rockwellmuseum.com
A Taste of the Finger Lakes at the Watkins Glen Community Center
October 7, 2010 – A Taste of the Finger Lakes will capture the essence of culinary creations and farm fresh produce during the "heart of the harvest," while displaying numerous local restaurants, farm markets, wineries, breweries and other food vendors in the area. All under one roof, attendees will have the opportunity to come see, sample and socialize while enjoying a variety of fabulous Finger Lakes fare on this special evening. Tickets are $35 per person in advance, and $40 at the door. www.watkinsglenchamber.com
Monster Ball at the Holiday Inn Elmira
October 29, 2010 – Enjoy the Halloween-themed costume party at the Holiday Inn Elmira. www.fingerlakeshotels.com