In my pursuit of saving more money I have started doing something I don't normally do. cook. at home.
Yep, this past week I made my very first roast. It came out so well that I cooked another one. 2 in one week!
Chuck Roast - $5.50 (after coupon)
Baby Carrots - $.50 (after coupon)
Bag of Onions - $1.99
Mashed Potatoes - Free with coupon
I have made 2 meals out of this by cutting the 2 1/2lbs. meat in half.
Per meal, I used half a bag of baby carrots and 1 onion along with the meat. I added red wine and a little water to add some flavor. It was delicious! Potatoes were on the side.
The second half of the meat I vacuum sealed with my food saver with another onion and the rest of the carrots and stuck in the freezer.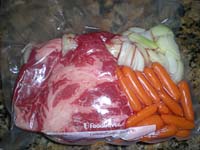 I now have an extra meal to put in the oven or crock pot whenever I need it! In total each meal would cost less than $5!
From now on I plan to make double, or split in half most dinners and start sealing and freezing them.