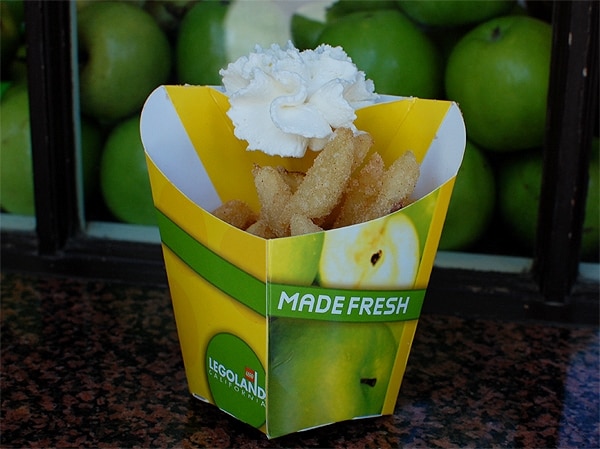 Before I ever made it to LEGOLAND California, I heard time and time again that I had to try the apple fries. I am not one to pass up a signature treat, and as it turns out, apple fries were invented at LEGOLAND. So what exactly are they?
They're fried granny smith apple pieces that are dusted with cinnamon sugar and served with a vanilla cream dipping sauce. Yum!
Once I entered LEGOLAND CA, I made it my mission to find them. Fortunately, they are only served in the Castle Hill section of the park at the appropriately named "Granny's Apple Fries". I say fortunately because if they were served all over the park, I would be in big trouble.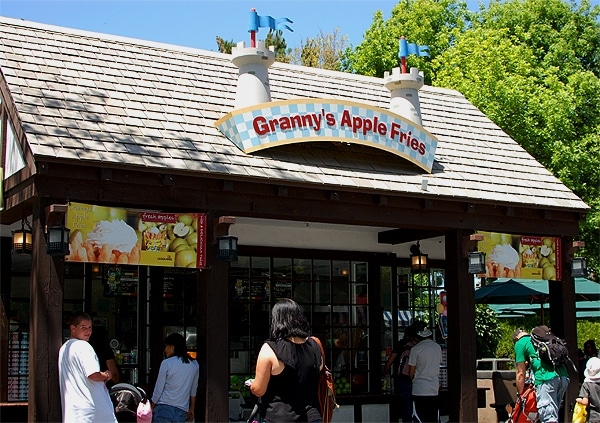 One serving will set you back $4.95, and while it's not the cheapest snack in the park, it is the most delicious-- they're totally worth the splurge!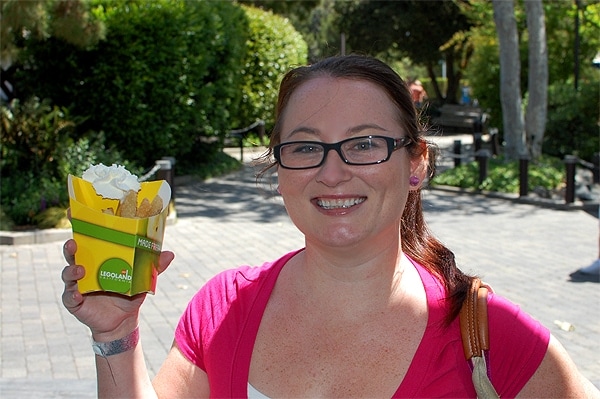 I found that I loved the apple fries even without the vanilla cream sauce. The sauce added an extra bit of sweetness that the apple fries on their own didn't need...they were just that good plain. I didn't get a chance to see how the fries were made, but I am guessing once the apples are peeled, cored and sliced, they are flash fried in oil and are immediately rolled in cinnamon sugar and then served. The vanilla creme sauce looked (and tasted) like flavored whipped cream.
The whole concept seems easy enough, but this was the first time I've had this treat anywhere. If you are visiting LEGOLAND California, Granny's Apple Fries needs to be on your must-try list. I'm pretty sure kids love them too!
Now, the real question-- will Granny's Apple Fries be served at LEGOLAND Florida?