There are heaps of benefits to getting out into the wilderness and going camping with your loved ones. A chance to unplug from our ever-increasing digital world is always welcome, and you'd be surprised at how little you'll miss the constant buzzing and dinging of notifications. Nights spent around the campfire with a hot cup of tea or a cold beer are priceless, and seeing the joy in your kids' eyes as they experience the great outdoors is pretty incredible, too.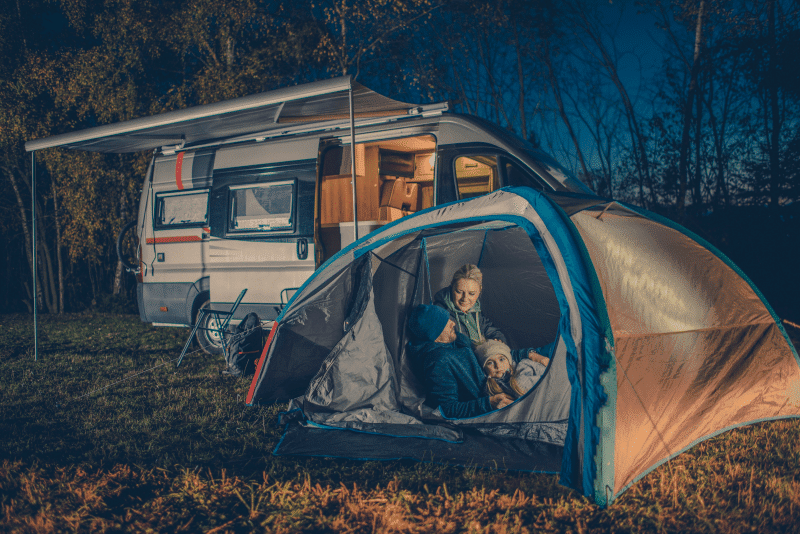 But camping isn't something you can just up and do without some preparation. Let's work our way through the happy camper checklist and find out exactly what you need to bring along!
Let There Be Light
One thing that you cannot go without when camping is some artificial light. As soon as the sun goes down you're left with the chirping of crickets and pitch darkness. An LED Lenser flashlight comes in handy here, especially one that you can attach to your head so your hands are free to cook, clean and potter around. A lantern or two also doesn't go astray. Pop on your camping table and another in your tent so that you can see what you're doing at dinner time and as you may your way to bed at the end of a long, relaxing day.
Tents and Mattresses
Another essential item is a tent. This can range from a simple, one-person set up to a full-blown multi-room family tent. What you choose will, of course, depend on your needs and how many people you need to sleep comfortably. A word of advice - it can be tempting to purchase your tent from a discount or bargain department store but these are usually manufactured using cheap materials that aren't designed to last. It is worth spending a bit of money on a decent tent that will last you many years.
The next step is to invest in a good, comfortable camping mattress. You're spoiled for choice here. You can opt for a simple, roll out mat, or a self-inflating mattress or an inflatable one. It really depends on how comfortable you want to be. If you're going to be spending a few nights sleeping on something then it can be worth getting something that will be comfortable, otherwise, you may find yourself waking up with aches and pains.
Sunscreen and Hats
It's important that the whole family stays summer and skin smart. This means sunscreen and hats. Not all sunscreens are created equal - check out this recent list of the best on the market. Equip yourself with a good brand of sunscreen and ensure everyone has a wide-brimmed hat. While you're at it, grab some strong insect repellent too. The flies, bugs, and mosquitoes are going to be out in force and they're all going to want a piece of you.
Get Walking
When investigating your camping spots, try to pick one that has some decent bush walks nearby. Look for a mix of walking trails. A short walk is best if you have young kids who will tire quickly, while if your family is a bit older than they may be capable of a longer hike. A good bush walk is a solid bonding experience that will get your family closer to nature and closer to each other.
Happy Camping!
There you have it. Make sure to bring a decent torch, and don't forget to pack a tent! A good comfortable mattress is a must, and be sun smart with your sunscreen and hats. Go for a decent bush walk to connect to nature and enjoy each other's company. Happy camping!