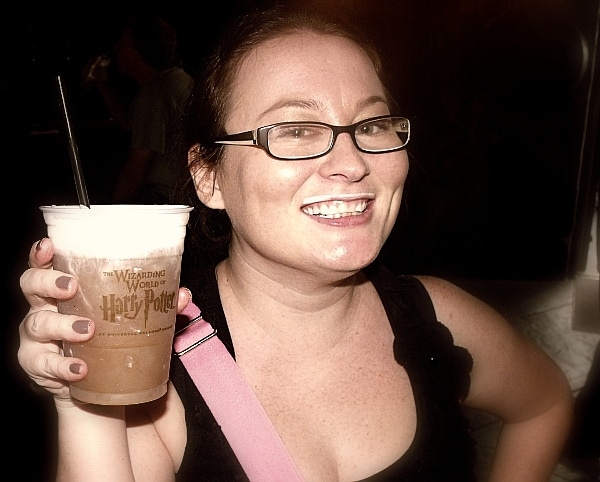 If you haven't visited The Wizarding World of Harry Potter (and you are a Harry Potter fan), the absolute first thing you need to do upon entering is have a Butterbeer.
It is the most amazingly delicious dessert/drink you will ever experience. It's very sweet with a butterscotch taste, and a head of marshmallow-y foamy goodness. It's very hard to describe because there is nothing like it ANYWHERE.
My only recommendation is to enjoy it frozen, even on a cold day. I have heard from multiple sources that the unfrozen Butterbeer is much too sweet and just isn't t the same...who can say NO to a slushy anyway? You will not be disappointed.
With all this being said, The Wizarding World of Harry Potter at Universal Orlando just served up its millionth Butterbeer. I am sure there will be millions more.
In celebration of selling its millionth Butterbeer inside The Wizarding World of Harry Potter, Universal Orlando Resort shared 1,000 complimentary Butterbeers with guests on the streets of  Hogsmeade.

Butterbeer appears as a favorite drink inside the Harry Potter books and films and is only available inside The Wizarding World of Harry Potter.  It is a nonalcoholic, frothy drink reminiscent of shortbread and butterscotch and is served cold or frozen.

Much has been written about Butterbeer since it made its debut on June 18, 2010, making it one of the most talked about beverages of 2010.  There has been much speculation about its secret ingredients – but Universal Orlando will not share the closely guarded recipe. Universal has implemented special security procedures to protect the details.

Butterbeer quickly became a guest favorite.   To help meet the strong demand, Universal Orlando added a fourth Butterbeer location within The Wizarding World of Harry Potter.

"You can see the excitement on our guests' faces as they wait in line – and then the smile that comes with their first sip," said Ric Florell, General Manager and Senior Vice President of Resort Revenue Operations for Universal Orlando.  "Butterbeer is not just a beverage. It's an experience."

Inspired by J.K. Rowling's compelling stories and characters, The Wizarding World of Harry Potter is the most spectacularly themed environment ever created. It is the only place in the world where the wonder, excitement and adventure of the Harry Potter books and films come to life.