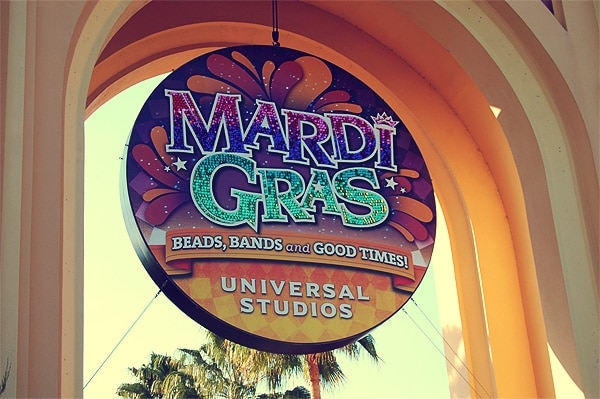 Mardi Gras may be over in New Orleans, but the party is just getting started at Universal Orlando.
A few weeks ago I was invited to Universal Studios Orlando to learn how to make a mean gumbo just in time for Mardi Gras. After my culinary class, I got the opportunity to check out Mardi Gras at Universal Orlando, and then ride one of the floats in the Mardi Gras parade.
It was pretty cool.
Mardi Gras at Universal Orlando takes place on select nights and weekends through April 23.
Here are the dates and concert schedule:
Saturday, February 12      Frankie Valli & The Four Seasons;  Big Al & The Heavyweights
Saturday, February 19      The B-52s;  Lil Malcolm & the House Rockers
Sunday, February 20      KC & The Sunshine Band;  Lil Malcolm & the House Rockers
Saturday, February 26      Pitbull John;  Lisi & Delta Funk
Saturday, March 5      Lynyrd Skynyrd;  Grady Champion
Saturday, March 12      Foreigner;  Honey Island Swamp Band
Friday, March 18      Neon Trees;  J.J. Caillier & The Zydeco Knockouts
Saturday, March 19      The Roots;
Friday, March 25      OneRepublic;  Soul Project
Saturday, March 26      Blake Shelton;  Soul Project
Friday, April 1       Sean Kingston;  Lil Brian & The Zydeco Travelers
Saturday, April 2      Ne-Yo;  Lil Brian & The Zydeco Travelers
Saturday, April 9      Lifehouse;  Rockin' Jake
Saturday, April 16      The Beach Boys;  Beth McKee & the Sliders
Saturday, April 23      Thirty Seconds To Mars;
The best thing about Universal Mardi Gras is that it is included with theme park admission. You can play all day in the parks, and when the sun goes down, party New Orleans style with Cajun food and live music. Besides the big draw of a free concert with some music's most popular artists, there is an authentic Mardi Gras parade with elaborate floats and beads...lots of beads!
Before my big debut on the Wind float, I checked out the French Quarter, had a couple beignets and danced to an authentic Zydeco band.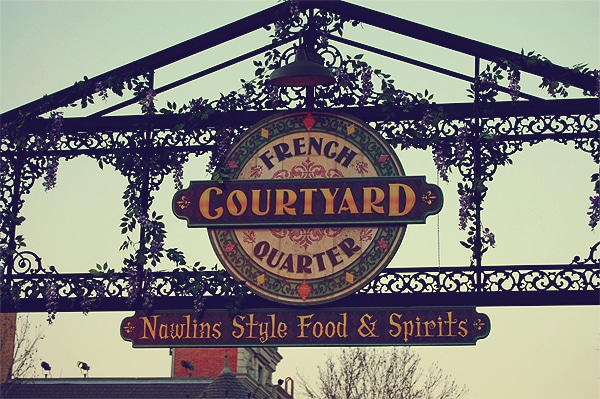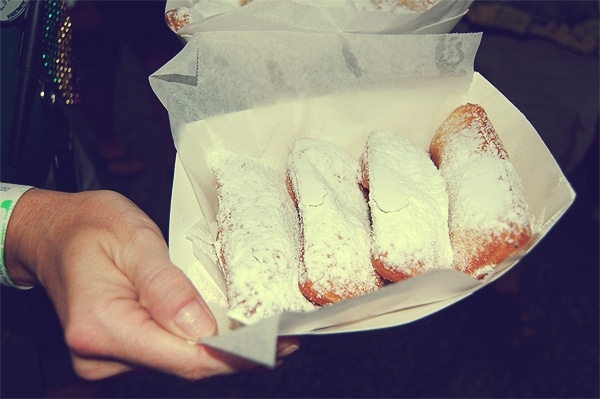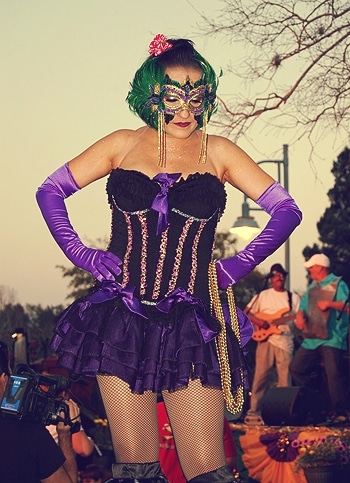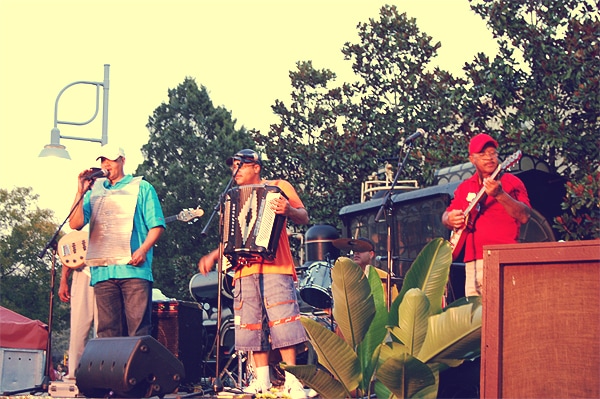 And then, it was time to ride the float.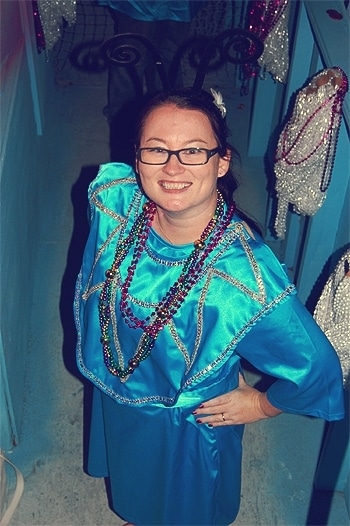 There are 12 floats in all, with four new-- Earth, Wind, Fire and Water.
I was lucky enough to be on the Wind float. In total, our float threw out 18,000 beads!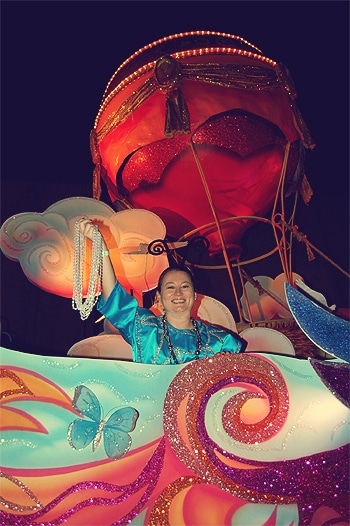 After the parade is over, the concert began! On my night the B-52's performed.
The whole experience was pretty awesome. I had a great time at Universal Mardi Gras and I can totally see how locals come week after week just to listen to the live entertainment. Mardi Gras at Universal is a must-do if you are in Orlando during one of the dates.
One of the most common questions I was asked after the event was if it was family-friendly. Since I was on one of the floats I got a birds-eye view of the crowds and can 100% say it is. I brought along my six-year-old daughter and she had a great time. Depending on the night, some crowds will be larger than others, so you must be diligent in keeping an eye on your children-- but as far as the content, it is perfectly fine. Your family will have a great time!
Laissez Les Bons Temps Rouler!
For more information or to purchase tickets, visit www.universalorlando.com/mardigras.
Special thanks to Universal Orlando for inviting me to attend the Mardi Gras cooking demo & event at Universal Studios. All opinions are my own.