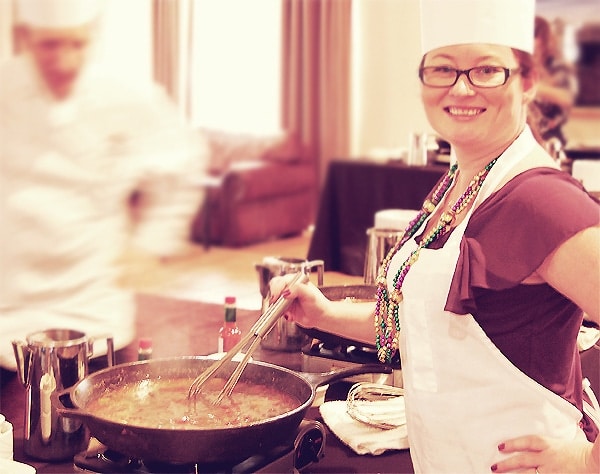 One of the best things about Mardi Gras is the food— King cake, beignets, jambalaya and of course, gumbo! If you can't make it Mardi Gras in New Orleans or Universal Orlando, you can still make this classic Creole meal at home.
I was invited to a special Mardi Gras cooking event to learn the art of making a good gumbo with Universal Orlando's award-winning Executive Chef, Steven Jayson.
I also got to experience my first-ever, Universal Orlando Mardi Gras! — More on that later… it's time for the food!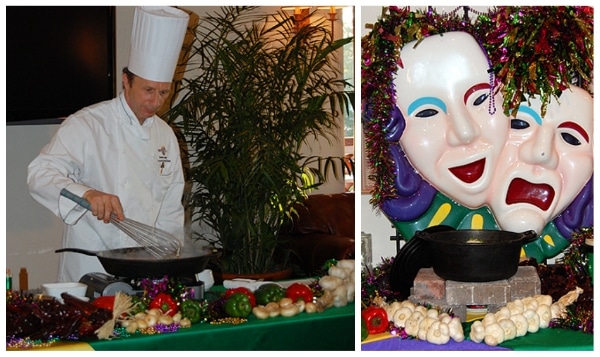 Chef Jayson made the process of cooking gumbo extremely easy. While it looks like a lot of ingredients, many can be purchased together. Once combined, it only takes time — and a little stirring — to make the perfect gumbo.
Mardi Gras Creole Gumbo Recipe
Mardi Gras Creole Gumbo Recipe
Ingredients
1/2

cup

onions

diced ¼"

1

cups

celery

diced ¼"

1/2

cup

red bell peppers

diced ¼"

1/2

cup

green bell peppers

diced ¼"

4

cloves

garlic

chopped fine

5

slices

bacon

diced into pieces

1

bay leaves

1/2

Tbsp.

Thyme leaves

1/2

lb.

Okra

frozen (cut into bite size pieces)

1 28

oz.

Can tomatoes diced with juice

1

Tbsp.

Fish or shrimp base

¼

tsp.

Black pepper ground

1

Tbsp.

Worcestershire sauce

4

cups

Fish stock strong

hot

1

Tbsp.

Gumbo file

1/2

cup

water

cold

1/2

lb.

Shrimp

raw, peeled 26-30 count

1/2

lb.

Andouille sausage

4

Tbsp.

Butter unsalted

4

Tbsp.

Flour all purpose

½

tsp.

Tabasco
Instructions
Prepare brown roux by cooking flour and butter.

Heat bacon in soup pot and cook until lightly brown add onions, celery, bell peppers and garlic and cook until tender.

Blend in okra, bay leaves, thyme, black pepper and Tabasco, stirring constantly.

Add fish stock, sausage and tomatoes and bring to a boil and then blend in roux mixing well.

Bring back to a boil, turn down heat and simmer for 45 minutes. Stir frequently.

Add shrimp, Worcestershire sauce and simmer 10 more minutes.

Remove from heat, blend gumbo file and water with wire whip and stir into soup. Adjust seasoning.

When serving, put one spoon of boiled hot rice into cup, pour in enough gumbo to cover and garnish with chopped green onions.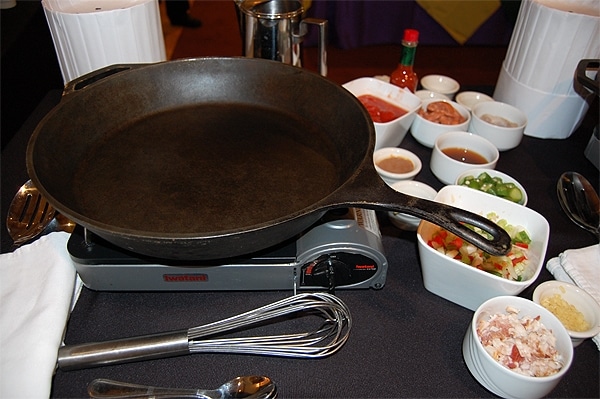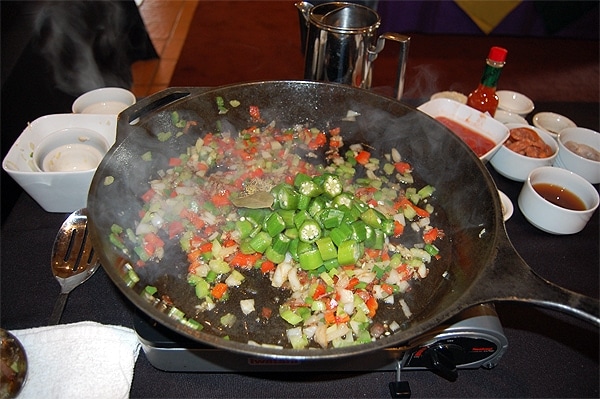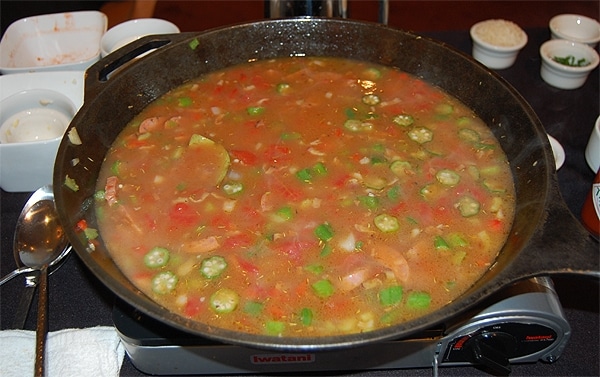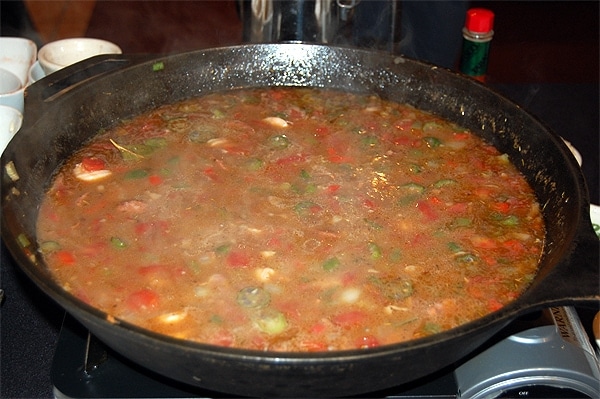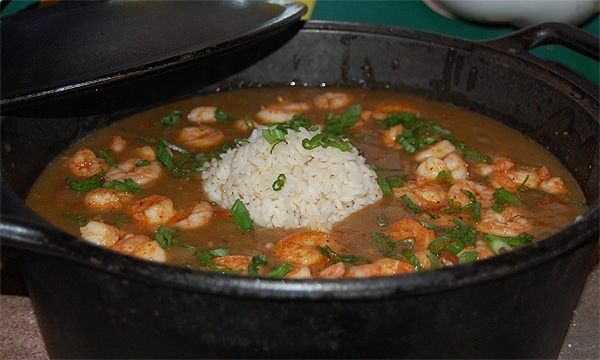 Bon appetit! The great thing about gumbo is that you can modify the recipe to your taste. Chicken, crawfish or oysters can replace shrimp and sausage. Make a big pot, chow down, and freeze the leftovers to enjoy this dish even after the season of carnival!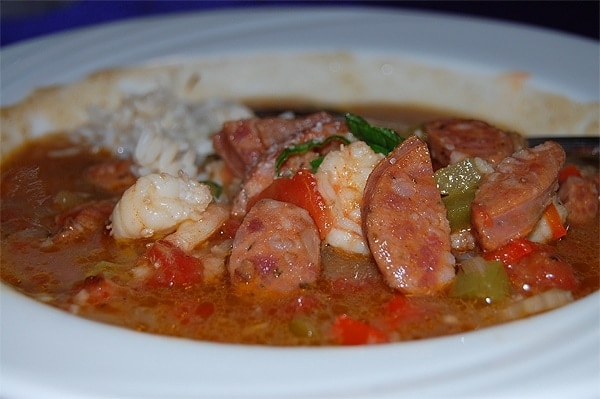 If you're not up for making gumbo yourself at home, it's one of the many Cajun foods served at Universal Studios Mardi Gras.
Feel free to post this image on Pinterest – Just hover over the image and click "Pin It".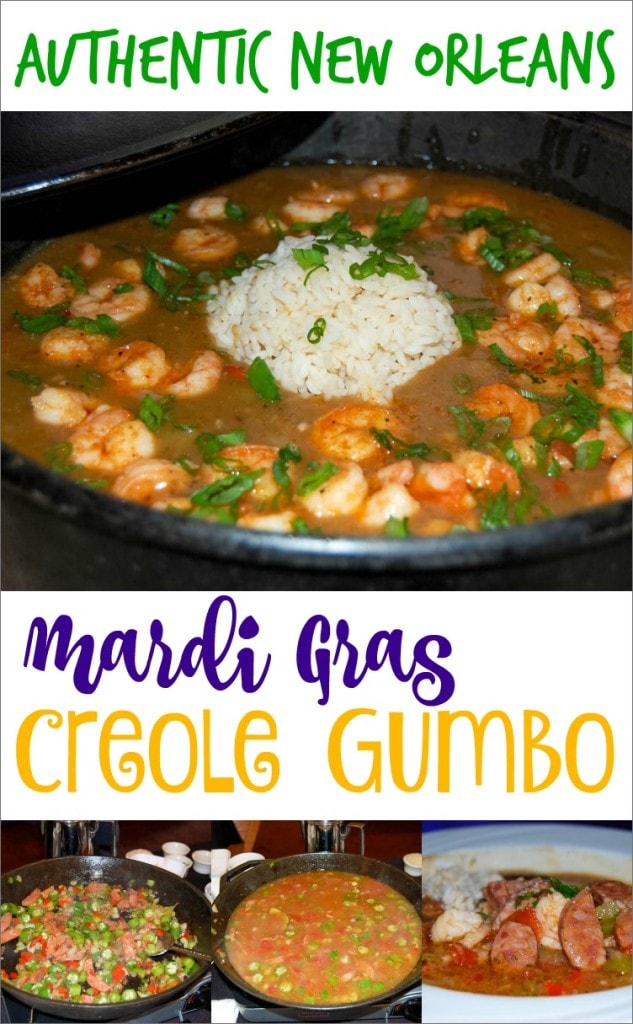 Special thanks to Universal Orlando for inviting me to attend the Mardi Gras cooking demo & event at Universal Studios. All opinions are my own.