Are you looking for some gifts that are on the healthier side of life? This healthy living holiday gift guide has something for everyone. We all have that one person on our list that is a health or fitness person, or maybe someone who has a struggle with allergies or food struggles. Being able to give them something that they will love and that can be useful to them is hard, but this year we have taken the guesswork away and given you a wonderful list of ideas here of things that easily fit into the routine of a healthier lifestyle.
This is a sponsored post. Many of the items and brands included in this list have compensated me with product samples. All item opinions are my own and are not swayed by the brand, but by my own experience.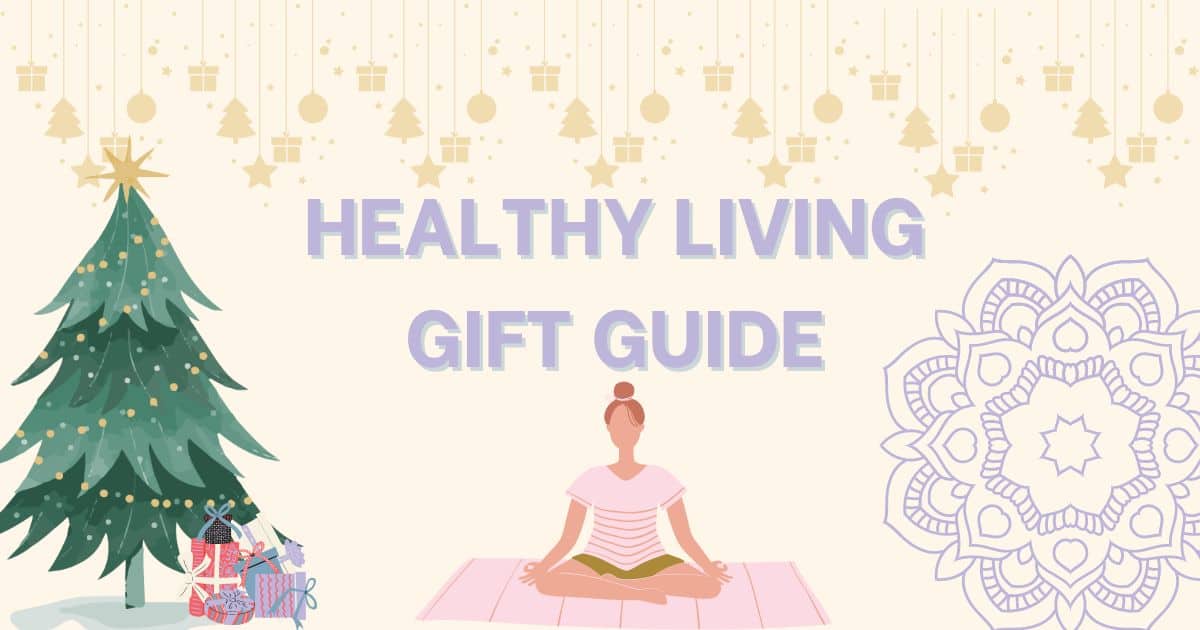 Healthy Living Holiday Gift Guide
This guide was inspired by my sister. She loves a number of things in different categories, and I could easily shop for her from our book lovers guide, coffee lovers guide, or even the cat lovers guide, but I wanted something unique and special just for her. In this case, her gluten sensitivity really is a struggle at times, and being able to find products that fit into that need while being delicious, well, it's hard. This year, I found a multitude of items for her, including a few extra health-related things, on this list. I know you too will find the perfect gift for the healthy living person on your list!
Best Gifts for Those Into Health and Fitness
This list includes food, clothing, and mental health support all in one place. You are sure to find something on this list that is going to be just what you need for gifting to your friends and family this year.
Healthy Living Holiday Gift Guide
This healthy living holiday gift guide has something for everyone on your list that is into health and fitness. Food, clothing, mental health support, and more all in one place!
This is a sponsored post.  Many of the items and brands included in this list have compensated me with product samples.  All item opinions are my own and are not swayed by the brand, but by my own experience. 
Embrew Tea is the first high-end, ethically-sourced, lightly-sweetened tea bag on the market.
These teas are for the health-conscious type that loves a great cup, but hate hassling with loose leaves, infusers, and sticky honey. Getting great flavor shouldn't be so hard.
The flavor profiles of Embrew tea are like nothing else out there. There are blended ingredients like Bourbon Smoked Sugar with white tea, Lavender and Chamomile with lemon and cayenne, and discovered a tea that tastes like a butter cookie. The recipes use just a touch of sweetener in the same way a chef does to bring out additional flavor notes.
10ct Large sachets that brew in 12oz vs the typical 8oz cup
All packaging is 100% compostable
MSRP: $15.95
10 tea blends available
Photo Credit: tryautobrush.com
AutoBrush is the only whole-mouth toothbrush that is clinically proven to efficiently, safely, and effectively remove plaque. This comes in both kid and adult sizes. It's perfect, especially, for little ones who struggle to get their teeth clean.
In just 30 seconds, it packs up to 58,000 bristles, brushing with the power of 20 toothbrushes in 1.
It is clinically proven to remove plaque 27x better than a manual toothbrush.
2-in-1 cleaning and whitening. The dental-grade blue LED light activates the whitening agent in our advanced whitening toothpaste to give you noticeably whiter teeth.
AutoBrush uses a foaming toothpaste, which contains nanosilver - known as nature's antibiotic and not found in drugstore toothpaste - to promote healthy bacteria and kill harmful bacteria. It even doubles as a mouthwash.
ADA-approved BASS brushing technique provides a gentle clean along the gum line.
The unique 360° design eliminates user error.
Kids sizes come in Available in fun characters like Lenni the Lion, Mattie the Monkey, Harley the Hippo, and more!
MSRP: $35- $115
Photo Credit: www.strengthxbeauty.com
This clean, luxury hair + body care brand is made with only clean, 100% cruelty-free ingredients and sustainable packaging so that our products are healthy for you and our planet.
They have eliminated all of the 'bad for you' ingredients from theline, including sulfates, parabens pthalates, SLE or SLES, silicones, formaldehyde, toluene, PEG's, EDTA's, BHA, BHT, MCI/MCLI triclosan and mineral oils.
90% of the line is gluten-free with no wheat or wheat by-products and most of our products are vegan. All of our products are cruelty-free.
Photo Credit: nakednutrition.com
The Naked Bake Protein Banana Bread Mix is a premium product that will be an ideal holiday gift for many quick, delicious, and nutritionally balanced desserts. You can bake with it, make shakes with it, make pancakes with it, and much, much more.
They also have the Naked Cake - Protein Pancake Mix, for making super easy, protein-packed and healthy pancakes for breakfast or as a healthy ingredient for a nourishing, and delicious snack for any time of the day.
The premium products are naturally formulated, containing the purest ingredients and no artificial ingredients.. For this reason, they are perfect ideas for foodies who take care of their health and wellness, those who try to maintain a healthy weight, or stick with a weight-loss program during the Holiday Season.
Photo Credit: www.thinkpresently.com
Presently, is a collection of mindfulness jewelry that helps people change their relationship with anxiety. Unlike most mantra-style bracelets in this space, these are designed to help manage stress and anxiety using cognitive-behavioral techniques (CBT) – instead of toxic positivity – to ground you in the present moment.
Not only are these beautiful, but they work wonderfully and are discreet for those who are struggling but don't want to alert everyone around them.
Photo Credit: www.bobthepillow.com
Bob was developed and designed in an effort to create a more versatile leg pillow than anything on the market. Extensive research couldn't find a leg pillow to help with hip, knee, and back pain while also providing comfort and promoting your body to stay in the proper side sleep position. Everything on the market either required a fixed leg position, straps, had a lack of air movement, and/or provided inconsistent support for the full leg. Bob the Pillow is different and better than other orthopedic pillows on the market because it goes between your legs and has been designed to provide proper anatomical alignment for your body for a restful night's sleep. Bob allows for full range of motion, full leg support, great airflow, and has corrective elements to keep you in the proper side sleeping position all night long.
As someone that has struggled for years with back pain, this is revolutionizing my sleep habits. An investment well worth sharing.
Photo Credit: sweaty-tee.com
This is such a fun idea! For my sons who both run regularly, and tend to sweat a LOT, I thought this was a great idea. Each shirt costs around $20 with free US shipping in the US. The tees are eco-friendly with sustainable fabrics. All terry cloth is OEKO-TEX certified.
If you hate the feeling of dripping sweat while working out, this product is for you! They make a style called Tee with Pocket and Mini-towel. It has a terry cloth pocket for drying sweaty hands (think sweaty elliptical hands). The pocket holds a mini-towel (included) to remove sweat from your face and neck. The pocket never comes in contact with gym equipment and is there when you need it most.
The other unique tee-shirt is called Tee with Attached Panel. It has a terry cloth mini-towel affixed to the lower front of the shirt. Use it to dry a sweaty face and hands. It's great for runners, tennis, pickleball, and other paddle-type sports.
Photo Credit: everdance.app
The Everdance app helps you create a healthy lifestyle with dance. Everdance is an easy way for everyone to get in touch with their body and mind. 350+ classes and programs in the most trending styles: Dance fit, TikTok dancing, K-POP, Hip Hop, Twerk, Belly dance, etc. 200+ instructors from all over the world. Dance experience is not required - choose classes according to the difficulty level. Get feedback from instructors and record your classes to see how you dance. Share your dance successes in the app feed and become a part of the global dance community. Burn calories with fun!
Price: free and paid classes. To receive access to all classes and programs, you need a subscription. The cost is $0.13-0.6 per day (depending on the type of subscription - monthly, annual, etc.
I hate regular exercise routines, but I love music and I love dancing. The result is that this is a perfect app for me, and the cost is ideal for those who are on a budget.
Photo Credit: bellabooty.com
With the Bellabooty Belt, you can now easily add hip thrusts to your in-home or on-the-go workouts.The Bellabooty Belt sets up in under 20 seconds and can be used with dumbbells, kettlebells, and even plates (holds up to 400 lbs.)! Built with slip resistant padding, you no longer need to worry about the weight sliding and throwing you off balance.
This is the perfect hip thrust belt to add to at-home gym equipment and the perfect gift for the fitness junkie this year.
I wasn't sure what to think about this at first, but my son showed me on his weight set how it helps make it easier to do those hip thrusts. So, this is more of a comfort item than anything else, but if it makes working out easier - count me in!
Photo Credit: www.aventon.com
The Level.2 eBike is an upgrade to the flagship commuter eBike –joyriding re-invented – a commuter's dream that could replace a car for running errands and commuting to work or school -- engineered for riders who want to escape their cars but still want to keep up with traffic. It's built with geometry and convenient features for urban riders. A fully integrated battery, 4 integrated lights, and a front suspension fork provide ultimate comfort and safety no matter the terrain or time of day. Equipped with preinstalled fenders and a rear rack, Level.2 can transport it all, from work essentials to picnic goodies, without the elements taking their toll. The Level.2 Step-Through frame makes hopping on and off effortless.
Photo Credit: www.roadrunnersports.com
Athletic clothes are a great option for the healthy living person on your list this year. The Korsa brand products are not just functional, but also beautiful!
Korsa performance apparel is made for athletes, by athletes - designed and tested for improved performance and faster recovery, with no chafing, and no excess weight. Just in time for the winter season, Korsa is ideal for layering with lightweight fabrics and thoughtful design details like a loop in bottom pieces to stash a long sleeve when you get overheated.
As sleek as they are durable, Korsa products are breathable, made with antimicrobial, odor-resistant liners, multiple hidden pockets and reflective finishes. Nearly weightless, these items take up minimum space while providing maximum performance and style!
Photo Credit: www.roadrunnersports.com
Road Runner Sports has been in the running biz for nearly 40 years, and they've applied those decades of expertise to create the most perfectly-crafted socks in the world. With moisture-blocking technology, R-Gear Drymax socks keep feet up to 25x drier than other socks to prevent blisters and hot spots. These engineering masterpieces are shaped to fit feet perfectly, so you can continue to hit the trail, the gym, or wherever the road takes you, at optimum performance. With over 12M pairs sold since 2014 and hundreds of 5-star reviews, these hardworking socks are ideal for beginners to elite level runners as well as the casual walker and fitness enthusiast.
If you have a runner on your list, I promise they will love this as part of their gift!
Photo Credit: www.keto4allcanada.com
KETO4ALL! is a bi-monthly Canadian keto subscription box service. This box features a variety of snacks, sweets, books, clothes, etc to support the keto lifestyle and makes for great gifts for those living a keto, low-carb, sugar-free lifestyle.
While it is based in Canada, it does ship to the US. My box came with a baking mix, snacks, cereal, pudding mixes, and more! I love the ability to try a new brand of products like this to decide which I like before buying in the store.
Photo Credit: www.beefreegf.com
Warrior Mix is shelf stable, almond-based product ready to eat out of the bag for a quick snack/ protein snack that fulfills a need for a little sweet, or a delayed meal
All clean ingredients (gluten-free and paleo-certified) this product is in chunks so you can eat it like a granola bar or a cookie.
Warrior Mix is honey-sweetened and plant-based and free from (gluten, grain, added sugar, preservatives, dairy, and soy), and a convenient snack. Real ingredients matter and creating food that fuels the body and mind while providing jobs for people with autism is just the right thing to do.
Photo Credit: unchartedsupplyco.com
For the biker, hiker, fisherman, hunter, walker, climber, and explorer. The Park Pack is designed to give you the protection you need, without interfering with the pure experience of your adventure.
This hip pack is lightweight and narrow - somewhere between "supportive" and "I forgot I had it on." Wide hip straps provide lower back support and very little 'flop'. A cube-like design is aerodynamic, letting you move freely with equally distributed weight on both hips. Its waterproof construction (600D Tarpaulin + YKK water-resistant zipper) assures your gear will stay dry so your adventure can continue, rain or shine. The Park Pack is an all-day comfort.
Both hip straps feature MOLLE straps, allowing both water bottle holders to detach, leaving room for alternative add-ons - bear spray, fishing net, holster, etc. Inside the pack is a slim pocket fitted perfectly for our Triage Kit - covering your first aid and gear repair essentials (sold separately).
More Gift Guides
If you are like me and need something new to add to your list this year, below are even more ideas. It's not about the price you spend, but the thought that counts. These lists give you everything you need to impress with a wonderful gift while staying within your unique budget. Make sure you take a few minutes to look over these guides too and you may find something else to add to your shopping list for the holiday season.