The film Mary Poppins is celebrating its 50th anniversary in 2014 with a special edition Blu-Ray/DVD/Digital combo pack (available December 10), timing perfectly with soon-to-be released film, Saving Mr. Banks (in theaters December 13).
When I was in Los Angeles last month for FROZEN, I was privileged to a private Screening of Saving Mr. Banks, as well as an interview with Pete Menefee, one of the chimney sweeps in Mary Poppins.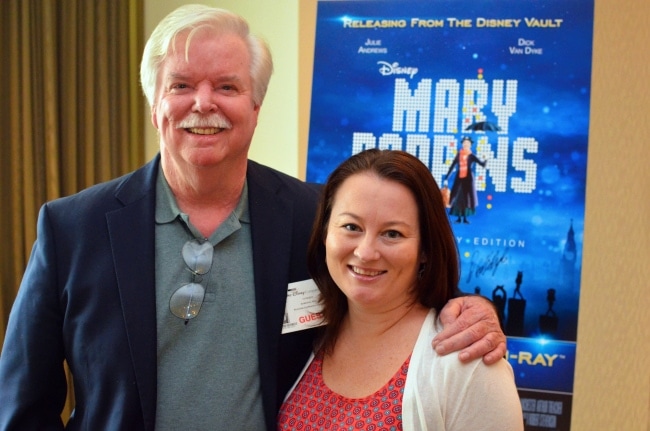 Pete gave us the inside scoop on what it was like as a dancer on the set of Mary Poppins, which was filmed when he was just 21 years old.
As one of 12 chimney sweeps in the movie, Pete said that it was one of the most physically demanding jobs that he had ever had.
"Some of the stuff that's done, I know people think are drawn or, or messed with ... But guys did really -- three guys really did do flip flops between two buildings and it's painted in perspective but it still is.  It means that you're throwing yourself over and catching yourself on your hands three times with a 15 foot drop below you and it's grim. It is grim."

"The first thing that we shot was the very last thing that you see us all dancing down the street, at the end, and that was hard because although we had worked for almost a month and a half with the brooms and everything we'd been working on a plywood floor. And all of a sudden we get out and we're on a cobble stone street and there's supposed to be four of us tumbling right next to each other ... That was really hard.

It was a real moment of adjustment, but we shot that and then we went on another sound stage, that had our roof top, and we shot all of the really grizzly rooftop stuff.  You know, the tumbling between the two rooftops and there's one thing that looks very simple and it's about ten of us and we're running after each other and we're running up chimney pipes. They were literally just pipes with a pad on the top and they went up to like eighteen feet and, you know, somebody in front of you and somebody in back of you and you're doing it this fast.  I was scared to death of that. "
Rehearsals were held on the back lot of Disney Studios in June and July of 1963. Walt was there every day, and Pete said he knew everybody's name.
"We had to wear the name tags but we were allowed to rehearse — because it was so hot — in swim trunks because it was blazing back there. "
For his work he was paid $500/week.
"That was a lot of money then and normally a dancer would have gotten probably just under 200 for a regular dance show ".
Even with the demanding choreography, Pete loved working on Mary Poppins and knew it was a special film.
"It was a great job to work on ... when we all did it, we knew that it was special.  We knew the dance number was special because Walt, every day that Walt would come, the number got longer and that doesn't happen in movies. You don't get choreography that good every day or an idea that's, that good and it was terrific to do."
Pete Menefee went on to have an illustrious career as a costume designer — just retiring last year, at the age of 70.
"I've always been able to draw since I was a very, very small child before school really. My parents encouraged it but I never thought you could make a living from drawing."

"I started out as a sketch artist right across the street at NBC as a staff sketch artist and became a costume designer ... Ten years later I was dressing Julie for the opening special at Walt Disney World in Florida."
Mary Poppins will be released from the Disney Vault on December 10, 2013!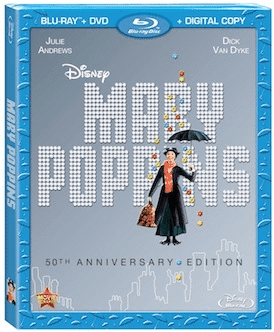 Special thanks to Walt Disney Pictures for inviting me to attend the Disney Frozen Event. All opinions are my own.