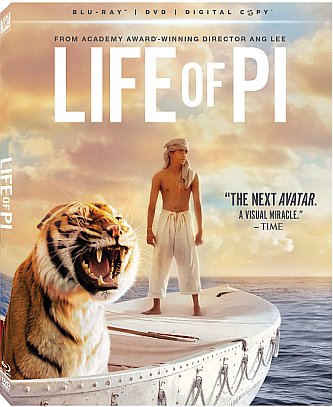 When I sat down to watch Life of Pi, I thought to myself, "Key Lime, pecan, chocolate pecan, apple, blueberry...". Like a dessert inspired Benjamin Buford Blue from Forrest Gump, I rifled through every flavor of pie I could imagine.
Note to self: Don't watch movies on an empty stomach anymore!
Yes, everyone should know by now, Life of Pi is not about pastry. It's actually based on a book written by author Yann Martel and has received international acclaim. The movie tells the story of Pi Patel a young man who finds himself on a journey of hope, magic and self discovery. While on a voyage with his family, tragedy strikes and Pi finds himself on a life boat, the sole human survivor of a sunken ship. His lifeboat companion is Richard Parker. This would be a fairly bearable situation except, Richard Parker is a 450lb Bengal tiger. Pi's family was in the zoo business, so he has a bit of a history with the animal. The journey the two unlikely shipmates make together grabs your attention and keeps it until the very last frame.
Director Ang Lee is no stranger when it comes to visually stunning films. If you've never seen Crouching Tiger, Hidden Dragon...shame, shame, shame on you. He creates a world that is both believable and breathtaking in every frame. Primarily done on green screen, the incredible reality that Lee creates using CGI effects, is heads and tails above any other film of the last 5 years that has tried to master this new technology. Yes...that includes Avatar! Let's be honest, it's a lot harder to create a perfectly realistic Bengal tiger than a big blue alien.
My 8 year-old daughter loved the film, telling me, " it was a good adventure movie ... terrific and thrilling". I'd advise parents with children under 8 to pre-view the movie first as there are some intense scenes-- but other than that, Life of Pi is a fantastic film that the family can enjoy together.
Life of Pi is now available on DVD, Blu-ray and Blu-ray 3D.

A sample was received for review. All opinions are my own.