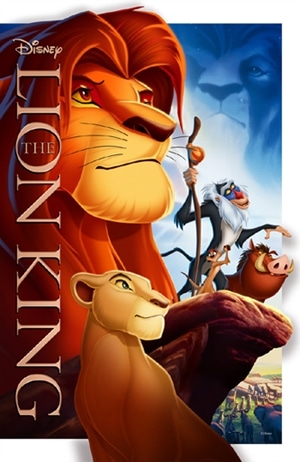 Unless you've been living under Pride Rock, you have probably seen or heard of The Lion King. It's one of the most beloved Disney Classics, and since its original release in 1994, The Lion King has become the highest-grossing traditional hand-drawn animated film of all time, and the highest-grossing film from Walt Disney Animation Studios!
The Lion King follows the adventures of Simba, the feisty lion cub who "just can't wait to be king." But his envious Uncle Scar has plans for his own ascent to the throne, and he forces Simba's exile from the kingdom. Alone and adrift, Simba soon joins the escapades of a hilarious meerkat named Timon and his warmhearted warthog pal, Pumbaa. Adopting their carefree lifestyle of "Hakuna Matata," Simba ignores his real responsibilities until he realizes his destiny and returns to the Pride Lands to claim his place in the "Circle of Life."
Thanks to that darn Disney Vault, we didn't previously own a copy of The Lion King and my daughter had only seen it a few times on the Disney Channel. Still, it was a favorite and we jumped at the chance to see it whenever it was on. When it came out in theatres this summer (in 3D) it was really exciting because even though we had all seen The Lion King, it was like we discovered it for the first time. The Lion King 3D in theatres is stunning by the way, if it is still playing anywhere, you need to see it!
Thankfully, The Lion King Diamond Edition DVD/Blu-ray Combo Pack was released this week, and we now have a copy of our very own to watch over and over again!
Our favorite thing about The Lion King is the music. Though not a musical, every song in The Lion King is captivating and catchy, and my daughter and I find ourselves watching just to sing along. With the new DVD/Blu-ray combo, the special bonus features include a Disney Sing Along Mode that makes this easy.
Another feature that I have yet to use, but have seen demoed is Disney Second Screen. In addition to having The Lion King on DVD & Blu-ray, you also received a code to add the movie to your PC or iPad. The Second Screen iPad app has a TON of interactive features, including: games, videos, scene scramblers, ink & paint, flip books and facts. Plus, you can even post to your social networks, like Facebook, while watching the movie! Just another reason I need an iPad!
Here's a few more of the special features included with the DVD/Blu-Ray Combo Pack:
Never-Before-Seen Bloopers
4 Never-Before-Seen Deleted Scenes
Deleted Song
Extended Scene: The Morning Report
Disney Second Screen (Not available in all territories.)
Pride of The Lion King
The Lion King: A Memoir – Don Hahn
Disney Sing-Along Mode
Interactive Blu-ray Gallery
Disney's Virtual Vault – Classic DVD Bonus Features Powered by BD-Live
Right now, you can save $5 on The Lion King Diamond Edition Blu-ray 3D & Blu-ray Hi-Def Combo Pack - this edition includes the 3D version of the movie for 3D TV's.
Don't make the same mistake I did in the past by not buying Disney movies when they are out of the vault. Since The Lion King is only out for a limited time, pick up a copy now to enjoy for years to come!
I received a complimentary copy of The Lion King Diamond Edition. All opinions are my own.