Much like pin trading in the Disney Parks, LEGO has Minifigure trading at the LEGOLAND Parks.
First, you purchase a LEGO Minifigure from any of the stores at LEGOLAND. You can also find them in stores like Target for the same price.
I personally think it is more fun to buy them on the spot.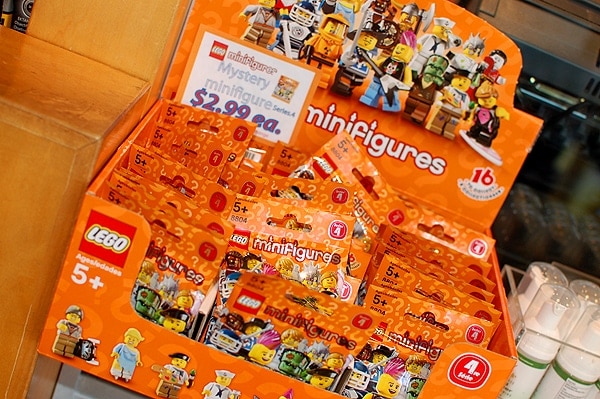 Similar to Vinylmation, the minifigs are packaged so they are a mystery to the buyer. There are 16 minifigures in each set, and there are quite a few sets out there.
My first minifigure was a gnome fisherman.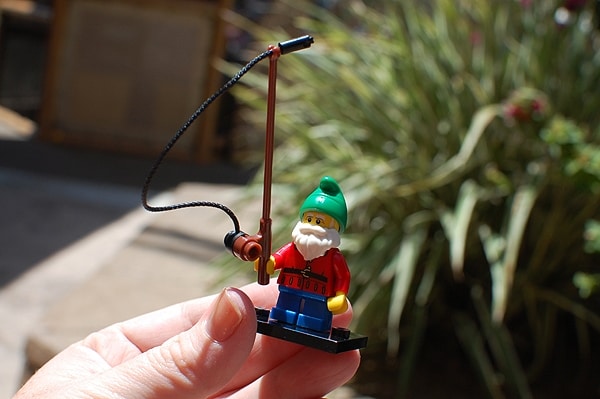 As much as I loved the fisherman, I really wanted the Geisha Girl.
To trade a LEGO minifigure at a LEGOLAND Park, you need to find an employee with a namebadge with a minifigure attached. Then you can go up to them and make a trade.
This is great in theory, however, 90% of the employees at LEGOLAND California do not wear their minifigs. Needless to say, I never traded for my Geisha Girl.
A LEGOLAND employee told me they are required to purchase replacement minifigures if theirs gets lost. The problem is no one wants to buy a new figure, so they don't wear them. I think LEGOLAND should give employees free minigigs -- I mean really how much could they cost to make? -- and make wearing them a requirement . It would make the whole LEGOLAND experience even more fun.  Plus, I'm sure it will boost LEGO minifigures sales (and trading) in the park.
If nothing else, the LEGO minifigures are fun to collect--at $2.99 each, you can buy 3 for the price of one pin.
I ended up purchasing three minifigures at LEGOLAND California. My plan is to take them all with me to LEGOLAND Florida in October, where I'm sure there will be lots of trading. 🙂