Great news Monster High ghouls! You can now watch "Why Do Ghouls Fall in Love" for free on MonsterHigh.com/Videos! It's listed under TV Specials!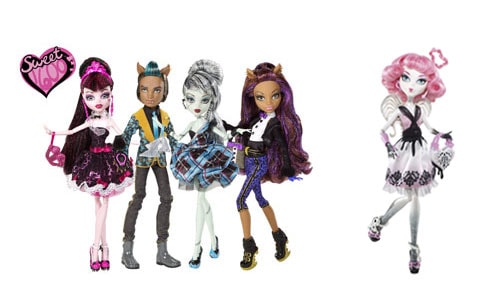 If you have a daughter between the ages of 5 and 12, you have no doubt heard of Monster High. The franchise is seriously the hottest thing since ... actually, I'm not sure what to compare it to, but my seven-year-old daughter has been wrapped up in the Monster High world of Draculaura, Frankie Stein, Clawdeen Wolf and Cleo de Nile for the past two years -- and there are no signs of it ceasing! I'm almost embarrassed to admit the number of dolls that she owns-- but without fail, as soon as a new line comes out, she has to have it.
The most coveted dolls out right now are from the Monster High Sweet 1600 collection, which celebrates Draculaura's 1600th birthday and is a great tie-in for Valentine's Day with the release of the newest Monster High doll, C.A. Cupid -- the daughter of Eros, the god of love in Greek mythology.
Before I get ahead of myself: Nickelodeon is airing Monster High's newest TV special "Why do Ghouls Fall in Love" on SUNDAY, FEBRUARY 12 at 1 PM EST. If your daughter is like mine, the date and time have been circled on the calendar for a month-- but if you are new to Monster High, you will definitely want to tune in or DVR the episode because these TV specials are few and far between, without re-runs!
Here's a preview of Monster High "Why do Ghouls Fall in Love":
My daughter is very excited about this special because it's the first time we see a few of the new characters, including C.A. Cupid, and it's CGI-animated for the first time. In her own words - "I'm excited to see this movie because of all the help, love, adventure, action and fun." I've already been warned that I'm not allowed to leave the house tomorrow for fear that we will miss this special.
I know what we'll be doing tomorrow at 1PM...what about you?