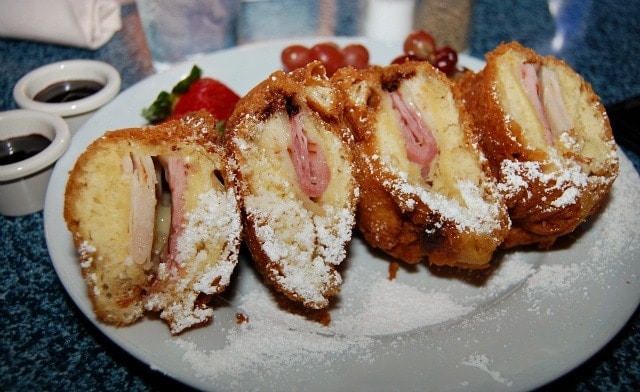 One of my "must-do's" for visiting Disneyland for the first time was trying the highly touted Monte Cristo sandwich. This sandwich can be had at either Blue Bayou or Cafe Orleans, both located at New Orleans Square in Disneyland. I chose to eat my first Disneyland Monte Cristo at Cafe Orleans simply because it was cheaper and I wasn't looking for a fine dining experience. The Monte Cristo at Blue Bayou is $24.99, versus $17.99 at Cafe Orleans. I'm sure you can't go wrong with either one!
So, what's exactly in the Monte Cristo at Disneyland? To put it simply, the Monte Cristo is a battered and fried ham, turkey and Swiss cheese sandwich, sprinkled with powdered sugar and served with jam for dipping …heavenly, right?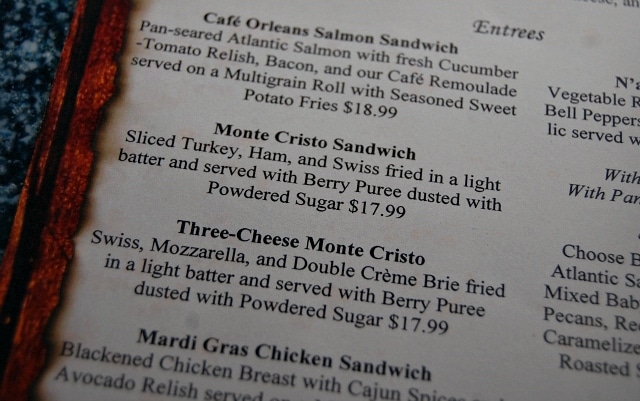 It's as decadent as you'd imagine.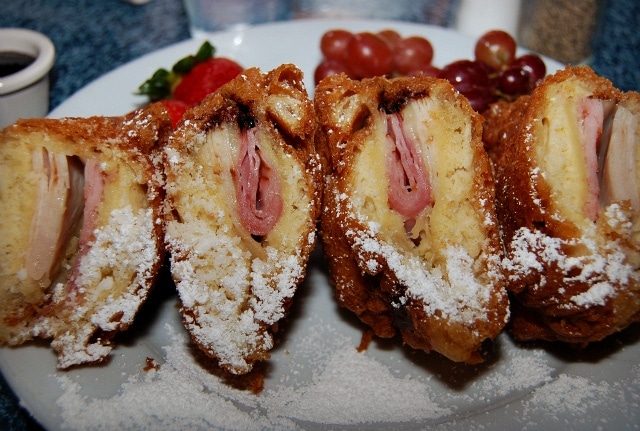 I've waited a long time to try this sandwich and it did not disappoint. All the hype is true. The combination of the ham, turkey and Swiss with the battered breading and powered sugar is perfection. It's an interesting combination that totally works. The only thing I wasn't sold on was the berry puree, which was just a little too thick and sweet for my liking.
The Monte Cristo is VERY filling, so plan to split it with someone, or take half back to your resort for breakfast the next day– that's what I did 😉
Because I couldn't just leave you drooling at that photo of the Monte Cristo, here's the official recipe for the Disneyland Monte Cristo sandwich for you to recreate at home. You're welcome.
Disneyland Monte Cristo Sandwich Recipe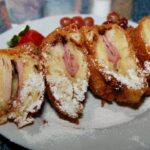 Disneyland Monte Cristo
Ingredients
1

egg

1 3/4

cups

plus 2 tablespoons water

1 3/4

cups

all-purpose flour

1/4

teaspoon

salt

1

teaspoon

baking powder

8

slices

egg bread

challah works well, sliced 1/2-inch thick

8

thin slices ham

8

thin slices turkey

8

thin slices Swiss cheese

3

cups

canola oil

Confectioners sugar

Blackberry preserves
Instructions
Line a cookie sheet with paper towels; set aside.

Whisk the egg and water together in a mixing bowl. Add flour, salt, and baking powder and whisk thoroughly for 2 to 3 minutes or until smooth, scraping sides of bowl.

On one slice of bread, arrange 2 slices of ham, turkey, and cheese, covering the bread evenly. Place another slice of bread on top and slice each sandwich in half diagonally.

Heat oil to between 365 degrees F and 375 degrees F in a 10-inch pan. Do not let the oil reach a higher temperature than this; if the oil starts to smoke, turn the heat down. Dip half of the sandwich into the batter, allowing excess to drain, and very carefully place into the oil.

Repeat with the other sandwich half. Cook 3 minutes on each side, or until golden brown. Place the cooked sandwich on the prepared cookie sheet in a warm oven until ready to serve. Repeat with the other three sandwiches.

Cook one at a time, and allow the oil to reach the desired temperature between each.

Sprinkle with confectioner's sugar and serve with blackberry preserves on the side.
Have you tried the Monte Cristo at Disneyland?