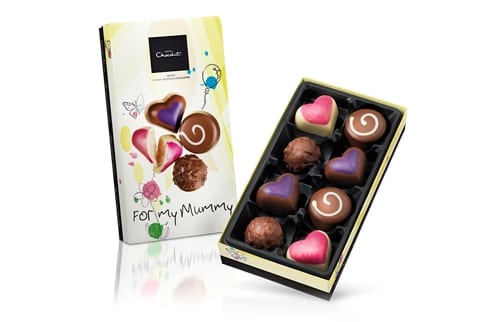 Mother's Day is not an easy date to remember, it changes each year and is celebrated on different days in different countries – sometimes it can be hard to keep track! In case you're wondering, Mother's Day 2011 falls on and 8th May in the USA, and 3rd April for those of you in the UK... Though the date may cause confusion there's one sure thing – when you're shopping for Mothers Day gifts chocolate is always an excellent choice!
To really spoil your mom this year, a Mother's Day gift of luxury chocolate gift could be extra special. Visit Hotel Chocolat to see a wide range of the finest quality Mother's Day chocolate gifts, all made from the tastiest and most indulgent chocolate.
For a classic chocolate box selection, The Sleekster All About Mum Selection would be a fine choice. This elegant box selection contains twenty-eight different chocolates with a variety of recipes including pralines, fruity recipes, caramels and truffles.
Alternatively, the All About Mum H-Box Selection is a smaller selection of fourteen delicious chocolates in a attractive box. Perfect to be enjoyed by mums with their feet up, it's a tasty selection of different recipes, including fruits, sweet caramels, and beautifully decorated rich chocolates.
Similar is the All About Mum Gift Collection, a ideal chocolate pampering package containing eight Mother's Day-themed chocolates, a 'Rocky Road' Slab, six fruity Eton Mess chocolates, a bag of dark chocolate hearts and a bag of delicious caramel drops.
Hotel Chocolat is a famous brand amongst those who adore the finest quality and most flavoursome chocolates. As the only British luxury chocolatier to have their own cocoa-growing estate - on the Caribbean island of St Lucia - Hotel Chocolat take their ingredients very seriously: only using the best quality cocoa to produce gorgeous chocolate. Seasonal ranges appear throughout the year – in addition to mother's gifts, the Easter range is also now available online with a range of Easter chocolates, and some fabulous Easter eggs - including a spectacular giant ostrich-sized  chocolate egg!