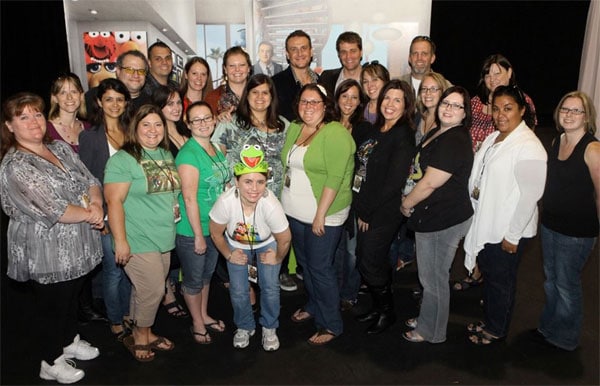 When I traveled to L.A. last month for The Muppets press junket I got the opportunity to interview Jason Segel and Nicholas Stoller-- the amazingly talented writers behind the movie.
What I love about this interview is Jason and Nick's passion for the Muppets-- they have been fans for ages (with Jason being a "super-fan") and their enthusiasm really came through when they answered our questions.
Take a peek at the interview below, and tell me: Will you be seeing The Muppets this weekend?
Q: For this Muppet movie what was your favorite movie or episode in song?
Jason Segel: Oh, wow.  Well, my favorite Muppet movie I think is actually Muppets take Manhattan.  Which I just love.  My favorite song oddly enough it's not a very popular one but it was a Peter Sellers episode of the Muppet show and Peter Sellers somehow gets away with singing a song called Whiskey, Wine, and Wild Women.  And I just remember at that point realizing what the Muppets did that was so special is the whole family could sit and enjoy that.
Kids are just watching a goofy guy sing a song with a bunch of puppets and it's fun.  And adults are experiencing it on a whole different level and I think there's something neat about the whole family walking away having enjoyed something together, having a shared experience.
Nick Stoller: I loved-- someone's phone is ringing. I love the great Muppet Caper.  It was just like, it was the video we had.  The video you have, just watch it over.  And I love Happiness Hotel.  For some reason that song, I just love that song.  So, yeah.
Q: Are you guys still in awe that you did this project?
Jason Segel: I mean it was a childhood dream of mine.  I have a list of dreams that I wanted to publish.  One was being on David Letterman, which I did a few years ago.  One is hosting SNL which I still haven't done but I think that I will soon. And then one was make a Muppets movie.  And then be on the cover of Men's Health.  Start the campaign for that.  Rough.
Q: How did that process start for you when you said okay now so time to go after them and make it happen?
Jason Segel: Well Nick and I had just made Forgetting Sarah Marshall and I had been a crazy puppet lover for a long time.  And I made short films with puppets.
Nick Stoller: We actually-- I just need to tell one quick story.  We had a meeting on Sarah Marshall.  We had a meeting with various puppet companies to decide who we were going to -- of course, we ended up going with Henson company but we had our meeting with the Henson company and they passed out puppets to everyone in the meeting.  The business meeting.  They're just doing as like a little goof, right.  So Jason's in the meeting.  I'm in the meeting.  The producers are in the meeting.  And they had out puppets.  Everyone's like ha, puts them down.  The entire meeting Jason has his hand in the puppet [LAUGHING] going like this with the puppet.  Like the puppet is part of the meeting. You're embarrassing me.  We're trying to have a meeting about the puppets and he's like-- like pretending.
Jason Segel: Take it easy sweetheart.  But so after, after that movie we had a little bit of writing juice.  The movie did well and we're trying to figure out what the next thing was.  And I went to Nick and I told him I would like to make a Muppet movie and Nick helped me think of the plot you know.  And--.
Nick Stoller: You said, do you want to write a Muppet movie?  And I said yes.
Jason Segel: It was pretty easy.  And so we went in and pitched it and the next thing you knew we were writing this movie.  One of the, one of the greatest things is sitting, if you could, watching Nick and I along in my house writing the script, doing all the different voices terribly to each other.  It was really an exercise in trying to realize slowly going crazy.
Q: Since you are so passionate and knowledgeable about the Muppets did you have a mentor that you looked at for this?
Jason Segel: Well I think, I think what we look towards was the legacy that they had created with those first three movies and the TV show.  That was really our model and we didn't have to stray very far from that time or try to update it or anything like that.  The Muppets, their style of humor is pretty timeless and you know, comedy really moves in cycles.  And I think we somehow, you know CGI is amazing but I feel a little bit like its Hollywood playing with their new toy, you know. To get back to something here like you know, puppetry and the Muppets style of just kind humor I was excited about that.
Q: Was Disney receptive to your idea when you approached them?
Jason Segel: They were very receptive to the idea of us writing a script.  You know at that point it becomes about kind of re-launching a giant franchise too, which is something--.
Nick Stoller: We're not Johnny Depp.
Jason Segel: Yeah, exactly.
Nick Stoller: We have no experience in that.
Jason Segel: All of a sudden I mean we are, we're writers you know.  We're sitting in meetings about toys and rides, you know.  We didn't have any experience at all.  Or at least I didn't.  You designed a few rides.
Nick Stoller: I've designed a few rides.
Jason Segel: But you know I think realizing the scope of what we were going to do it made us understand why it took a while to get made because you know there's a lot that could come from this. Hopefully, the Muppets will be back in full force.
Q: What was it like working with the Muppets?
Jason Segel: I was saying before I got to do a lot of sitting which was nice. Yeah, yeah, because I am a good like 2 feet taller than most of the Muppets.
Nick Stoller: The hardest thing was not being like awestruck while filming.  So the way we handled that is we made it so that our characters were awestruck.
Q: The whole family can sit down and watch a Muppets movie.  When you were writing the script how conscious were you of keeping that throughout the movie?
Nick Stoller: Yeah, I mean it was, it was kind of natural that it is just the tone of the Muppets and so there wasn't, it wasn't you know, because we both grew up on it, it wasn't like we attempted to do that so much as a just naturally happened.
Jason Segel: Yeah, that, that just isn't there to you.  We didn't have to put much effort into it.  I was really inspired by Toy Story 3 as well in that movie hit on every level.  Kids are watching.  Yeah, it's because kids are watching a movie about losing their toys.  And parents are watching a movie about losing their children.
Q: How was your first encounter with Miss Piggy and Kermit?
Jason Segel: My first encounter was at a table read in New York where they surprised us and brought the puppets out for the table read.  And when Kermit first spoke line that we had written I literally cried at the table read and they had to stop the table read for a second while I pulled it together.
Nick Stoller: Shameful.
Q: How did you guys come up with a story of where they left off?
Nick Stoller :  We revise the -- that was a good revision there.  We rewrote that a lot.  A lot of times.  I mean that was, and that was a big, you know, we wrote, yeah, many different, different versions.
Jason Segel:  Of where everybody was, yeah.  [OVERLAP] Piggy was always doing that.  And I think Fozi was always in Reno.
Nick Stoller: He was in Reno but then James thought of the Moopets[UNINTELLIGIBLE].
Jason Segel: Right.
Nick Stoller:  Yeah, yeah. [OVERLAP].  So yeah like and you had thought of the Ralph [OVERLAP].  Yeah, and uh, yeah, but I think-- I mean we also had a much longer version of that and then the reality as the production kind of-- because I think Swedish chef was going to be on top Chef.
Jason Segel :  He was doing Top Chef.  Yeah, we had a few really fun things but I think that--.
Nick Stoller :  It can't take up that much time.
Jason Segel:   It can't take up that much time.  You want the Muppets back together.  One of the whole themes of the Muppets, this is like an amazing segue, is that they're stronger together than they are apart.  And you kind of felt it when you were watching the movie.  You are hungry for them to be back together.
Q :  Maybe you can do Swedish chef origins.
Jason Segel :  Yeah, it's really funny you say that.  I think like a Muppets origins movie would be hilarious you know.  Like where they all started.
Nick Stoller:  Before they met.
Q :  You have any plans of doing another movie?
Jason Segel:  Well I'm superstitious and so we're trying not to think of it until this comes out.  But we're starting to think of ideas.  I think my main goal is just to try to get the Muppets back to where they belong and you know the forefront of comedy.  And to have, to have our generation get to experience what they had when they were young.  And share that with like their kids.  I just think it would be great.
Because like I said the Muppets are always a force for good.  Their humor is never mean and I think that's a really great lesson to impart to children, personally.
Nick Stoller:   And I'd like to introduce the first mean Muppet.  I think the children could learn how to be mean to each other, to survive in this world. Just when they're about to be too mean--.
Jason Segel:  Then they do something nice, yeah. So.  They're judgmental though.
Nick Stoller:   They are judgmental.
Q:  Did you guys write a lot of the songs?
Jason Segel:  Brett McKenzie from Flight of the Concords wrote most of the music, which was a perfect match.  Because if you think about it, Flight of the Concord's are Muppety.  Two kind of wide-eyed innocents dwelling through like, you know the hard cruel world and that's very much what the Muppets are like.