Sometimes being a blogger is hard work-- especially when you have to sit at a roundtable and interview Australian hottie, Hugh Jackman. 😉
Alright, so I'm lying. Being a blogger has its perks, and getting the opportunity to sit down with the star of Real Steel was one of the highlights of my blogging career.
Whenever you meet a celebrity, there are all of these expectations that run through your head. As a fan of Jackman, I just kept thinking, "I hope he's nice", "I hope he's personable", "I hope he's exactly like I imagine him to be". Because what if he's not? Talk about a total buzzkill!
But, oh-my-gosh ladies, Hugh Jackman is as charming in real life as you would imagine him to be.
And if it's even possible, cuter, too!
I know.
Could it all be an act? Maybe. But, I think not. Jackman is a father of two, and by his interview, his image is important to him.
When asked if his reputation with the crew of Real Steel was important, Hugh says, "Yeah. I think it -- I think it -- that's a good question. It probably is...I think your job is to bring people together. Like it's a team -- acting, filmmaking is the definitely of a team effort. So if you can't be that kind of guy that enjoys being around other people, then don't turn out."
Hugh certainly made an impression on (director) Shawn Levy's young daughter, Charlie-- who also had a small part in the movie. Charlie wrote the actor a love letter, and he returned the sentiment by calling her on her birthday. 🙂
When it comes to children, it's clear HJ has a soft spot.
Real Steel is actually the first movie that Jackman has let his children watch with him in it. His children are 6 and 11, but when asked if he thought Real Steel was appropriate for other six-year-olds, he said, "I think you have to take it on a movie by movie basis. I think you have to really look at it...And you just have to do as a parent what you feel comfortable with."--- Which I totally agree with.
As the interview went on, Jackman shared stories from his childhood, which obviously shaped him into the genuine person he is today. On an interesting note, Hugh said as an eight-year-old boy he had aspirations to travel and cook - "I wanna be a chef on a plane." That was until he found out, "there was a microwave".
I guess we'll just have to settle for an incredibly good looking, amazingly-talented, international movie star. 🙂
When the interview was over, Mr. Jackman was kind enough to take a photo with the group.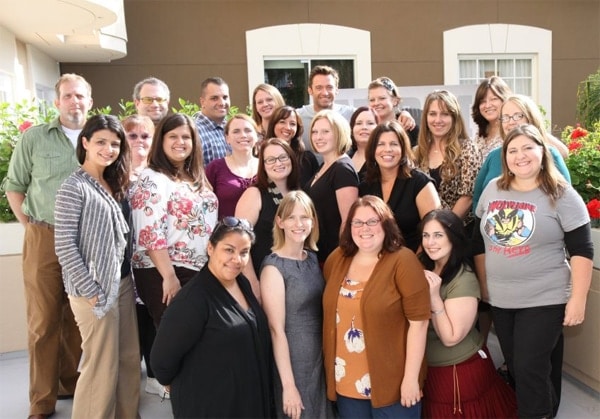 To say it was a good day is an understatement.
Special thanks to Disney/Dreamworks for inviting me out to LA to attend the Real Steel Press Junket. All opinions are my own.