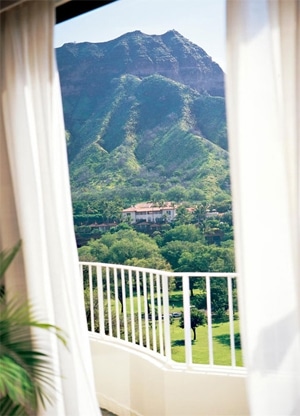 The endless stretches of flawless shoreline; the rhythmic, soothing roll of clear, blue waves; the soaring spectrum of colors created as the sun meets the horizon--such are the images synonymous with Hawaii. Complete with the welcoming Aloha spirit, the capital city of Honolulu offers travelers the potential to experience the tranquil serenity of island life while participating in activities that are guaranteed to relax and refresh. With its centralized location and views stretching clear to Diamond Head Crater, the Lotus Honolulu can be the perfect base for any traveler type--ranging from the motivated hiker to the relaxed beach-goer. Rest yourself in the midst of delicate luxury after taking in some of the many activities that Oahu has to offer.
Endless Ocean Fun
Waikiki Beach is world famous for its unspoiled views of Diamond Head Crater, the warmth of the sea, and the clarity of the water. Sit back, enjoy the rays, and crack open your favorite book, or put on your snorkeling gear and hit the water! Beneath the waves of Hawaii exists an entire world waiting to be explored. Don't leave the island without having a look at some of the many different species of colorful fish, turtles, and coral.
Visit the USS Arizona
A stunning tribute to those who fell during the attack on Pearl Harbor, the USS Arizona Memorial has been visited by millions since its dedication in 1962. Take a short boat trip out to this National Landmark, where you'll be able to see the sunken ship itself, or visit other exhibits and museums in the area.
Authentic Island Culture and Shopping
For a truly unique Hawaiian experience, take a bike ride or walk over to the International Market Place of Waikiki. Here you'll find tons of Hawaiian shops, restaurants, and bars, as well as other events that celebrate the dynamic culture of the Islands. Listen to some live Hawaiian music, or pick up a souvenir (besides your tan) to remember your trip by.
As a proud member of the family of premiere Hawaii hotels, the Lotus Honolulu is the ultimate destination for island travelers. Experience a level of comfort and relaxation that you'll feel for weeks after your trip.