As much as I want to visit Scotland, I'm not sure if my stomach could handle some of the Scottish delicacies that I would inevitably end up trying -- including haggis and black pudding!  One traditional Scottish food item that looks somewhat appealing is Scotch Eggs.
At its core, a Scotch Egg is just a hard boiled egg, wrapped in sausage, battered and deep fried. I think I can handle that!
To celebrate the release of Disney-Pixar's BRAVE on June 22, here's a Scotch Egg recipe from John Ricks, Chef de Cusine at Pixar Animation Studios:
Ingredients (serves 4)

4 eggs, hard boiled, chilled and shelled
8 oz pork or turkey sausage
1 raw egg
1/4 cup milk
1/2 cup all purpose flour
1 cup panko bread crumbs
oil for frying
salt, pepper & fresh herbs

Directions

1. Set up a breading station using separate bowls for:

a. seasoned flour (1/2 cup flour, 1 tsp salt, 1 tsp pepper)

b. Egg wash (beat together raw egg and milk)

c. Panko bread crumbs (with minced herbs - fresh parsley, chives, chervil, thyme, optional)

2. Portion sausage into four equal balls.

3. Flatten sausage into a thin disc using the palm of your hand.

4. Encase the hard boiled egg evenly in sausage meat, and crimp it closed thoroughly.

5. Coat with flour then egg wash and finally bread crumbs.

6. Preheat oil to 350 degrees F and cook for 5 minutes, until golden brown.

7. Drain on paper towel and lightly season with salt while still hot.

8. Serve warm or at room temp with your favorite mustard.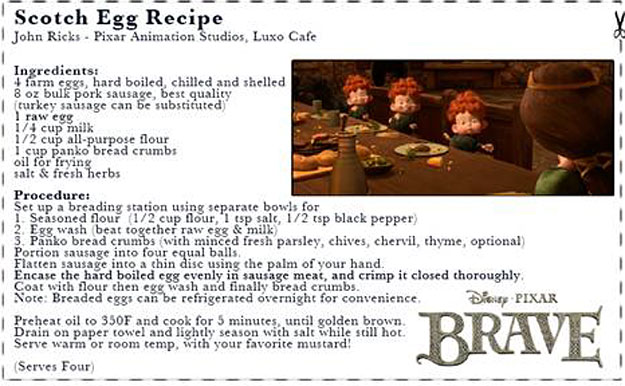 Have you tried traditional Scottish food?