Being that my daughter is a huge Barbie fan, it didn't come as a surprise that she would be interested in the new Sing Along with Barbie DVD.
Sing Along with Barbie features 12 songs from various Barbie movies, including Barbie and the Three Musketeers, Barbie and the Diamond Castle, and Barbie and the 12 Dancing Princesses- 3 of her favorites.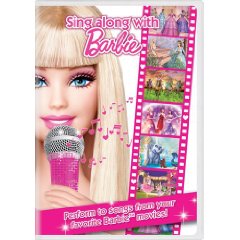 I'm personally a fan of the Barbie movies as they promote kindness, friendship and have a wholesome tone to them. While many of the story lines are similar, each movie is unique because of the songs-which are incredibly catchy and well done.
Sing Along with Barbie is great because it compiles all the best Barbie songs and features scenes from the movie along with on-screen lyrics. After reviewing the DVD, my daughter confirmed her favorite song was "Here on my Island" from Barbie as The Island Princess.
Even though my daughter doesn't need the on-screen lyrics (knows the words to every song), it's nice to have them if any of her little friends come over and want to sing along. A fun DVD for the Barbie or music lover.
Four thumbs up 🙂
I wrote this review while participating in a blog tour campaign by Mom Central on behalf of Mattel. In addition, I received a gift certificate to thank me for taking the time to participate.