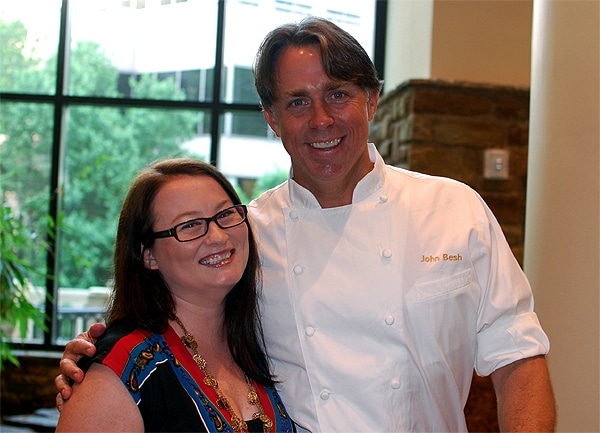 Food and travel are my "things". Other than being a wife and a mother, my highest priority, it is what I live for.
When I went to San Antonio last week to check out the new Embassy Suites Riverwalk, a private dinner with Chef John Besh was on the agenda.
-- insert me, giddy as a schoolgirl --
I am actually a fan of Chef Besh through his many appearances on Bravo & The Food Network, including Top Chef, Top Chef Masters and The Next Iron Chef--which he should have won.
Meeting him was wonderful.
He is charming. And very, very cute gracious. He even personally signed his cookbook for me...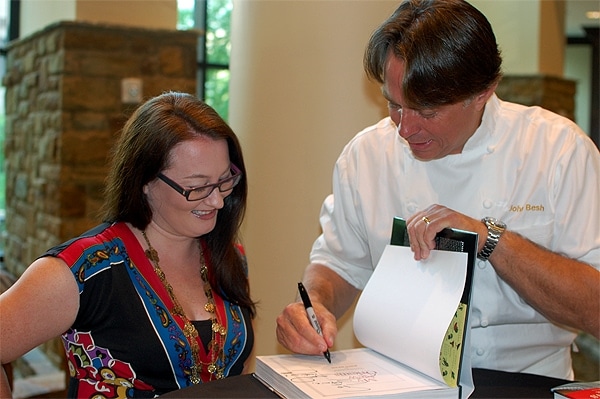 But the real reason we were there, of course, was to try his food. Lüke San Antonio, John Besh's first restaurant outside New Orleans, is a beautiful Franco-German inspired brasserie located inside Embassy Suites San Antonio-Riverwalk.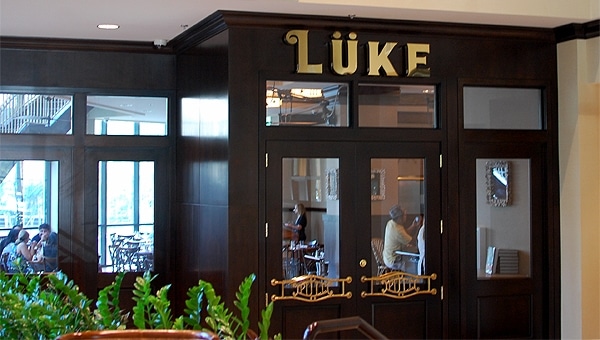 Lüke in San Antonio is actually the second location of Lüke-- the first is in New Orleans. The restaurant is named after his third son.
I knew John Besh was a great chef, but I had no idea how ridiculously amazing his food would be.
Behold, my newest "Best thing I ever ate"--
Gnocchi with Jumbo Lump Crab Meat and Truffle
This dish is found in John's Cookbook, My New Orleans; And on the menu at August in New Orleans.
I thought I've had gnocchi in my life, but I have never had gnocchi that ever came close to the deliciousness that was this. This is heaven in a little copper pot.
I'm pretty sure I licked the bowl clean.
If you are so inclined, here is the recipe for this amazing dish.
Gnocchi with Jumbo Lump Crab Meat and Truffle Recipe
Ingredients:
2 medium Yukon Gold potatoes, peeled and quartered
3 tablespoons butter
3 egg yolks
¾ cup flour
1 dash white pepper
1 dash nutmeg
1 cup Crab Pan Sauce (see recipe below)
½ pound jumbo lump crab meat
1 small black truffle, sliced
¼ cup shaved Parmesan cheese
Salt to taste
How to Make Crab and Truffle Gnocchi
1. Preheat oven to 250°.
2. Place the potatoes in a small pot covered with water and bring to a boil. Once boiling, lower the heat to a steady simmer. Cook until they are soft and able to be cut by a fork or spoon.
3. Strain the potatoes from the water, add the potatoes back to the pot and place into oven for an additional 5 minutes. Remove the potatoes from the pot and press through a potato ricer into a mixing bowl.
4. Add 1 tablespoon of butter and eggs to the warm riced potatoes and mix well. Next, fold the flour, dash of salt, pepper and nutmeg into the potato mixture until manageable dough is formed. More or less flour may be needed, depending upon the moisture level of the potatoes.
5. Separate a fist-sized ball of dough from the rest and gently roll out on a lightly floured surface until uniformly about an inch thick. Cut into 1-inch lengths and roll each length into a ball. Working quickly, shape with a gnocchi board and drop into simmering salted water.
6. Once the gnocchi float, allow them to cook for 30 seconds. Remove gnocchi and add to a large sauté pan with the Crab Pan Sauce over medium heat and bring to a simmer.
7. Add a half pound of crab meat to the pan and the 2 remaining tablespoons of butter and truffle slices. Serve immediately, garnishing each portion with a little shaved parmesan cheese.
Crab Pan Sauce Recipe
Makes 1 cup
1 tablespoon extra-virgin olive oil 1 sprig fresh tarragon
1 small onion, diced 1 bay leaf
2 cloves garlic, minced ½ cup heavy cream
¼ cup minced fennel ½ cup dry vermouth
1 teaspoon crushed red pepper flakes 1 cup crab stock
Leaves from 1 sprig fresh thyme
How to Make Crab Pan Sauce
1. Heat the oil in a pan over moderate heat. Add the onions, garlic, fennel and pepper flakes to the pan. Cook the vegetables, stirring often, for 3 minutes.
2. Add the thyme, tarragon, bay leaf, cream, vermouth and stock to the pan. Increase the heat to high and reduce the sauce by half, 10–12 minutes.
Special thanks to Embassy Suites San Antonio-Riverwalk for hosting my stay and setting up this amazing dinner with Chef John Besh at Lüke.