I visited The Seas with Nemo & Friends at Epcot as part of the Monkey Kingdom event to help promote Disneynatures's newest release (in theaters now!). All opinions are my own.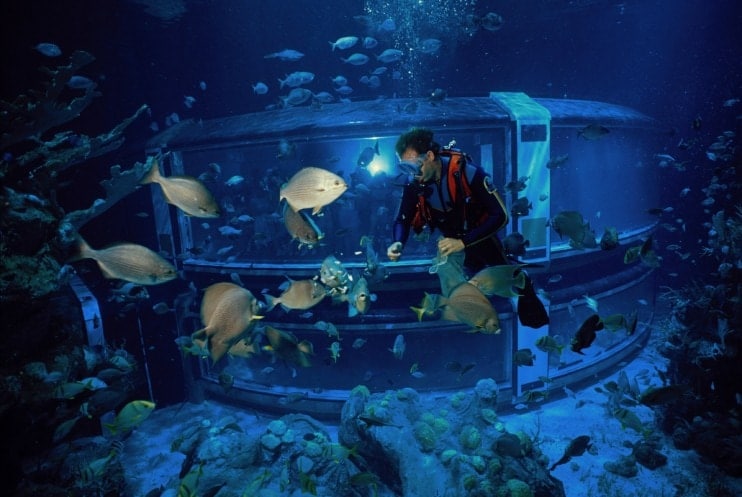 Epcot has long been my favorite park at Walt Disney World Resort, mainly due to the World Showcase. But did you know there's also an aquarium at Epcot's The Seas with Nemo & Friends filled with marine life ranging from stingrays to dolphins and manatees? The Seas aquarium is actually the second largest in the U.S., holding a massive 5.7 million gallons of man-made saltwater!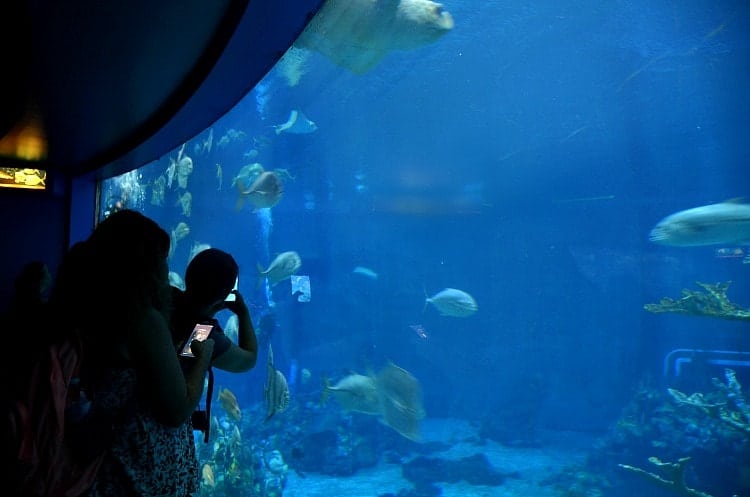 Besides offering a place to cool off during a hot day, The Seas with Nemo & Friends offers interactive programs including a dolphin training demonstration. This is in addition to all the viewing tanks, the Finding Nemo ride and Turtle Talk with Crush.
Here's a few more fun facts about the underwater pavilion at Epcot.
The pavilion opened on January 15, 1986 as The Living Seas
The theme of the building changed to The Seas with Nemo & Friends when the refurbishment of the ride was completed in October 2006.
The diameter of the aquarium is 203 feet (That's 43 feet larger than Spaceship Earth!)
Water depth is maintained at 27 ft.
The windows are made of acrylic and vary in thickness from 5.5 to 8 inches thick and are held into place by water pressure.
Water temperature varies between 75-78 °F
The animal life in the main environment includes more than 1200 individual animals including multiple fish species, sea turtles, sharks, and stingrays.
The four dolphins currently residing at The Seas are Calvin, Khyber, Malabar, and Ranier.
All of the water is capable of being filtered in 2-4 hours, depending on flow rate. (That's a faster rate than the city of Orlando filters its drinking water!)
Each of the ten sand filters can filter 3,500 gallons of water per minute.
The Seas has been featured in many popular television shows including Full House, Family Matters, and Boy Meets World.
Additionally, The Seas with Nemo and Friends offers a few behind-the-scenes tours.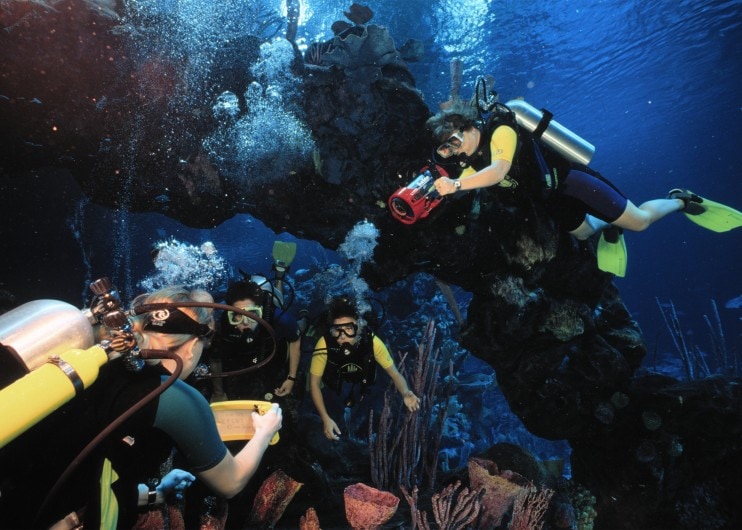 Disney's Dolphins in Depth — Guests get up close and personal with the dolphins waist-deep in the water; swimsuit required. Ages: 13 and up (minors must be accompanied by an adult) — $199.00 p/p.
Epcot DiveQuest — Scuba certification card required; parent/legal guardian must sign waiver for minors ages 10-17 and must dive with minors ages 10-16. $175.00 p/p.
Epcot Seas Aqua Tour — Non-scuba-certified guests have an in-the-water experience with the animals using scuba-assisted snorkeling equipment (provided); swimsuit required. Ages: 8 and up (minors must be accompanied by an adult). $140 p/p.
MONKEY KINGDOM is now in theaters!