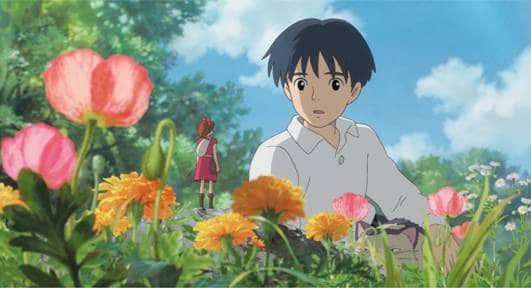 I've been keeping a little secret ever since I attended the Real Steel/The Muppets press junket. In addition to the press event, I got the opportunity to screen a brand new Disney movie, months in advance of the release.
It's called The Secret World of Arrietty (pronounced AIR-ee-ett-ee) and I am so, SO excited to finally share the trailer with you!
Here's a little bit more about The Secret World of Arrietty:

Residing quietly beneath the floorboards are little people who live undetected in a secret world to be discovered, where the smallest may stand tallest of all. From the legendary Studio Ghibli ("Spirited Away," "Ponyo") comes "The Secret World of Arrietty," an animated adventure based on Mary Norton's acclaimed children's book series "The Borrowers."
Arrietty (voice of Bridgit Mendler), a tiny, but tenacious 14-year-old, lives with her parents (voices of Will Arnett and Amy Poehler) in the recesses of a suburban garden home, unbeknownst to the homeowner and her housekeeper (voice of Carol Burnett).
Like all little people, Arrietty remains hidden from view, except during occasional covert ventures beyond the floorboards to "borrow" scrap supplies like sugar cubes from her human hosts.
But when 12-year-old Shawn (voice of David Henrie), a human boy who comes to stay in the home, discovers his mysterious housemate one evening, a secret friendship blossoms. If discovered, their relationship could drive Arrietty's family from the home and straight into danger. The English language version of "The Secret World of Arrietty" was executive produced by Kathleen Kennedy and Frank Marshall, and directed by Gary Rydstrom.
The Secret World of Arrietty doesn't hit theatres until February 17, 2012, so I can't say too much about the film--yet!
What I can say is that I really enjoyed the movie and its message. If you have a child that loves TinkerBell, you're going to want to add The Secret World of Arrietty to your movie list for 2012.