While Disney World is magical all by itself, I like to create a little more on my own with something I like to call "Tinker Bell Treats".
As you probably know, Tinker Bell is a little fairy who sprinkles pixie dust wherever she goes.
Like Santa Claus or the Easter Bunny, she leaves little treats for my daughter at the start of every Disney vacation.  It is a way to kick off the magic and excitement of Disney for a child.
There are a few ways these treats can be arranged. If you are flying, the  easiest way is to use the services of the Disney Florist.  Don't be fooled though, the Disney Florist doesn't offer just flowers, they offer a wide range of Disney gifts, treats and flowers for every occasion.
The magic of the Disney Florist is that your Tinkerbell Treat can be purchased in advanced and delivered directly to your room. If you are staying over Valentine's Day this is a great way to add a little something special to your vacation...not just for the kids. Even if you don't see what you are looking for on the website, just give them a call, practically anything can be arranged.
Everything I have ever received from the Disney Florist has been beautifully packaged and displayed. The flowers are even sprinkled with their own "pixie dust".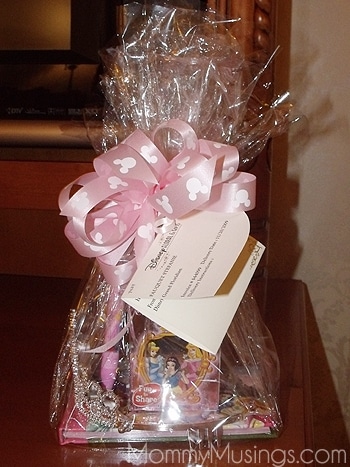 Another option you have, and we used this on our last vacation is Edible Arrangements. Edible Arrangements offer adorable Disney fruit bouquets that can be delivered to your hotel. This is especially great if you love fresh fruit and want a healthy snack to munch on in the room.
From experience, when you call to order an arrangement you will give them the address of the hotel and the date that you arrive. On check in, confirm that your order is there and it can be delivered to your room whenever you prefer.
Disney will store this item in a refrigerator, so no worries on it going bad. It will also fit inside the hotel room mini fridge. For us, the arrangement lasted about 3 days and we practically finished it all (family of 3).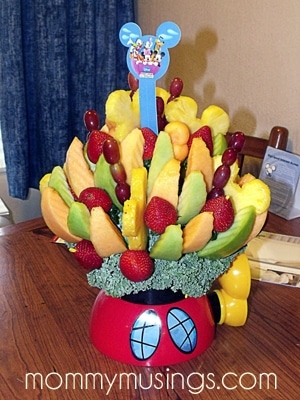 Finally, your third option is to do-it-yourself.  This involves the most planning, but is the most inexpensive. This also works best if you are driving as the contents of your treat will need to be well hidden.
For our week long vacations in the past I have gone all out and picked up inexpensive Disney treats throughout the year. The Dollar Tree can be a great place to find Disney items as well as the Disney Store.
I usually make the arrangement before I leave my house so it is ready to go once we arrive. Since my daughter is still young I am able to be sneaky and use the old I "forgot something" trick, where I go back to the room and place the gift on the table so it is there when we get back after a fun day in the parks.
The reaction is priceless and makes your planning totally worth it!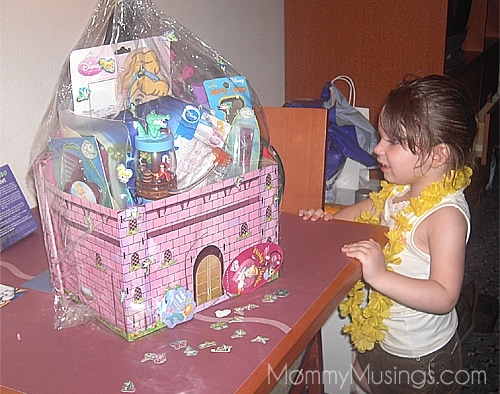 Tinker Bell can even leave personalized notes 🙂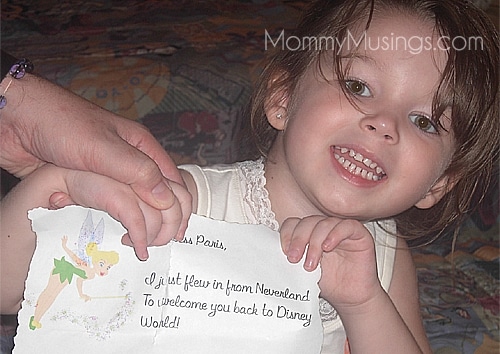 This was one of our first family vacations and the whole thing probably cost around $20! It doesn't have to be this big though. I have purchased a small Disney stuffed animal, or a Disney t-shirt and placed it on the bed with sprinkles and a note and the reaction is just as great.
Obviously this whole concept is optional, but it is a little something extra I like to do keep the magic and memories of Disney special for my daughter.