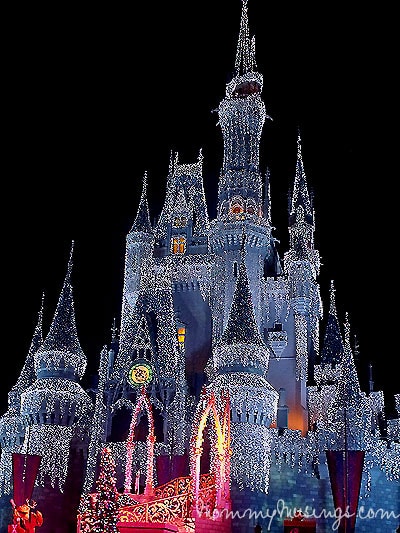 Christmastime is in full swing at Walt Disney World, and no place has more holiday bling than the Magic Kingdom during Mickey's Very Merry Christmas Party.
My daughter and I are no strangers to this hard ticket event (meaning tickets are separate from regular day passes) and a few weeks ago we were invited to attend one of the first Christmas parties of the season.
As always, we had a blast! I thought I would mix things up this year by sharing some of my favorite tips for attending Mickey's Very Merry Christmas Party.
Mickey's Very Merry Christmas Party Tips
Buy your tickets early. I attended one of the first Christmas parties of the season and it was a sold out event. To keep crowds at a level for a more enjoyable experience, Disney limits the tickets available on MVMCP nights. Advance tickets can be purchased online at a discount (before the day of the party).
Mickey's Very Merry Christmas Party dates for 2018: November 8, 9, 12, 13, 15, 16, 25, 27, 29, 30. December 2, 4, 6, 7, 9, 11, 13, 14, 16, 18, 20, 21.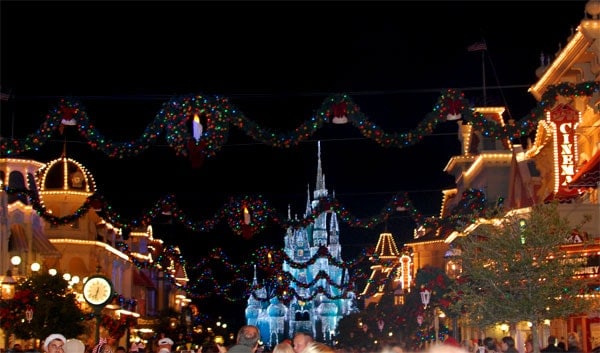 Check the weather before you leave. Florida weather is totally unpredictable; some evening's tanks & shorts will do and other night's coats & scarves are needed—it's really up and down on a daily basis. This year we arrived at 6:00 pm with moderate weather and by midnight we were freezing…luckily we were prepared!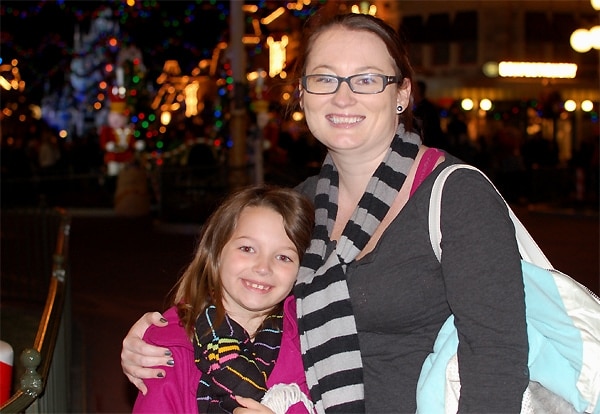 Get there early. Mickey's Very Merry Christmas Party officially starts at 7:00 pm, but party guests are being let in as early as 4:00 pm this year. We like to arrive at around 5:30-6:00 p.m., just as regular park guests are leaving the Magic Kingdom. This is the best time to do attractions like Thunder, Space and Splash Mountain. During the party, fast passes are not available, but ride times are usually less than 15 minutes. The party ends at midnight, and so far this year, monorails have been running until park closing.
Don't stress over the cookies & hot cocoa. My daughter loves the cookies and hot chocolate, but as soon as 7:00 pm hits the lines are a mile long. The special MVMCP park map designates where the holiday treat stops are located and they all serve the same thing. This year it's snickerdoodle cookies, apple slices, hot cocoa and apple juice. You can order as many treats as you'd like and they are complimentary during the party. In my experience, the shortest treat line is in Adventureland.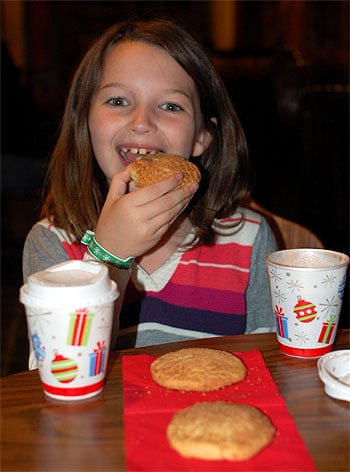 Have a plan of action. Even with the party lasting 5 hours (and even more if you get there early), there is a lot to see, and to hit all the special events a little planning is required. The must-do's on my list are Mickey's Once Upon A Christmastime Parade (8:15 & 10:30 pm), Holiday Wishes Fireworks Spectacular (9:30 pm) and "The Magic, The Memories and You" Holiday Castle Projection Show (9:15 pm). The Projection Show is especially fun when they turn Cinderella's Castle into a gingerbread house!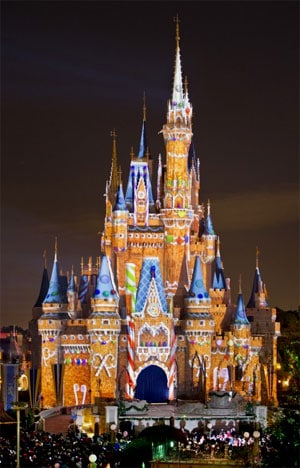 Holiday Character Meet and Greets make great Christmas cards. It's not everyday Mickey, Minnie and the gang are dressed up in their holiday finest. Use this to your advantage and get some holiday family photos with your favorite characters. This is also one of the only times all Seven Dwarfs are available for photos!
Holiday Mickey souvenir Popcorn Buckets are back this year! For $12 you get a bucket filled with popcorn that can be reused as holiday decor-- we removed the handle and have him on display in the living room next to the TV.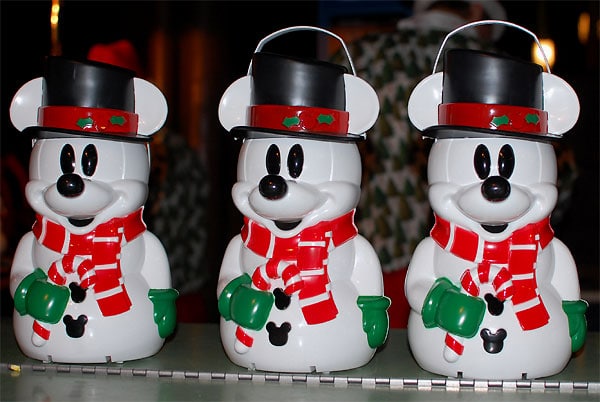 Don't miss the snow on Main Street. As a native Floridian, I have to travel far and wide to see snow. While the snow on Main Street, U.S.A. isn't real (it's bubbles!), it is still fun to imagine an actual snowfall in the Magic Kingdom.
Stay Connected during the party. If all these tips weren't enough, you can text SNOW to DPARK to receive the latest info, tips and real-time updates on your phone while you're in the park. Standard Msg & data rates apply and you can text STOP to 37275 to cancel text messages.
For more information or to purchase tickets visit www.DisneyWorld.com/Holidays.
Special thanks to Walt Disney World for providing media tickets to my family.