Our toddler holiday gift guide is all about giving the little ones something fun and new this holiday season. Whether it is a book or a stuffy, the list below has some of the best ideas to add to your shopping list this year. I love knowing that I am able to get something unique, and this list definitely includes a few custom ideas that won't be found under every holiday tree this year.
This is a sponsored post. Many of the items and brands included in this list have compensated me with product samples. All item opinions are my own and are not swayed by the brand, but by my own experience.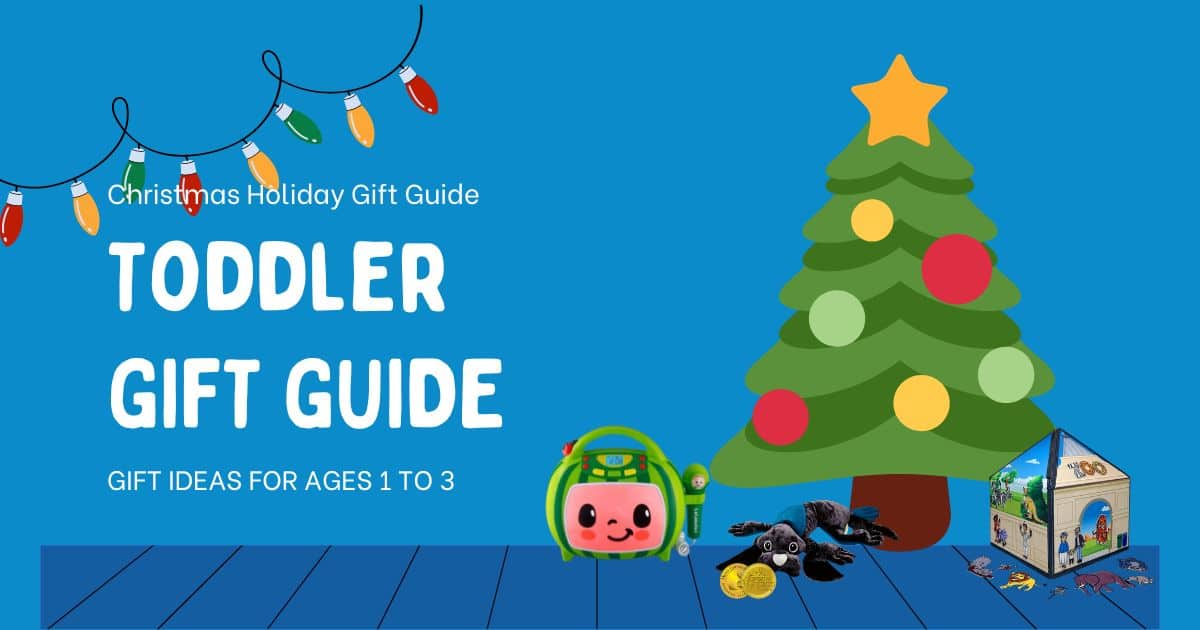 Toddler Gift Ideas
Babies and toddlers are one of my favorite age groups to shop for. Mostly, for me, it's because buying all the soft stuffed animals and bright-colored toys just makes my heart happy. So, this list has a few of my favorite items, plus some great ideas that our sponsors shared this year. Whether you have a little boy or a little girl on your list, these ideas are ideal for everyone. There are even budget ideas on this list that are going to be perfect for those who have a limited amount to spend this year.
If you have little ones just a bit older, you might also want to check out our preschool gift guide which has a few different ideas just for that age range.
Toddler Holiday Gift Guide
Toddler Holiday Gift Guide - Ages 1 to 3
Find something unique for the little ones on your list this season with our custom toddler holiday gift guide focused on ages 1 to 3!
This is a sponsored post.  Many of the items and brands included in this list have compensated me with product samples.  All item opinions are my own and are not swayed by the brand, but by my own experience. 
Budget Gifts for Toddlers
The best part of buying for the younger children on your list is that they most likely won't want expensive items. Kids aren't that picky until a bit older, so you can get away with spending less and still being thrilled. We've all seen the toddler who was happier with the bow on the gift than the gift itself! So, below are a few things you can make/do that are simple, practically free, and ideal if your budget is limited.
Make them a bag or purse. If your kids like to play dress up, even the youngest will garb the purse or jewelry to add to the outfit. You can make a simple no-sew bag, or even turn an old t-shirt into a bag easily for them to use.
Create dress-up clothes from your closet. Along the same lines, you can easily go through your closet, your spouse's, or older kids' closets and find items that are fun for dress-up playtime. Whether it is an old shirt you cut down and hand sew into a dress or a floppy hat, kids will love having new to them dress-up clothes.
Make a "cooking kit". Gather the supplies for making cookies together, and put them into small containers or bags, then gift them as a gift basket or box to the little ones so they can help you make cookies. This works best for the older toddler but is a super fun idea to use items you already have on hand.
Make a playhouse out of cardboard. One of my favorite things as a kid was crawling around in cardboard boxes we had turned into playhouses. You can take the time to cut and tape them together to build a big house with tunnels, and then paint or draw on them, give them windows, and even add colorful roofs. Kids will love this, and it won't cost you anything but time!
More Gift Guides
Even though the kids are the most important on your shopping list, that doesn't mean you can't buy for others! Below are some great guides for different people on your shopping list. Take a few minutes to look over these and find new ideas that fit those you are buying for this holiday season. Make sure you bookmark the guides or pin them to your holiday shopping boar don Pinterest so they are handy when you are ready to shop!