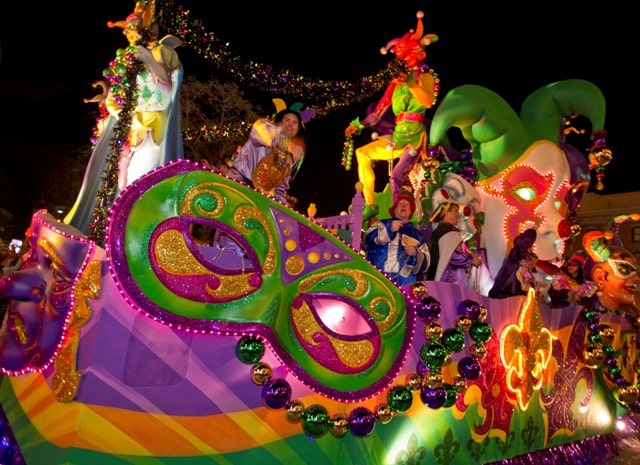 Spring brings a colorful, family-friendly version of Mardi Gras to Universal Studios Florida. Booths set up in the "French Quarter" section of the park offer Cajun cuisine, and Universal brings bands from New Orleans to entertain. And then there's the parade, where there are plenty of beads to be caught and some fabulous floats designed by Blaine Kern Artists - the same firm that builds the most famous New Orleans Mardi Gras floats. This year, there are three new floats that are themed around Jules Vernes' "Around the World in Eighty Days."
And then, there are the concerts on the Universal Music Plaza. Universal Orlando always gets a diverse lineup and some big names, and this year is no different! Country, R&B, classic rock, Latin - no matter what kind of music you like, there's a night you should be at Mardi Gras. Robin Thicke - who had THE song of the summer last year with "Blurred Lines" - jumped out to me as one of the biggest names coming to Mardi Gras this year. Have I mentioned yet that the concerts, the parade and the Mardi Gras fun is all FREE with your Universal Studios Florida ticket? Where else could you see Robin Thicke for free!?
Mardi Gras runs Feb. 8 through May 31 on select nights. Here's a look at the concert lineup:
Feb. 8: Daughtry
Feb. 15: Barenaked Ladies
Feb. 16: Thomas Rhett
March 1: Collective Soul
March 8: Prince Royce
March 14: Cody Simpson
March 15: Foreigner
March 21: A Great Big World
March 22: Gavin DeGraw
March 28: Kelly Rowland
March 29: Weezer
April 5: Skillet
April 12: Lynyrd Skynyrd
April 19: Kool & The Gang
May 3: Nelly
May 10: The Wanted
May 17: The Roots
May 24: Cher Lloyd
May 31: Huey Lewis and the News
June 7: Robin Thicke
For more information and a full concert listing, visit www.universalorlando.com/mardigras.