Raise your hand if you have a kid (or you yourself) love video games! If the answer is yes, like it is in our home, you're going to be super excited about what's coming from Disney Interactive.
Earlier this month, at the D23 Expo in Anaheim, California, I got a sneak peek at the newest and most awesome products and games being released from Disney Interactive, Playstation and Square Enix this year and beyond. Needless to say, I'll be looking to buy video games all year long. I have to say, I was at the edge of my seat for each announcement, especially with the latest on Kingdom Heart III (please tell me I'm not the only one who was obsessed with the original!) and Disney Infinity 3.0, which we're already a fan of 1.0 & 2.0.
Here are some of the highlights (prepare to want to do some serious Christmas shopping!).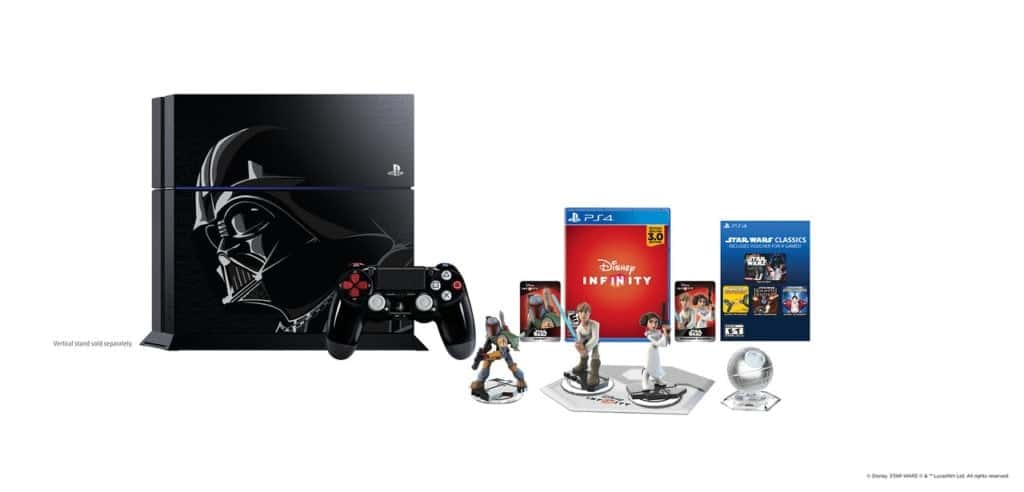 On November 17, fans will be able to purchase two very special limited-edition Darth Vader-inspired PlayStation®4 Star Wars bundles: Star Wars: Battlefront and Disney Infinity 3.0: Star Wars.  The bundles include a fully customized PS4™ featuring an image of Darth Vader, a controller inspired by Darth Vader's suit and more.
The Limited Edition Star Wars Battlefront PS4 Bundle will include a custom 500GB limited edition PS4 system (CUH-1200 series) and DUALSHOCK 4 Wireless Controller inspired by Darth Vader. The fully customized PS4 features an image of Darth Vader, as well as a repeated Star Wars logo across the top of the system. The Darth Vader edition DUALSHOCK 4 is inspired by Darth Vader's chest panel and features the repeated Star Wars logo on its touchpad.
The Disney Infinity 3.0 Star Wars package will include the Darth Vader-inspired 500GB PS4 system (CUH-1200 series) and DUALSHOCK 4 Wireless Controller, as well as the Disney Infinity 3.0: Star Wars Edition PlayStation Exclusive Hardware Bundle Kit. The kit includes a physical copy of Disney Infinity 3.0 Edition, the Disney Infinity Base, the Rise Against the Empire Play Set Pack (featuring Luke Skywalker and Leia Organa figures, as well the Rise Against the Empire Play Set piece), and the Boba Fett figure, exclusive to PlayStation through this holiday.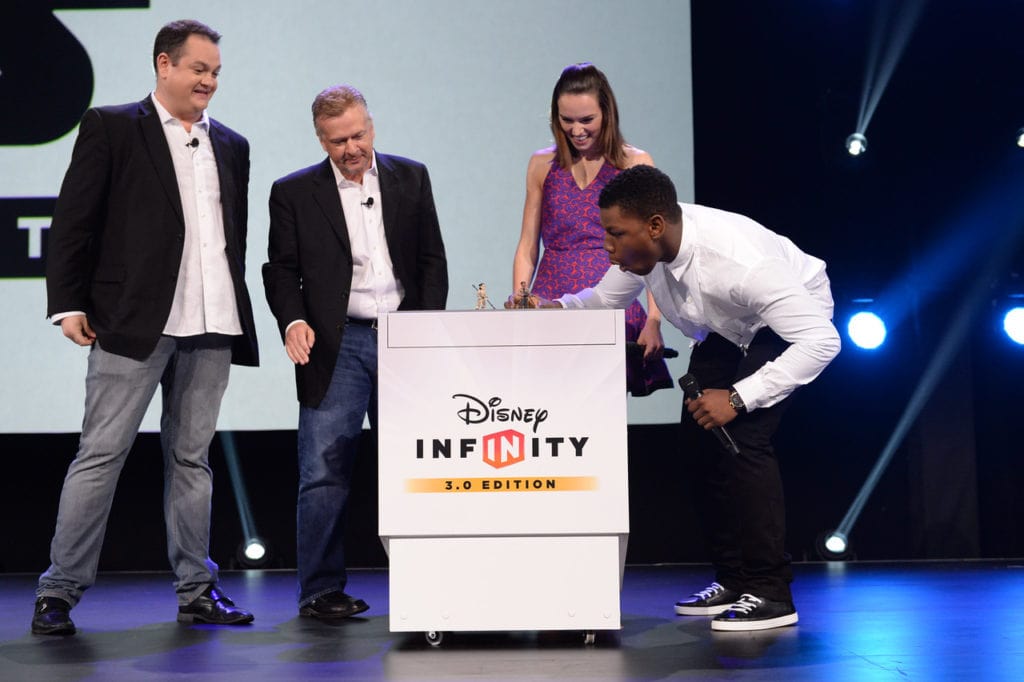 John Boyega and Daisy Ridley, co-stars of Star Wars™ The Force Awakens, surprised guests on stage and gave away their character figures, Finn and Rey, for the upcoming Disney Infinity 3.0 Edition Play Set based on the film. 
Other character reveals also included Nick Wilde and Judy Hopps from Walt Disney Animation Studios' Zootopia, Spot from Disney•Pixar's The Good Dinosaur and a limited edition set of Light FX Star Wars™ character figures that light up when placed onto the Disney Infinity Base.  Exciting new Disney Infinity integrations with Walt Disney World and Disney Cruise Line® were also unveiled. For additional information visit www.disney.com/infinity and www.youtube.com/disneyinfinity.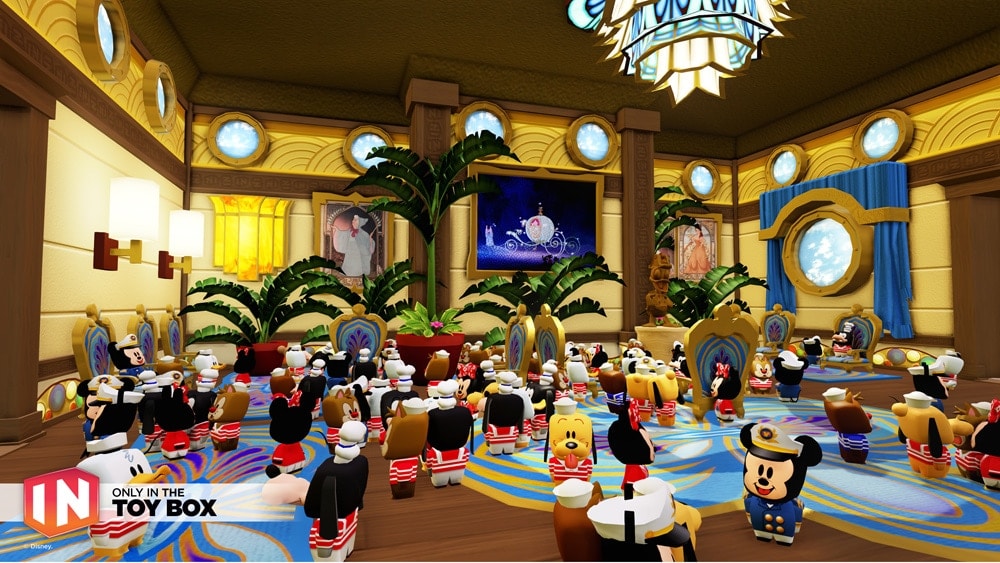 Coming this Fall, Playmation Marvel's Avengers Gamma Gear – inspired by the 7-foot Hulk – lets you smash into battle using motion-sensing technology putting you in the Avengers action.  Slip your hands into the Gamma Gear and use the motion-based controls to smash your way through missions and stomp through battlegrounds with different Hulk moves like Ground Slam, Thunder Clap, and other combos.  For more info on Playmation, including how it works check out Playmation – Physical Play for a Digital Generation.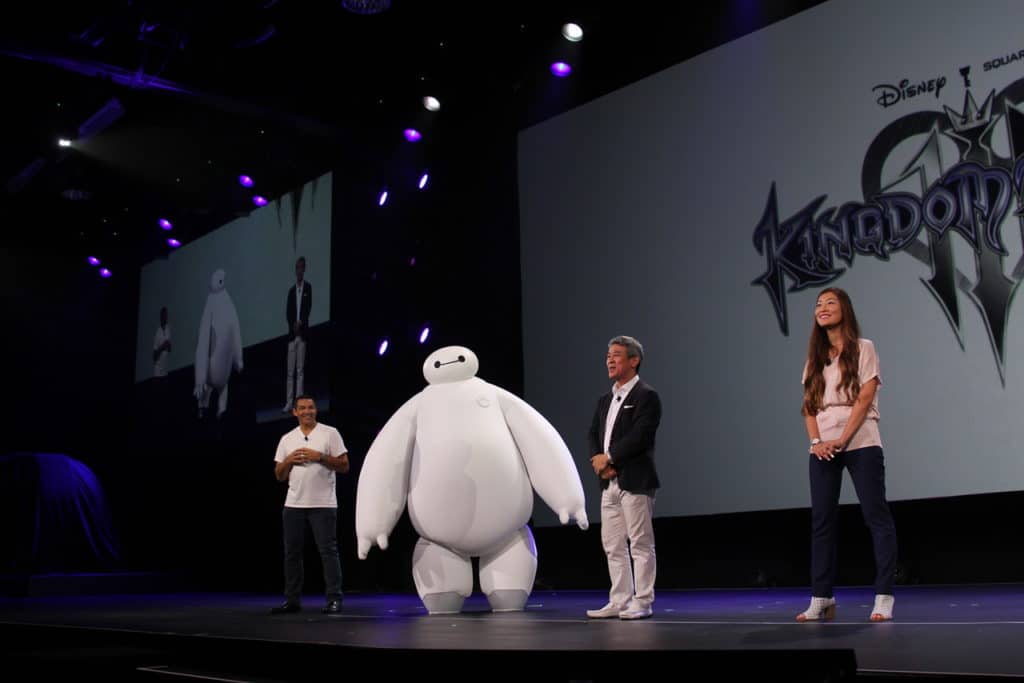 Square Enix and Disney Interactive revealed that Baymax and other beloved characters of Walt Disney Animation Studios' Academy Award®-winning film Big Hero 6 will make their debut in the ever-expanding narrative of KINGDOM HEARTS III.  The Walt Disney Animation Studios collaboration announcement featuring Conli can be viewed on YouTube www.youtube.com/KingdomHearts.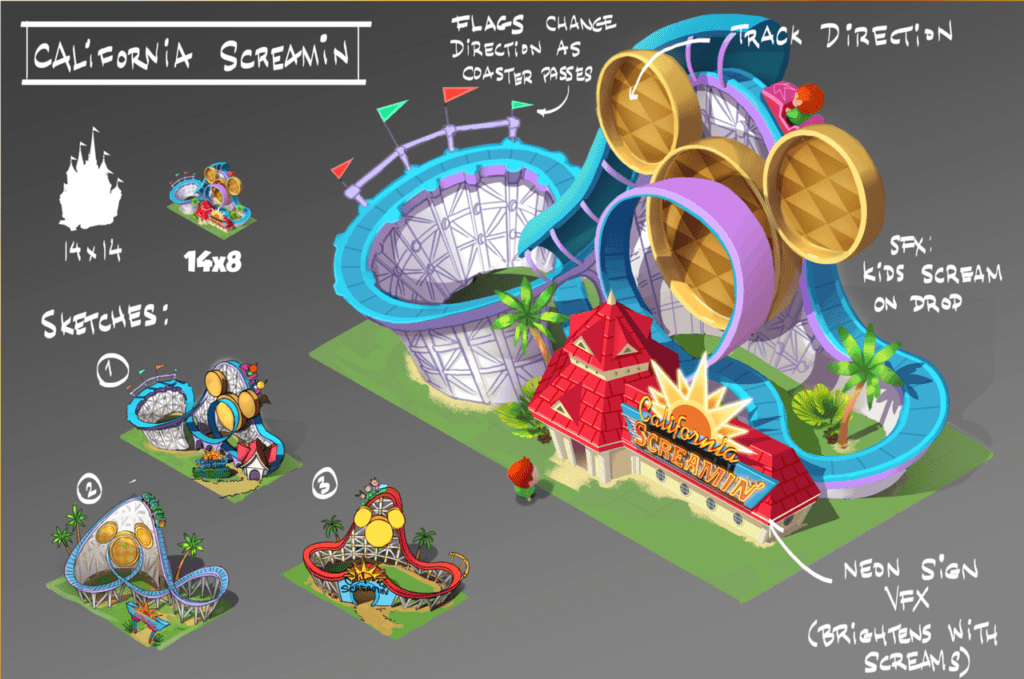 Disney Interactive announced Disney Magic Kingdoms, a new mobile game being created with Gameloft that lets players build the Disney theme park of their dreams by recreating and placing iconic attractions such as Space Mountain, Haunted Mansion, California Screamin' and many more in a fun animated landscape. Stay tuned to discover the spectacular world of Disney Magic Kingdoms at https://www.facebook.com/gameloft.
What Disney products/games are you looking forward to?
Special thanks to Walt Disney Pictures for hosting me at the D23 Expo.