Wreck-it-Ralph is, hands-down, the best animated film that I've seen this year!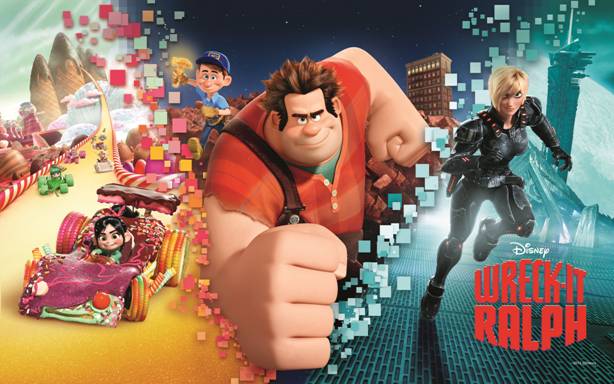 Wreck-It Ralph (John C. Reilly) is a video game bad guy who is dissuaded with his position as the second banana to Fix-it-Felix Jr. (Jack McBrayer), in their game of the same name.  Ralph tries his best to be a part of his video game family and continually gets pushed away. Full of rejection, Ralph decides to take matters into his own hands. He leaves his 8-bit world in search of a medal that will allow him to prove he is truly a good guy.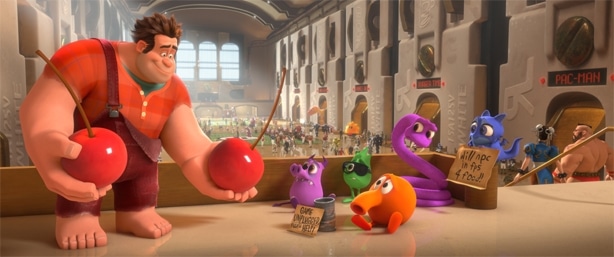 The most interesting part of the movie for me was how seamless each of the arcade worlds came together, behind the scenes, in Game Central Station. This internal meeting place is where all the characters connect, and it's fun to see familiar faces from the past and present. Though they're not technically allowed, characters can enter other games ... which is known as going "Turbo".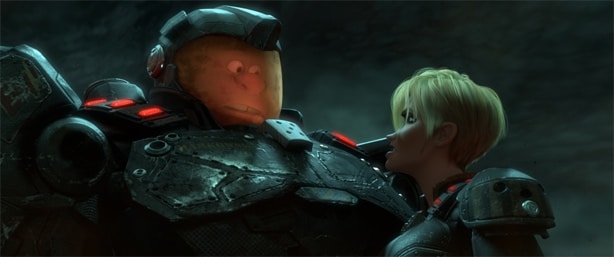 Determined to get a medal, Ralph finds himself in the first person shooter game "Heroes Duty", which is lead by the tough as nails Sergeant Calhoun (Jane Lynch). Ralph gets his metal, but he also ends up getting thrown into another video game world called "Sugar Rush" -- a poppy, candyland-ish racing game. This is where  he meets Vanellope von Schweetz (Sarah Silverman), a little girl trying to find acceptance in her own game ... much like Ralph. The relationship goes through the highs and lows you would expect from a modern Disney film.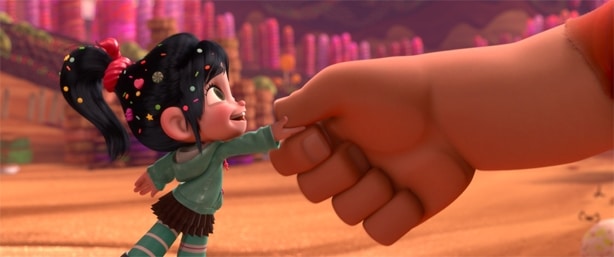 My daughter didn't recognize a lot of the video game characters that were in the movie, though that didn't make it any less enjoyable for her -- she absolutely loved it and has asked me to see it again. As a parent, it was awesome to see the video game characters I grew up with all represented in one film.  I quickly recognized cameos from "Super Mario Bros.", "Pac-Man", "Sonic" and "Q-Bert". I love how Wreck-It Ralph is appealing to both gamers and non-gamers alike. Even if you've never picked up a joystick or controller, you will fall for the sweet, fun, and funny cast of characters in Wreck-It Ralph.
Wreck-It Ralph is now in theaters!! Go see it!!
Special thanks to Walt Disney Pictures for providing me the opportunity to attend the Wreck-It Ralph press day. All opinions are my own.