Last month I got the privilege to preview the brand new Pirates League at the Magic Kingdom in Walt Disney World. At this time my daughter wasn't with me, but they invited us back to actually experience the Pirates League for ourselves.
I originally thought The Pirates League would be a Bibbidi Bobbidi Boutique for boys, but boy...was I wrong!
The Pirates League is located at the Magic Kingdom directly to the right of the entrance to the Pirates of the Caribbean ride.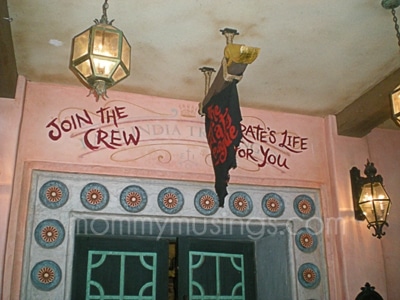 The Pirates League is open to adults and children ages 3 and up, and both girl and boy packages are available.
For our pirate transformation, my daughter and I both choose the Empress package - which is the girl pirate look.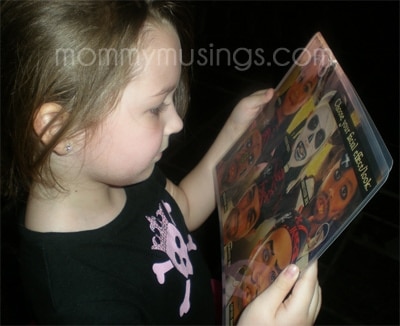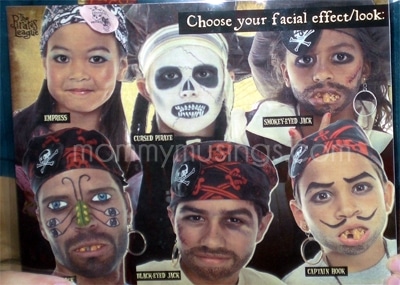 After the pirate look has be chosen, you are then guided to get ye own pirate name. Arg!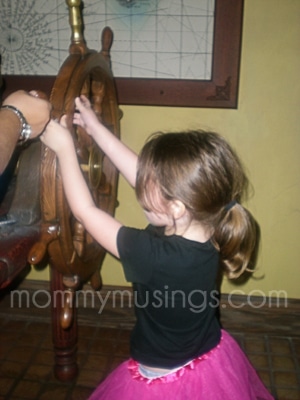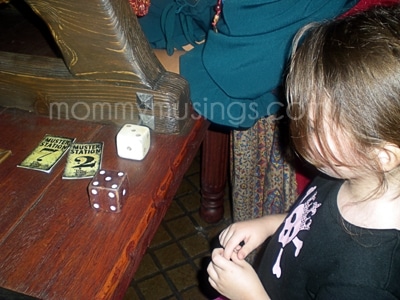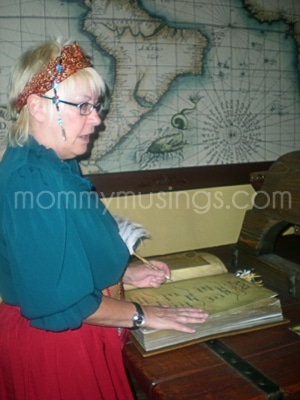 Your pirate name is chosen after a series of events including- spinning the pirate wheel, revealing the numbers on the dice, and matching the numbers to your birth month. Complicated stuff here.
In our pirate ceremony are names were revealed as....drumroll...
Lisa Goldstealer - (dd)
Lisa KeelKid - (me)
I was assured that it was pretty rare to have 2 people in the same party with the same first name. We had rolled different numbers and have different birth months.
After the pirate names are given it was time to get to the good stuff!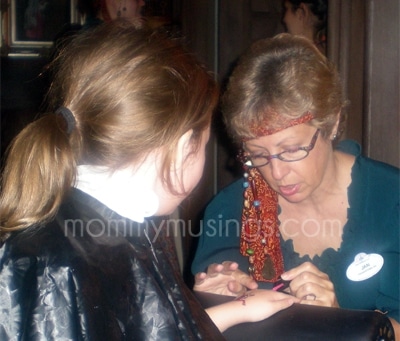 As far as the Empress pirate package goes, there is a bunch of choices you get to make for your makeup look. My daughter chose all her own colors including pink eyes and red lipstick!
The Empress package includes choice of nail color, eye color, and lip color. You get to keep the bottle of nail polish and lip gloss. Other choices include bandanna pattern and eye patch color, which you also get to keep in a little satin pouch (also a choice of colors).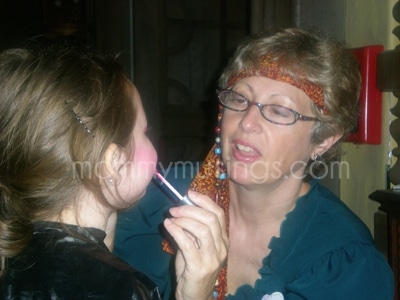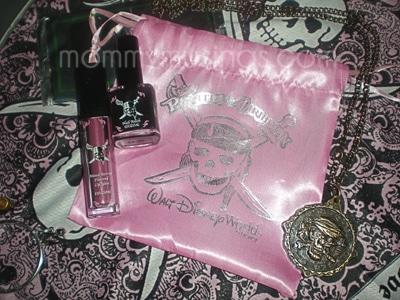 After your pirate transformation is complete, you are sworn in as an official member of The Pirates League!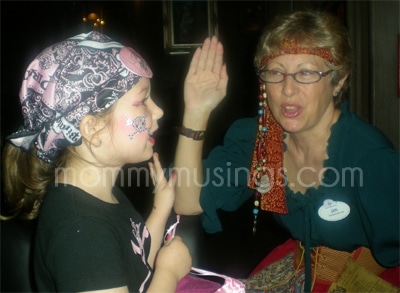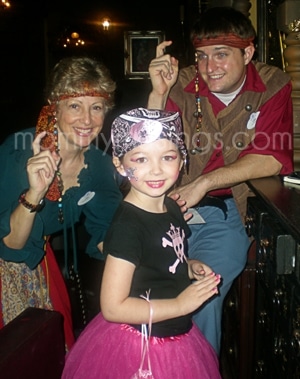 Once the makeup portion of the experience is over you will receive your pirate sword and then are escorted to a super secret room where super secret stuff happens (aka picture time).
After you are  finished with the super secret stuff, it is time to head up to the front counter where you are presented with your official pirate photo, personalized pirate oath, and treasure map where the adventure continues on...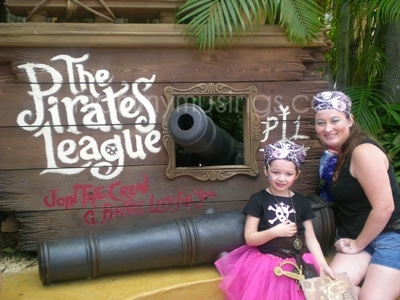 We had a blast at The Pirates League, and this is definitely not an experience just for boys. My daughter loved dressing up as a pirate empress and is still playing with all her treasures today.
At this point, we have experienced both Bibbidi Bobbidi Boutique and the Pirates League.  I asked her which one she preferred and she said The Pirates League. I believe the PL is more interactive and really a fun "experience" that goes on even after the session is over.
Packages are as follows:
The First Mate Package at $49.95 plus tax includes:
* Bandana (reversible)
* Choice of Facial Effect look: Cursed Pirate, Captain Hook or Captain Jack
* Fake Teeth
* One (1) 5x7 picture
Empress Package at $49.95 plus tax includes:
* Bandana (reversible)
* Vibrant and Bold Makeup Makeover
* Face Gem
* Nail Polish and Lip gloss
* One (1) 5x7 picture
Additional pirate costumes for this package are available for purchase at The Pirates League.
The Captains Package at $124.95 plus tax includes:
* Choice of pirate costume
* Choice of Facial Effect look: Cursed Pirate, Captain Hook or Captain Jack
* Fake Teeth
* Three (3) 5" x 7" pictures
Also, we got complimented on are pirate outfit and I just wanted to add how easy and inexpensive this was to create. The tutu is an inexpensive one that just slips on over a pair of shorts (great for when they are tired of the look in the parks as it can easily be taken on and off). The pirate princess tee was from Target for $6 and they do them every year at Halloween. You do not have to buy the empress dress to make your look complete, but it is ADORABLE if you do decide get it.