I love Easter! Getting excited about egg hunts, watching the world around me come alive with chicks, and lambs, and birds in the trees. And there's also the chocolate, obviously!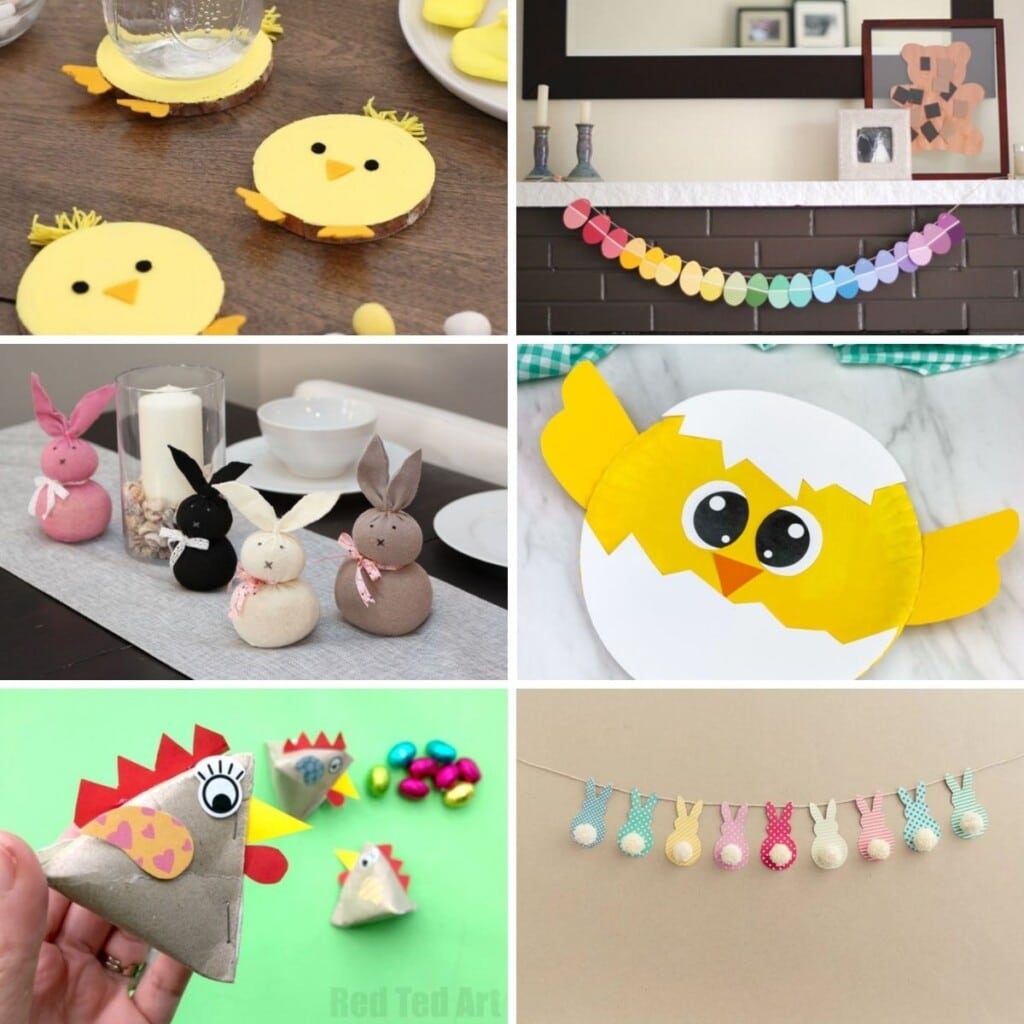 Decorating the house for Easter is super fun, and it's great to get the kids involved in all sorts of crafts:
It keeps them occupied,
It builds the excitement while we're all getting ready for the arrival of Mr. Easter Bunny,
It gives you the opportunity to spend some quality time together, and
It helps them develop their fine motor and problem-solving skills.
I've pulled together 40 fun Easter craft ideas for you to do with your kids, from washcloth bunnies to salt dough egg ornaments.
There's something for children of any age to get stuck into, so let the Easter fun begin!
Peekaboo clothes pin eggs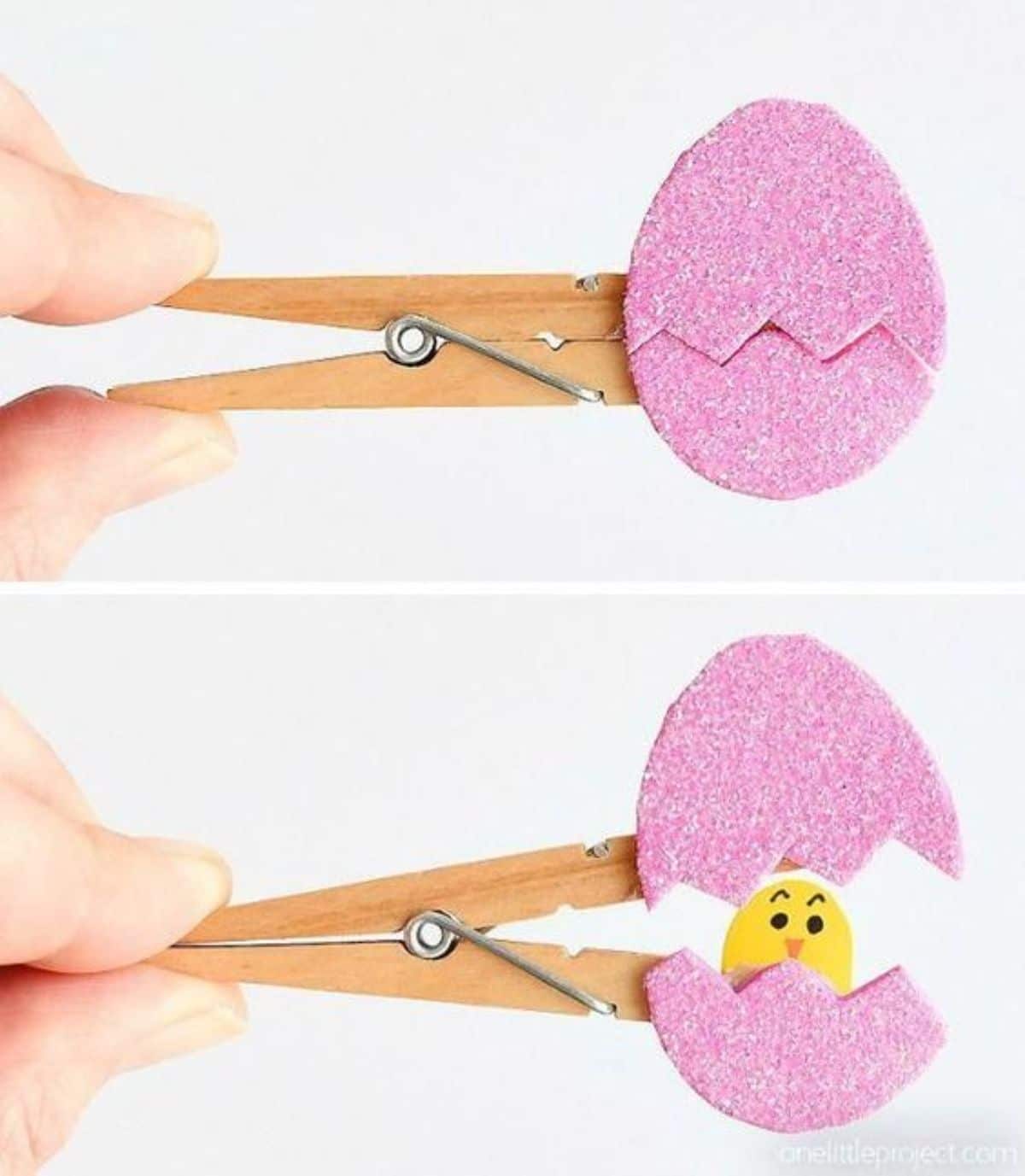 These cheeky chicks will delight your little ones as they chase each other around the kitchen, look cute on the fridge, and only take 5 minutes to make: perfect for a quick craft hit! Head over to OneLittleProject for the instructions.
Washcloth bunnies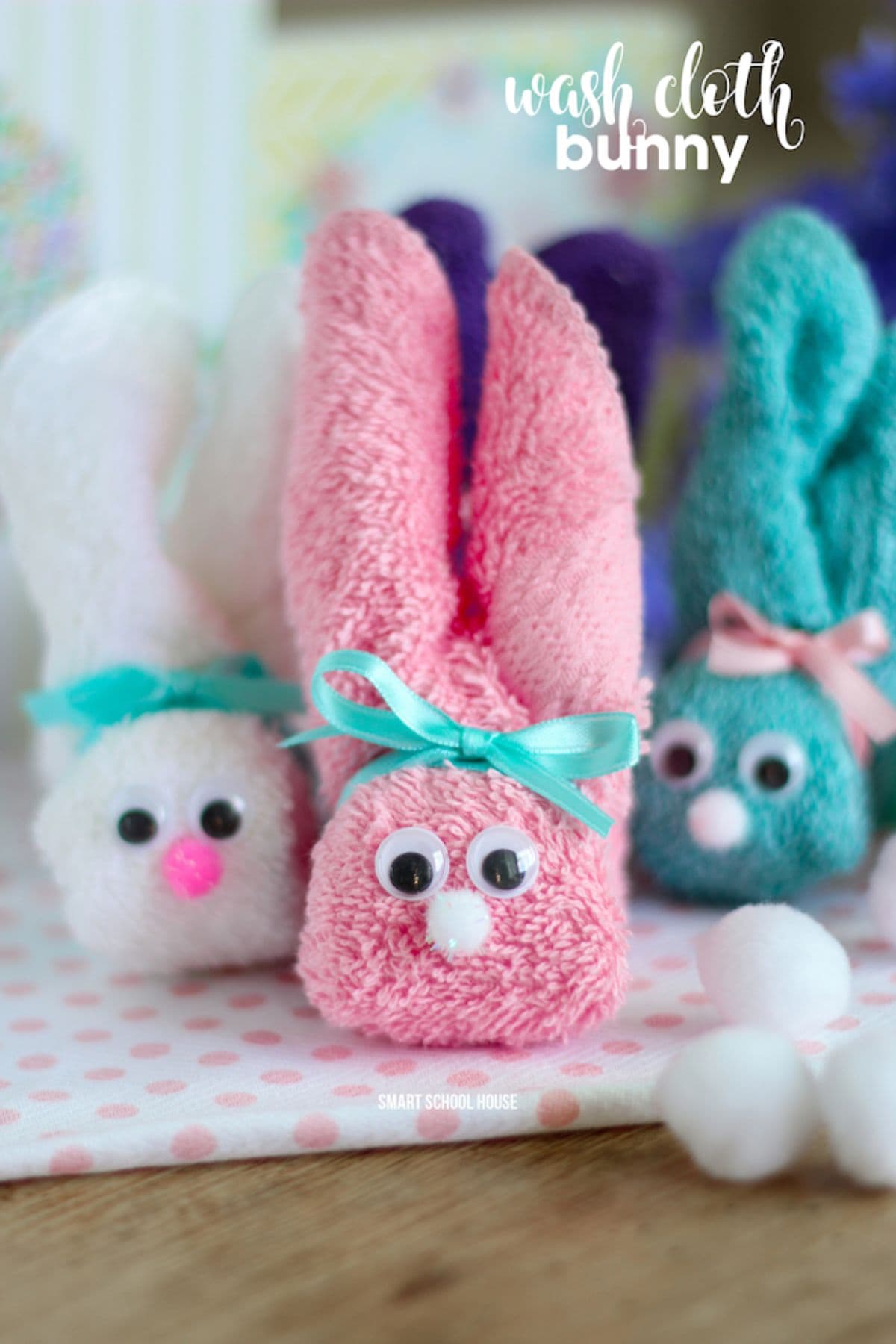 If you're looking for something that has no need for glue or sewing, then these washcloth bunnies are perfect. Your kids can use them to decorate their rooms, and as an added bonus, if your accident-prone cherubs have any bumps or bruises, you can put ice cubes in them to soothe any aching. Smart School House shows you how.
Paper roll chicks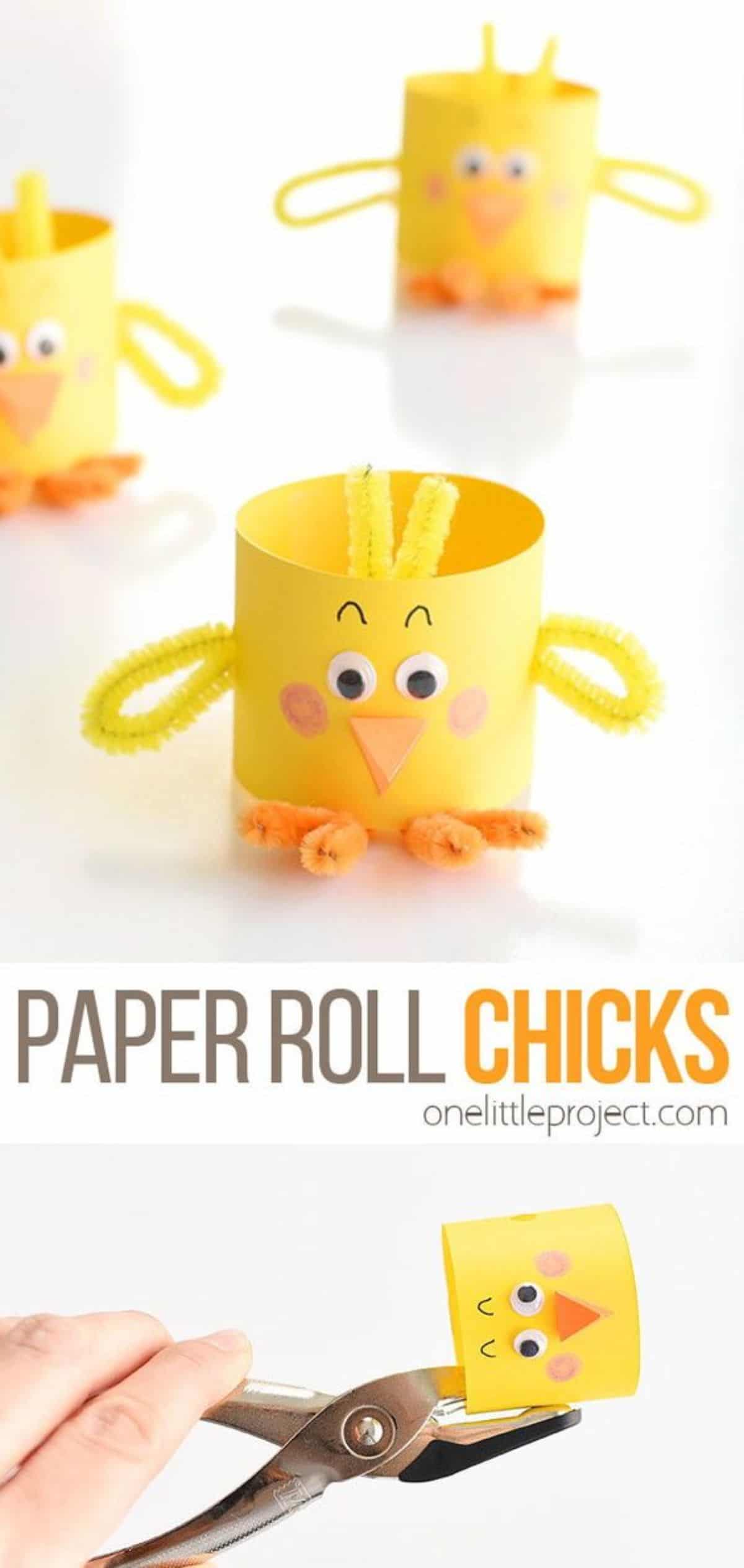 Another quick, no-mess decoration idea for you to make here. These paper roll chicks can sit on your Easter table and then be used as cute little egg cups for your Sunday breakfast. Find out how to make them at OneLittleProject.
Footprint Easter bunny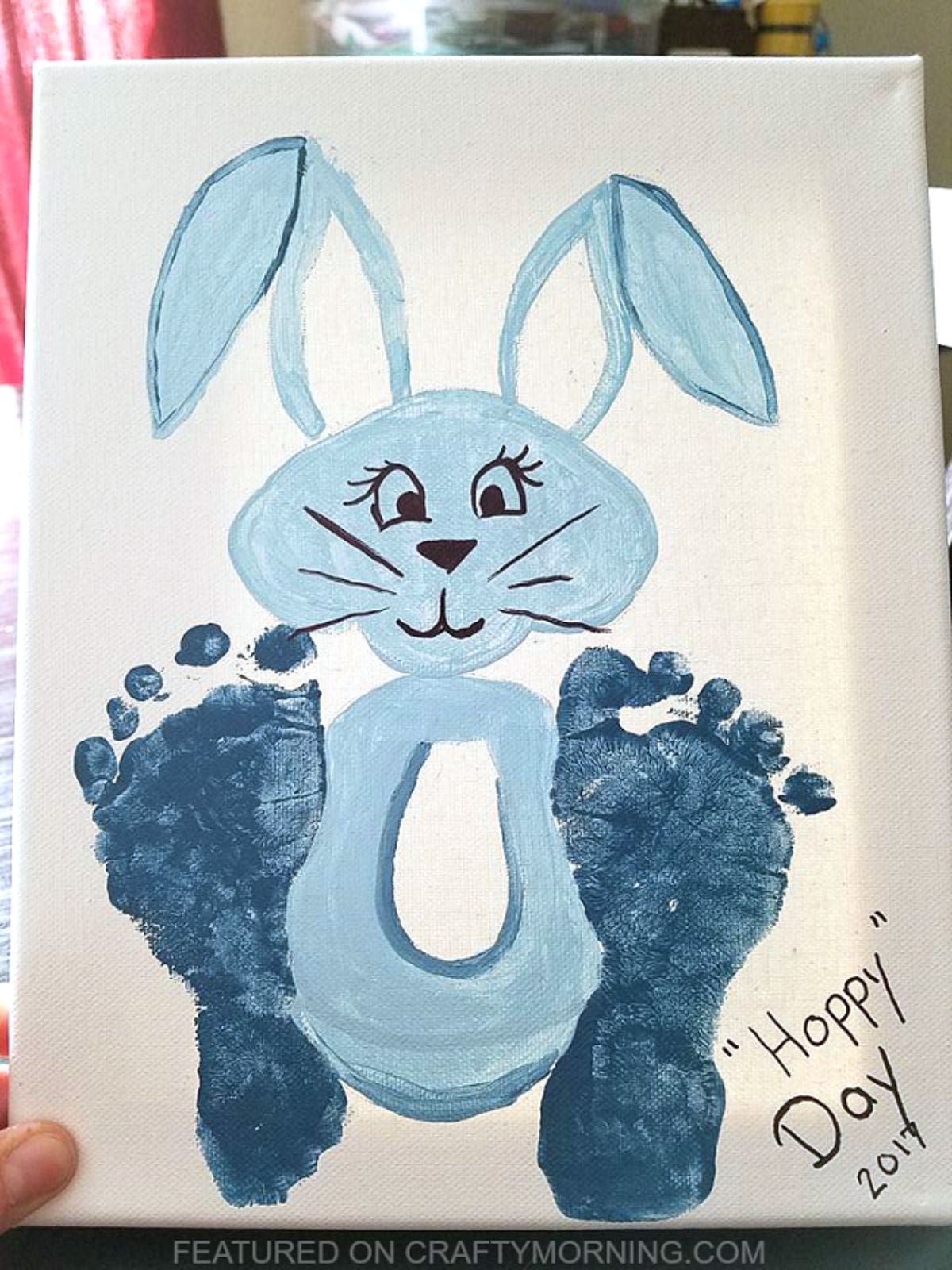 If you're looking for a way to involve your baby or toddler in your Easter decor, then this craft is perfect for adding that personal touch to your home or to frame and use as a gift for Grandma. Instructions on how to get your little one to make their mark can be found at Crafty Morning.com, after-craft shower not included!
Easter egg chicks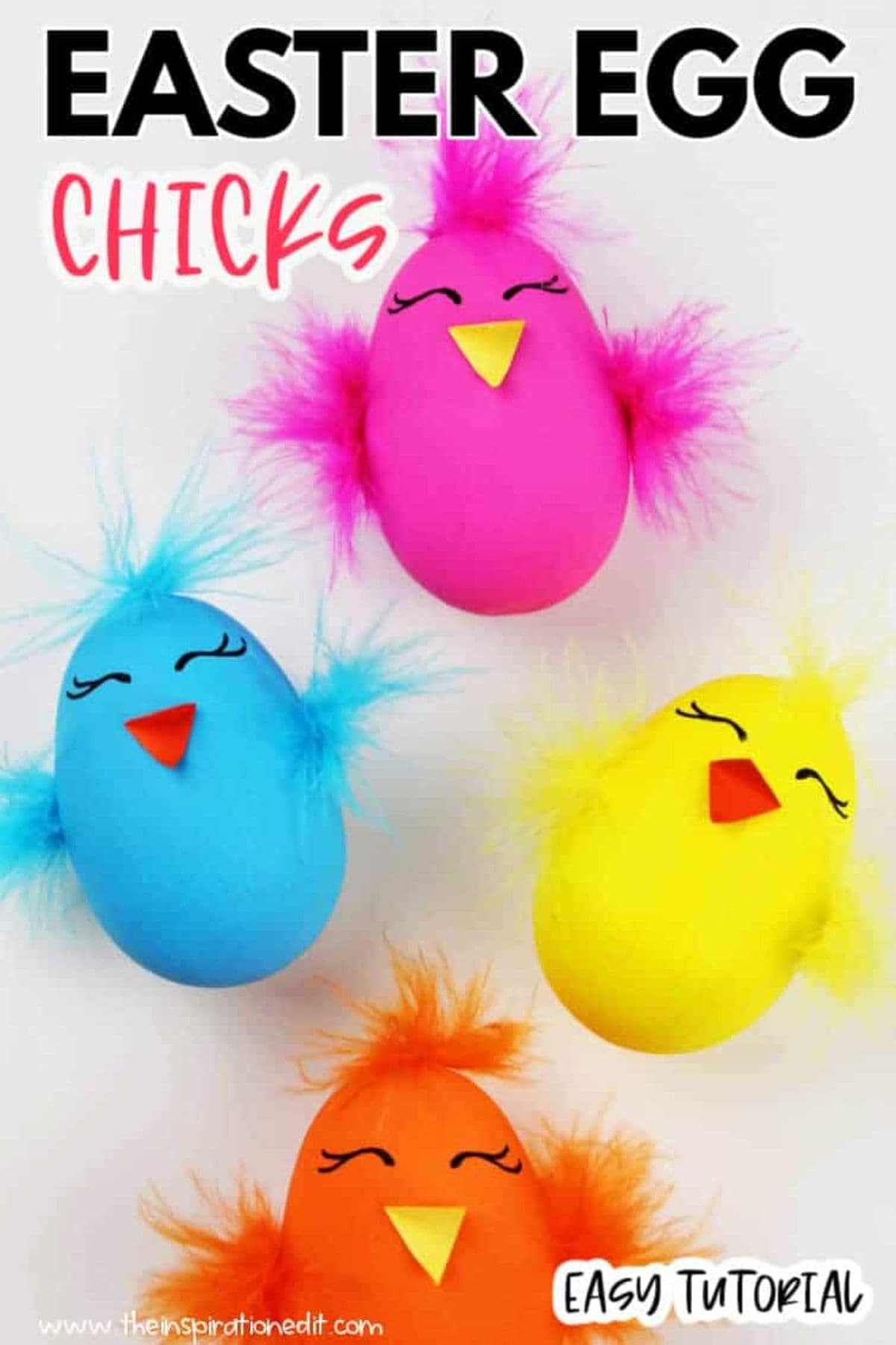 With little wooden, or polystyrene eggs, a glue gun, and some fun fluffy accessories, you can make these cheeky little chicks to scatter around your house and hide amongst your ornaments. The guide can be found over at The Inspiration Edit.
Paint chip Easter garland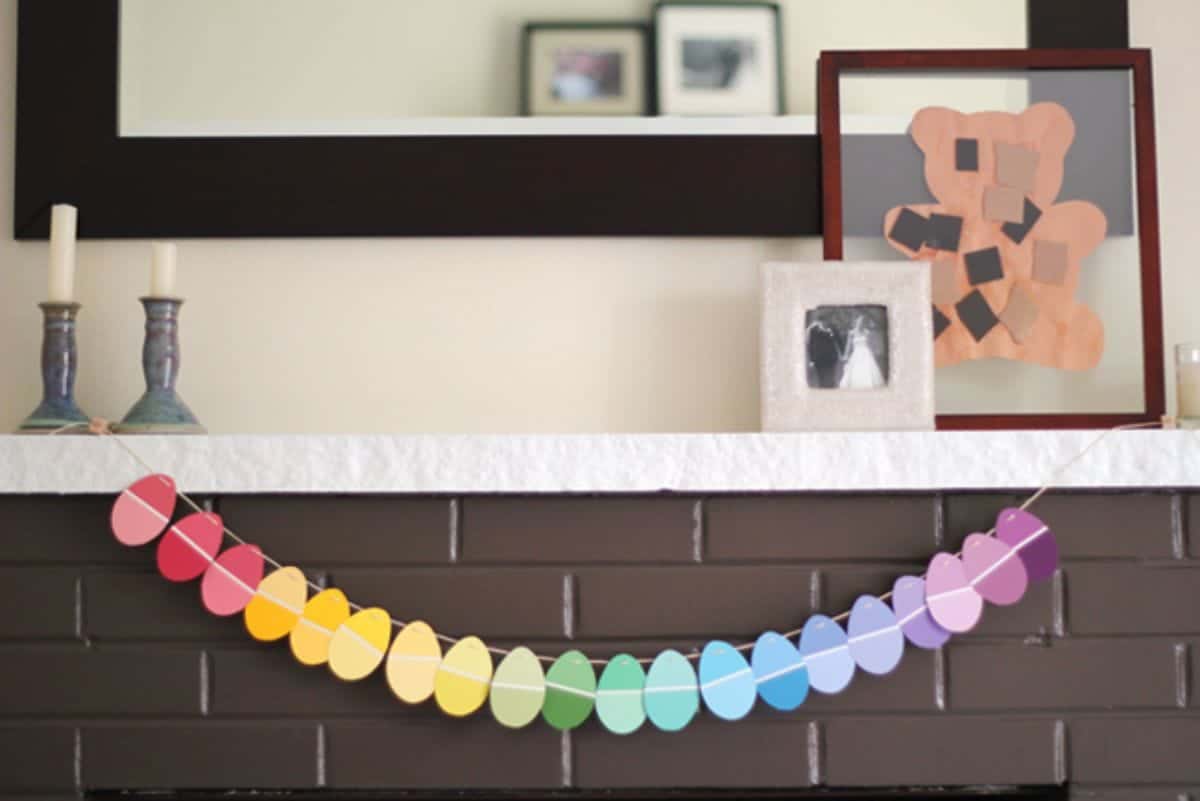 I love this idea: it's ingenious! Do you have a drawer full of paint chips from your last interior design bout that you've never thrown away? Well, now you can put them to a beautiful new use by turning them into an egg-shaped Easter garland like modernparentsmessykids. You could even turn them into bunnies, or chicks for more variety (and more cuteness!).
Treat Snow Globe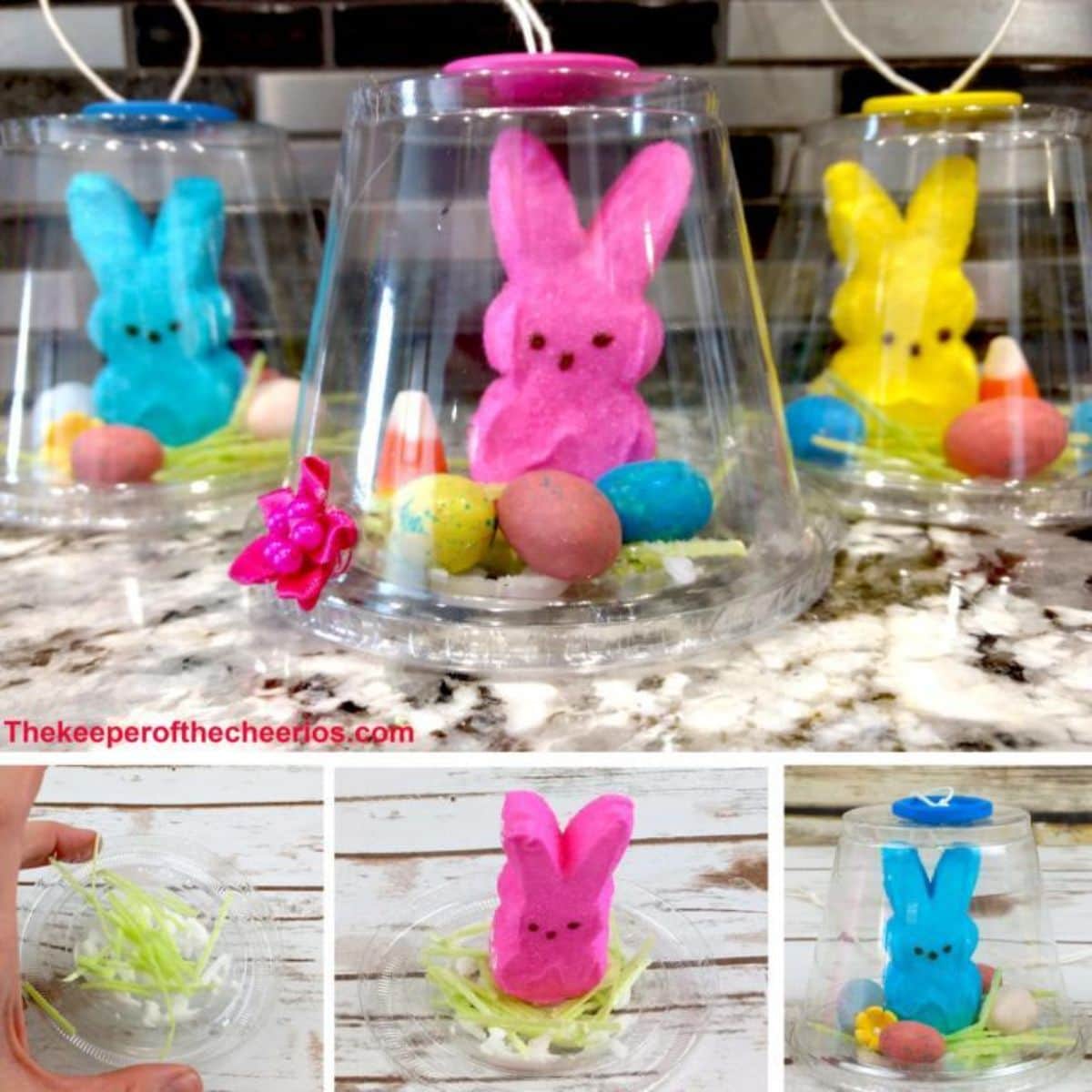 Perfect for table settings at your Easter lunch, these snow globes are so easy to make, and you can fill them with whatever you like. Let your kids choose the color bunny they'd like and then they can create his little house with some yummy Easter treats to enjoy. You can find all the info over at The Keeper of the Cheerios.
Potato easter egg stamps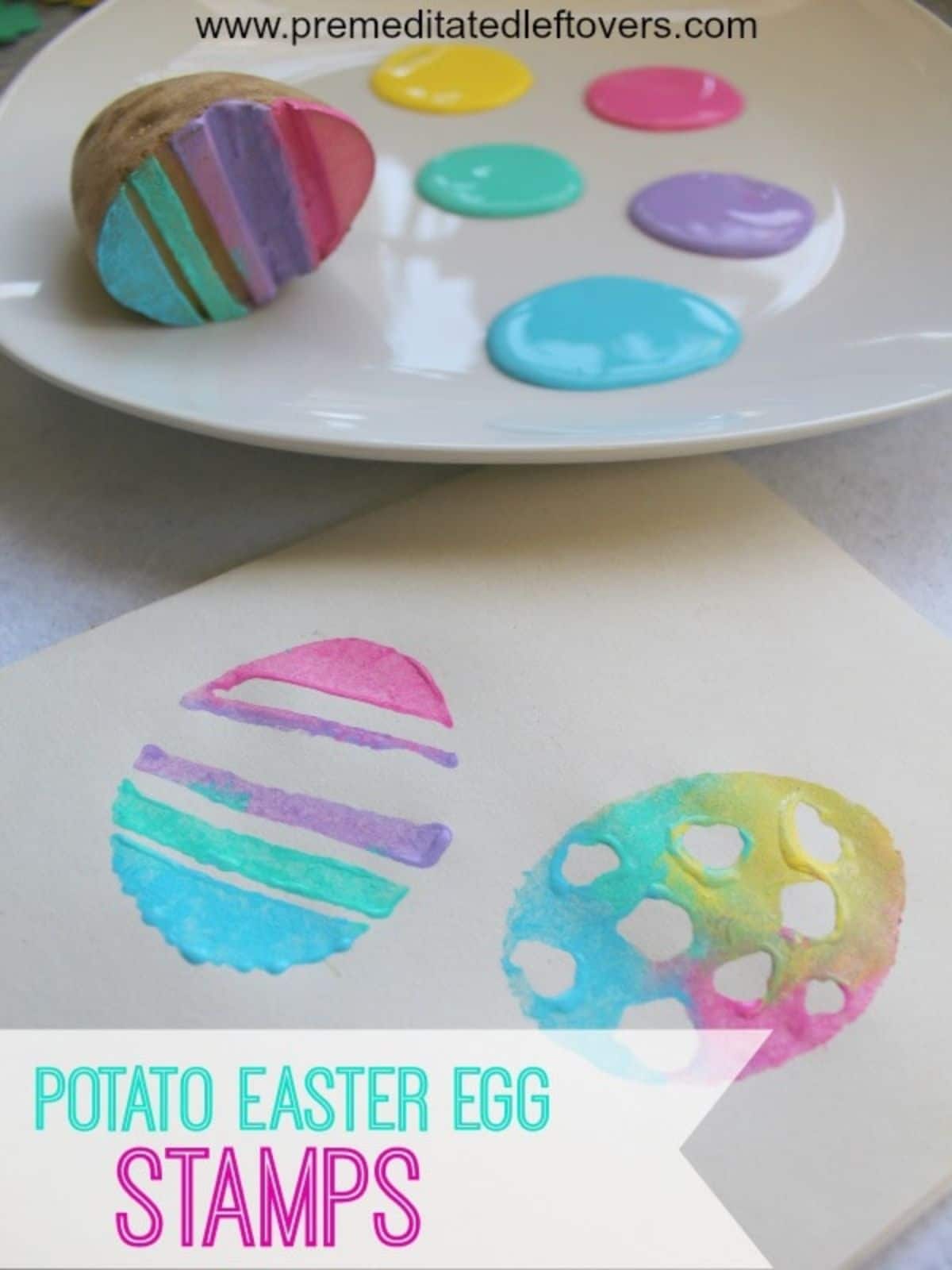 Stamp printing is a great way of encouraging those children who don't think they're particularly creative. You can make beautiful designs with minimal effort with these potato stamps over at Pre-meditated Leftovers. You just need a knife, a potato, and some paints and you're away.
Bunny pompom wreath

Leftover yarn filling up your craft box? Then you need to head to DIY & Crafts to learn how to make this bunny pom pom wreath. It's perfect for the focal point on your mantlepiece, or to hang on a bedroom door for an early morning Easter surprise. And if you have some other colors available then you could make a chick or sheep wreath to add to your collection.
Button Easter egg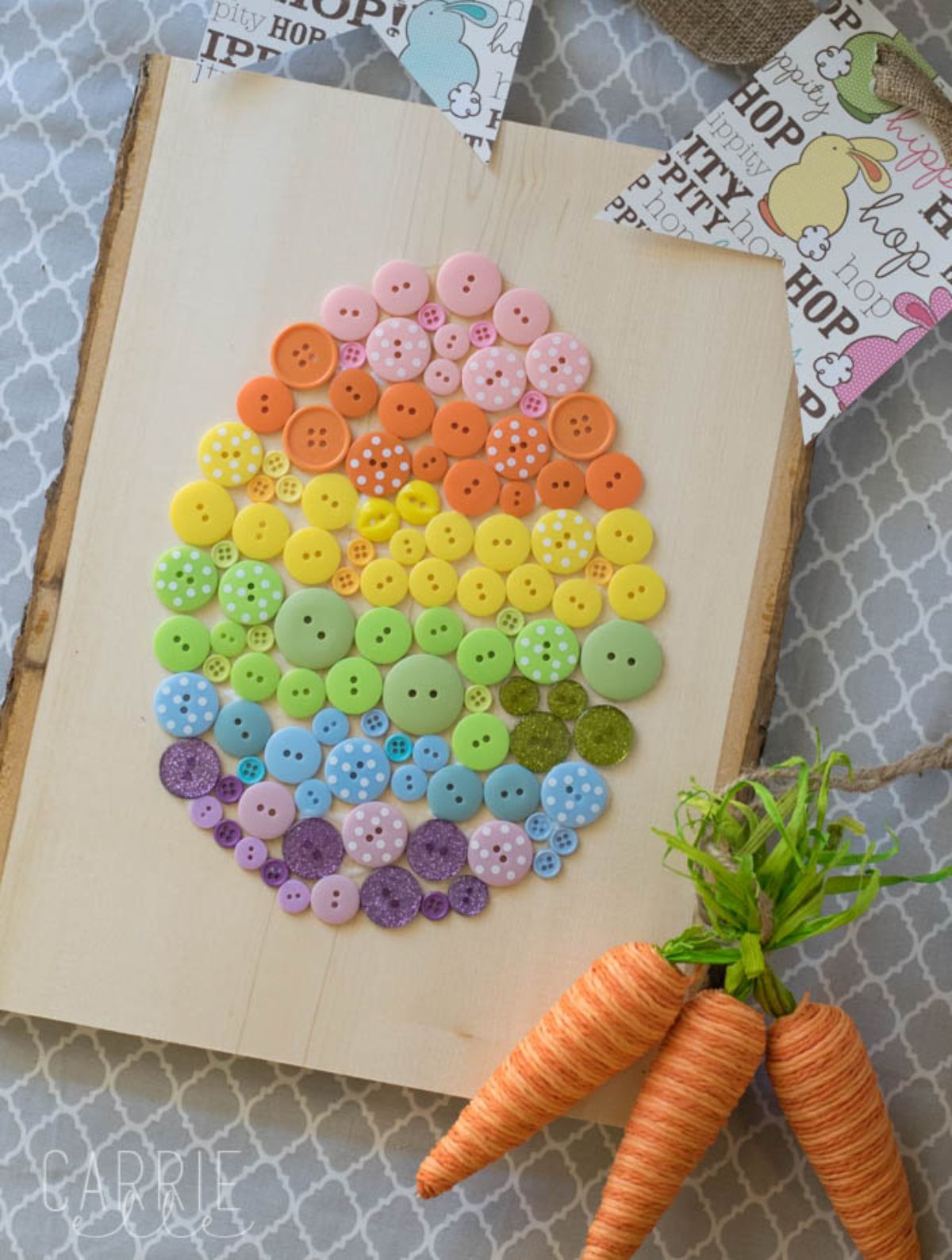 With an Easter Egg template (which you can make yourself from card), some glue, and a pile of adorable buttons you and your little ones can make this gorgeous egg from Carrie Elle. I know that I've got loads of odd buttons laying around from past sewing projects, and this is the perfect way to use them all up. Pop it in a frame, or stick it to some wood for a cute decoration.
Lego eggs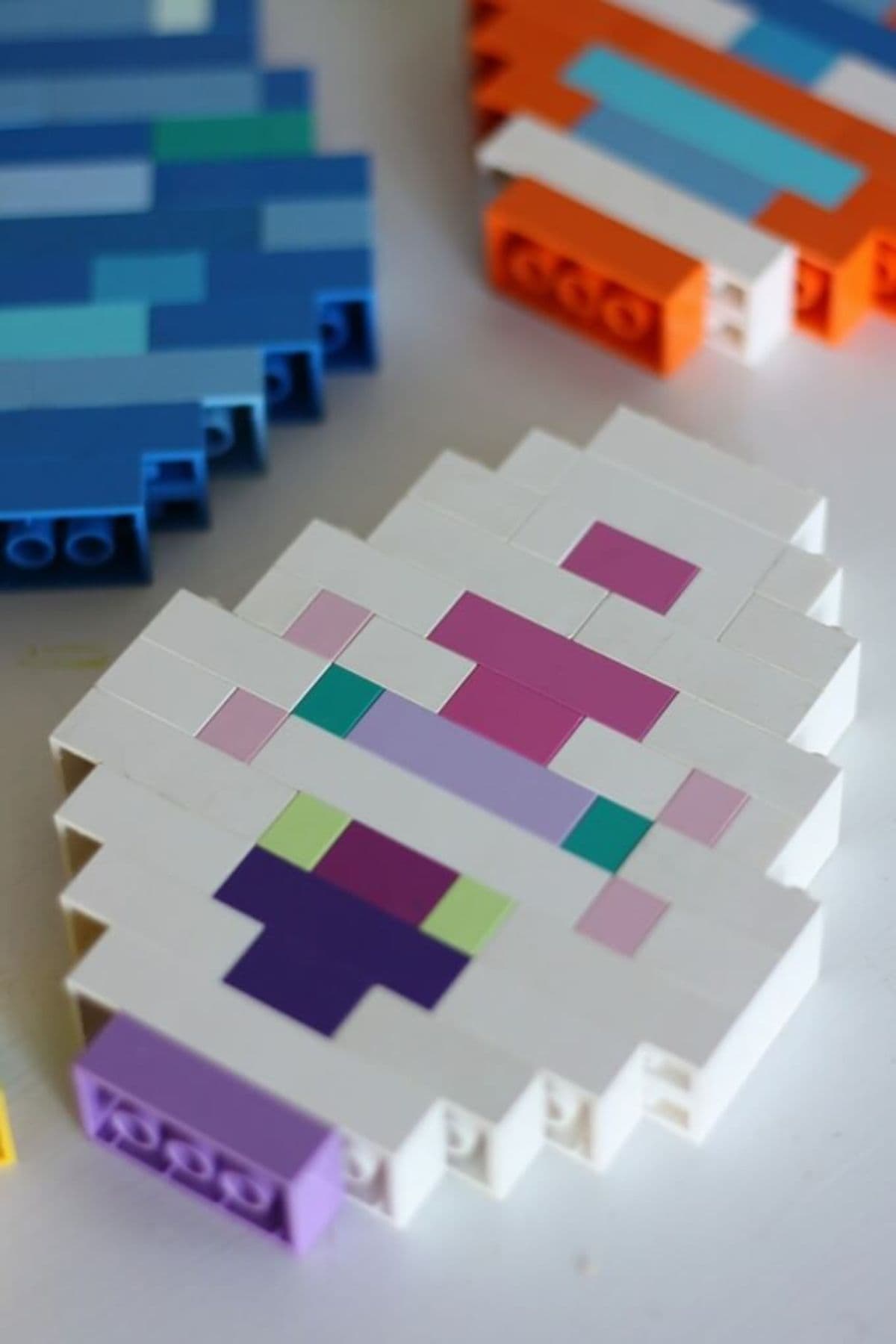 I don't know about you, but my son got to a certain age and was less interested in all my cute crafting ideas. These lego eggs from Little Bins for Little Hands are the answer I was looking for. Pop them in a basket and you have an Easter decoration worthy of display, and a reluctant crafter who can take pride in helping you make the house ready for the Easter season.
Juggling chickens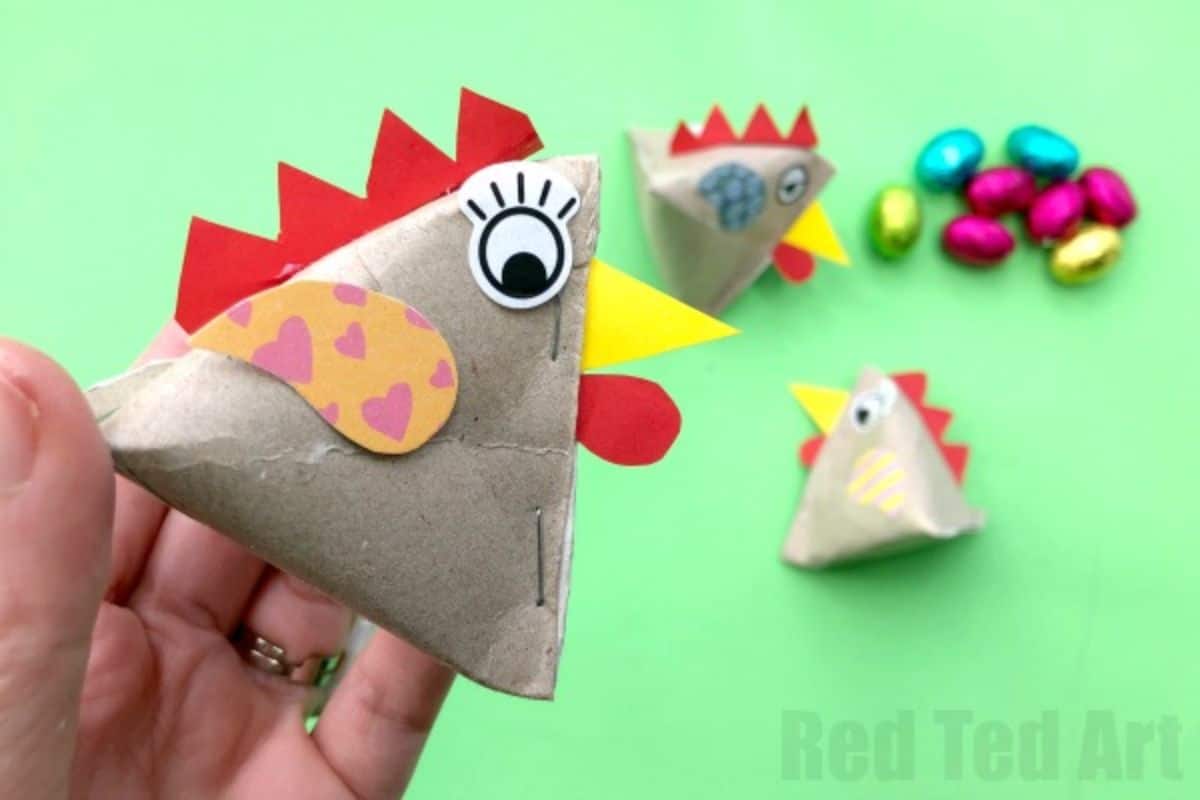 Not only can you use these cute little pyramid eggs from Red Ted Art as place settings for your Easter table, but once you're done with the meal you can help your little ones with their coordination by teaching them to juggle! Fill the cheeky chickens with chocolate eggs for an added surprise.
No-sew Easter bunnies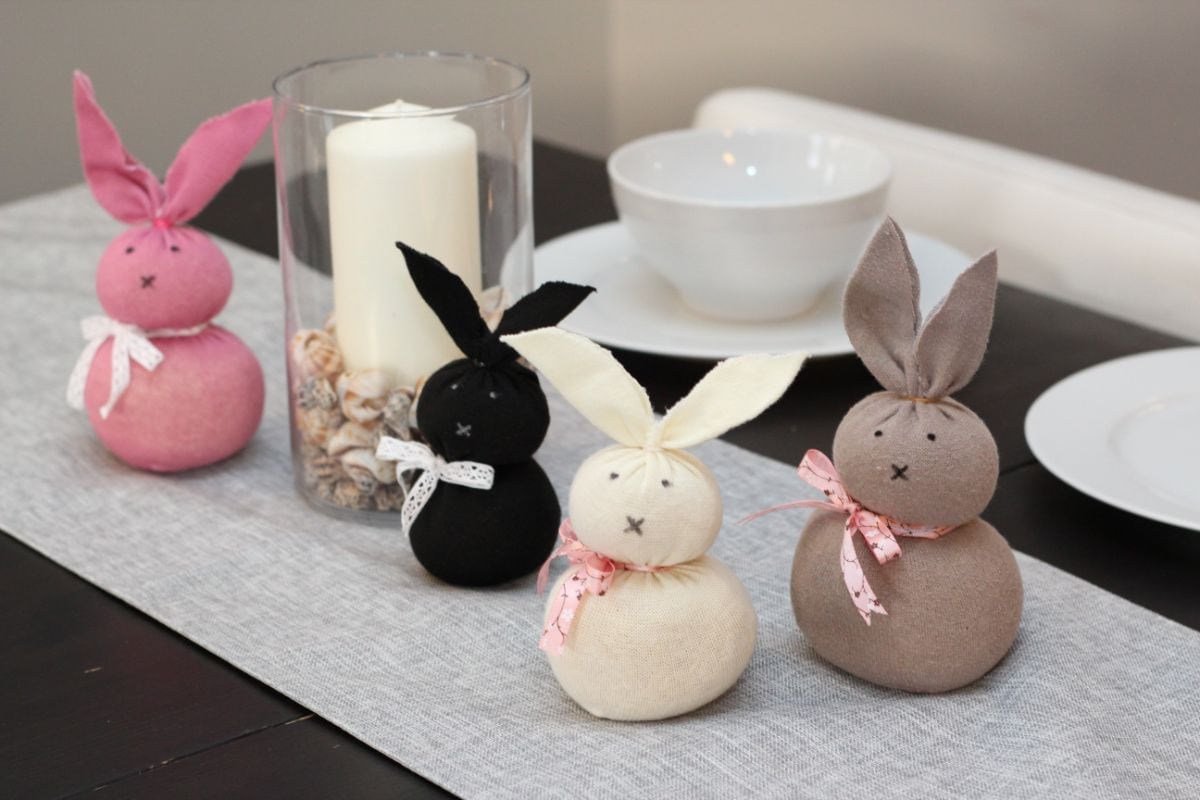 Unmatched socks make up around 35% of my washing pile at this point, so having something to do with them was really helpful! These sock bunnies from Feeling Nifty would be perfect for the center of my table, gathered together like a little cuddly family, and they only take 5 minutes to make.
Paper plate wreath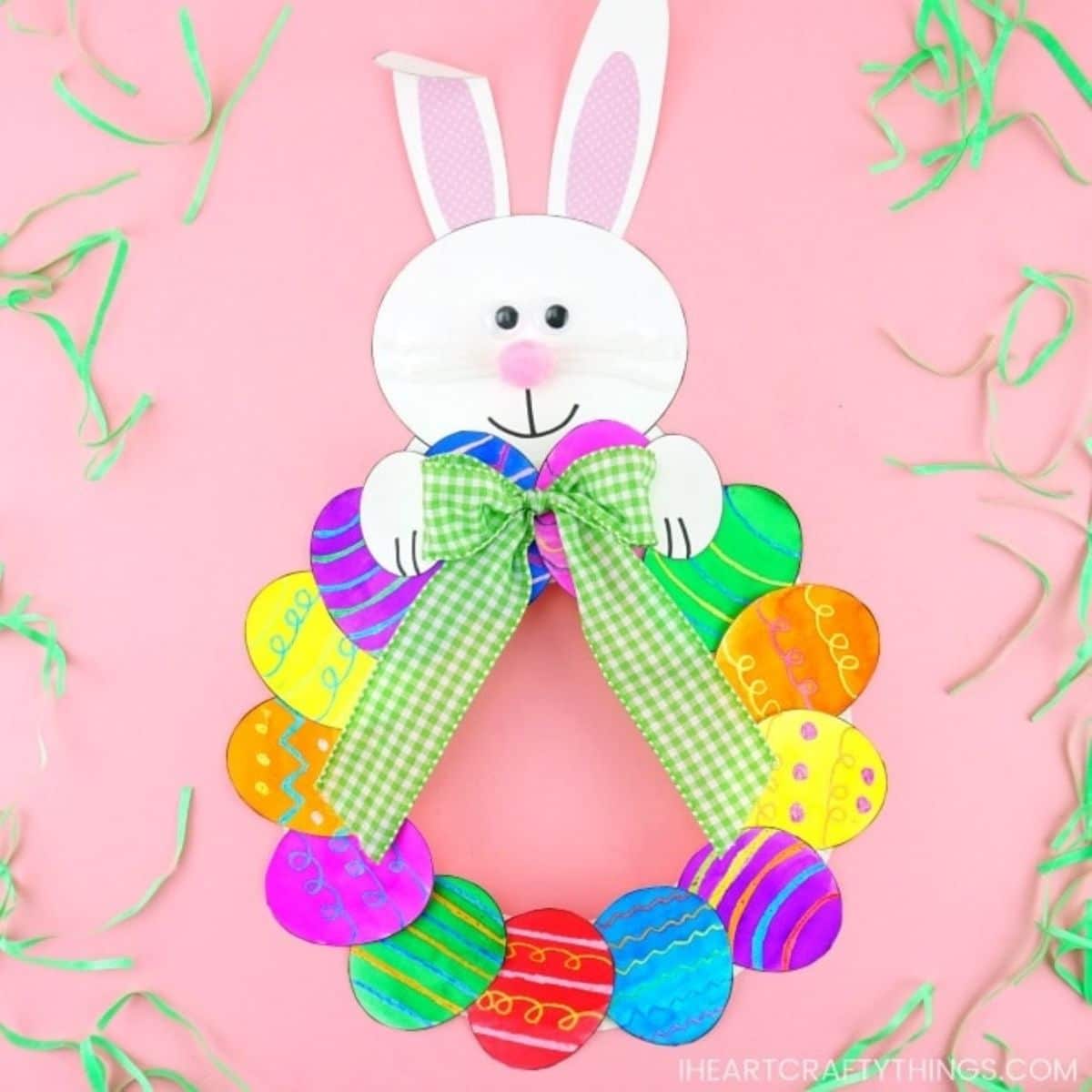 Another cute wreath to decorate the doors of your kid's rooms with, and one that they can help you make without you having to wrench the glue gun away from them! I Heart Crafty Things has designed this with simple materials, but you still get a lovely decoration at the end of all your hard work.
Salt dough eggs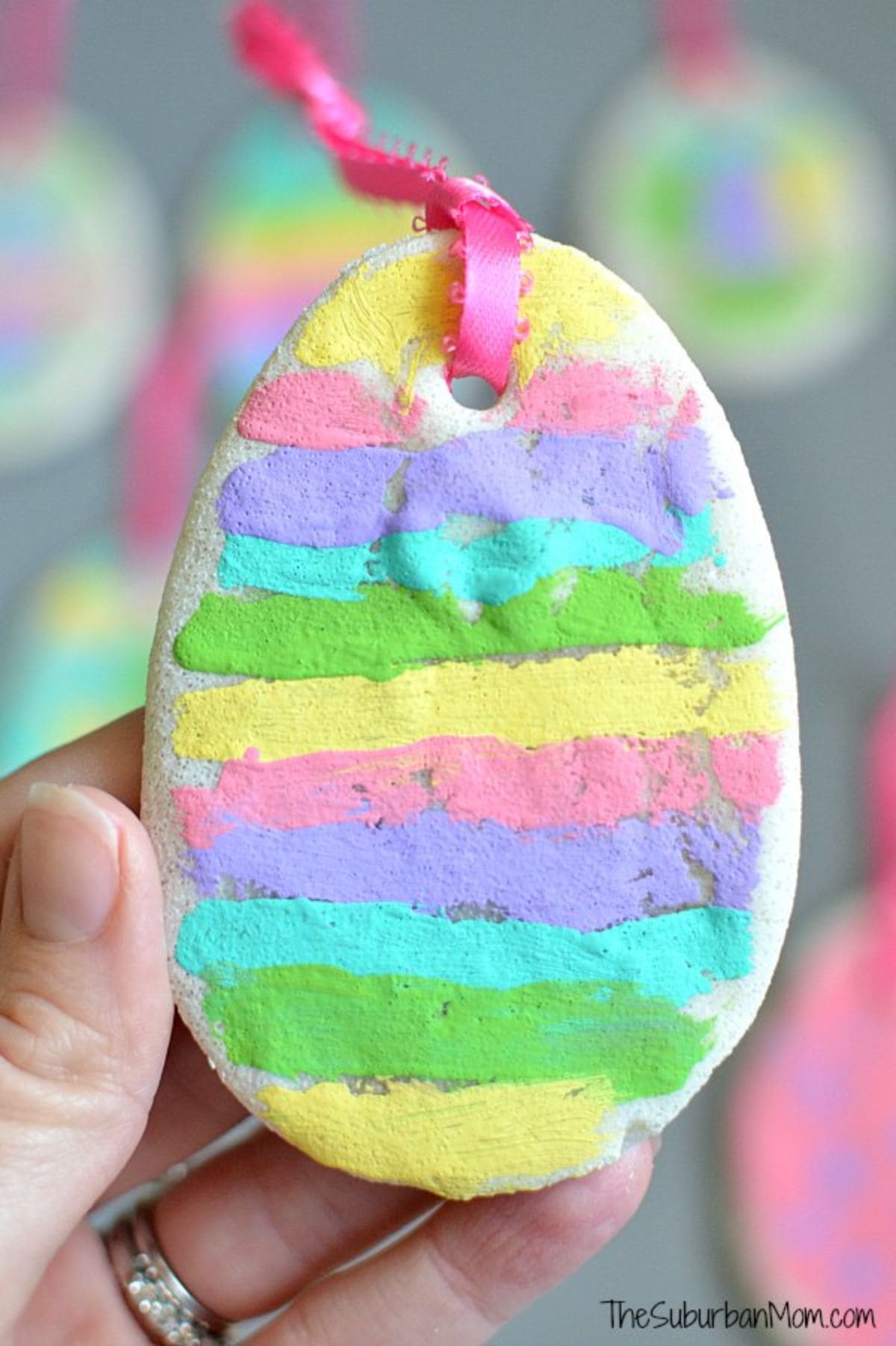 The perfect DIY decoration to take up a whole morning (or even a few days if you're feeling the need to occupy your bored little tykes!), these salt dough eggs can be split into 4 activities: making the dough, playing with it, making the eggs, and painting them. The Suburban Mom has gifted you the perfect Spring Break activity, with a cute decoration to hang on your Easter tree at the end.
Bunny bottom garland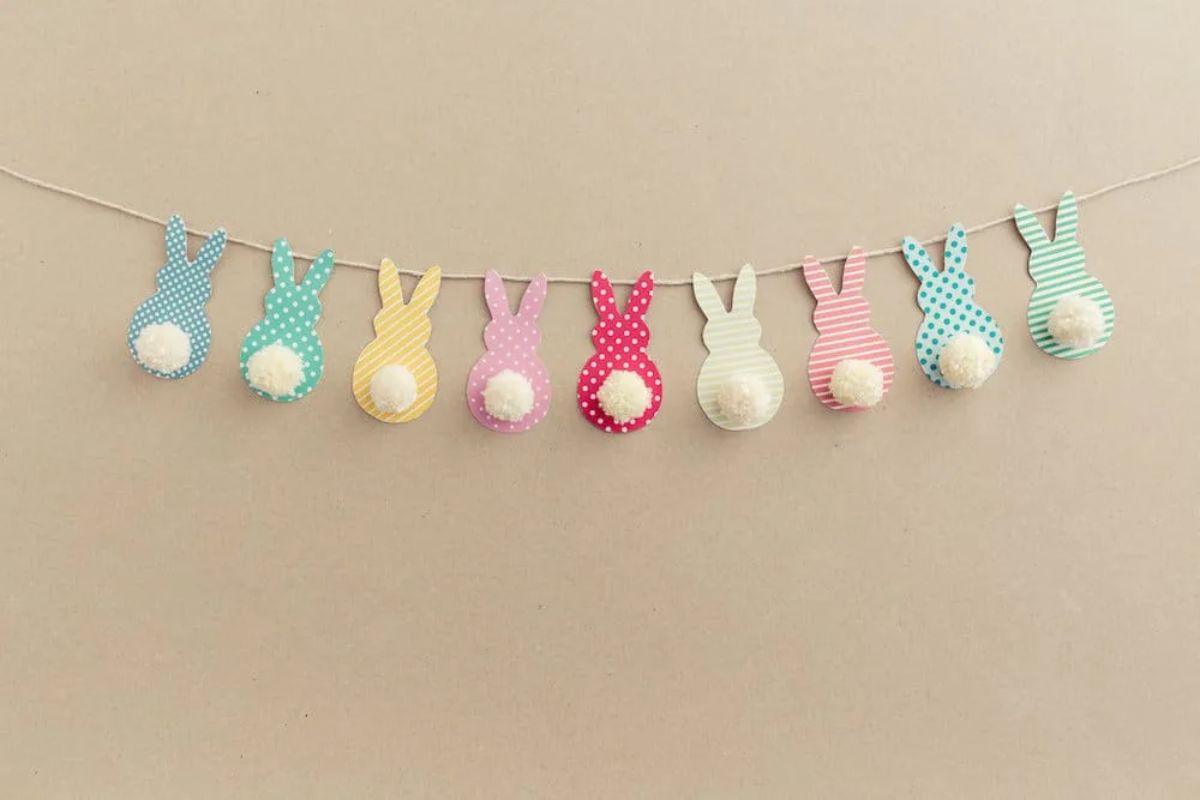 Feeling cheeky? Then this bunny bottom garland from DIY Candy is for you. Grab some scrapbook paper in your favorite Easter shades, and learn how to make pompoms with a fork! This cute garland will look gorgeous hanging up in your kitchen, or over your mantelpiece.
Paper carrot garland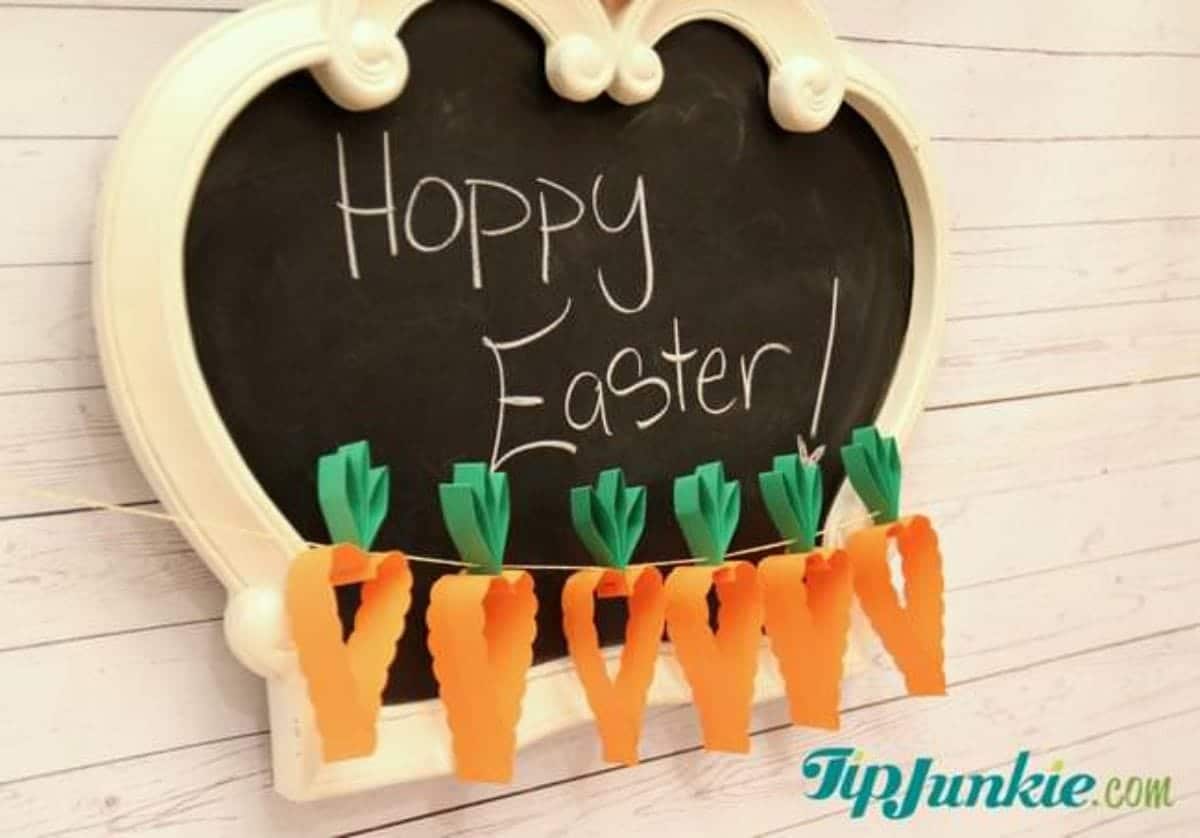 Another garland now, but this time with bunny food instead of bunnies. These crunchy carrots need two colors of paper, some string, and a pair of crimping scissors to make them look a bit more realistic. Over at Tip Junkie, they've even got the free printable to get you started.
Toilet roll Easter bunnies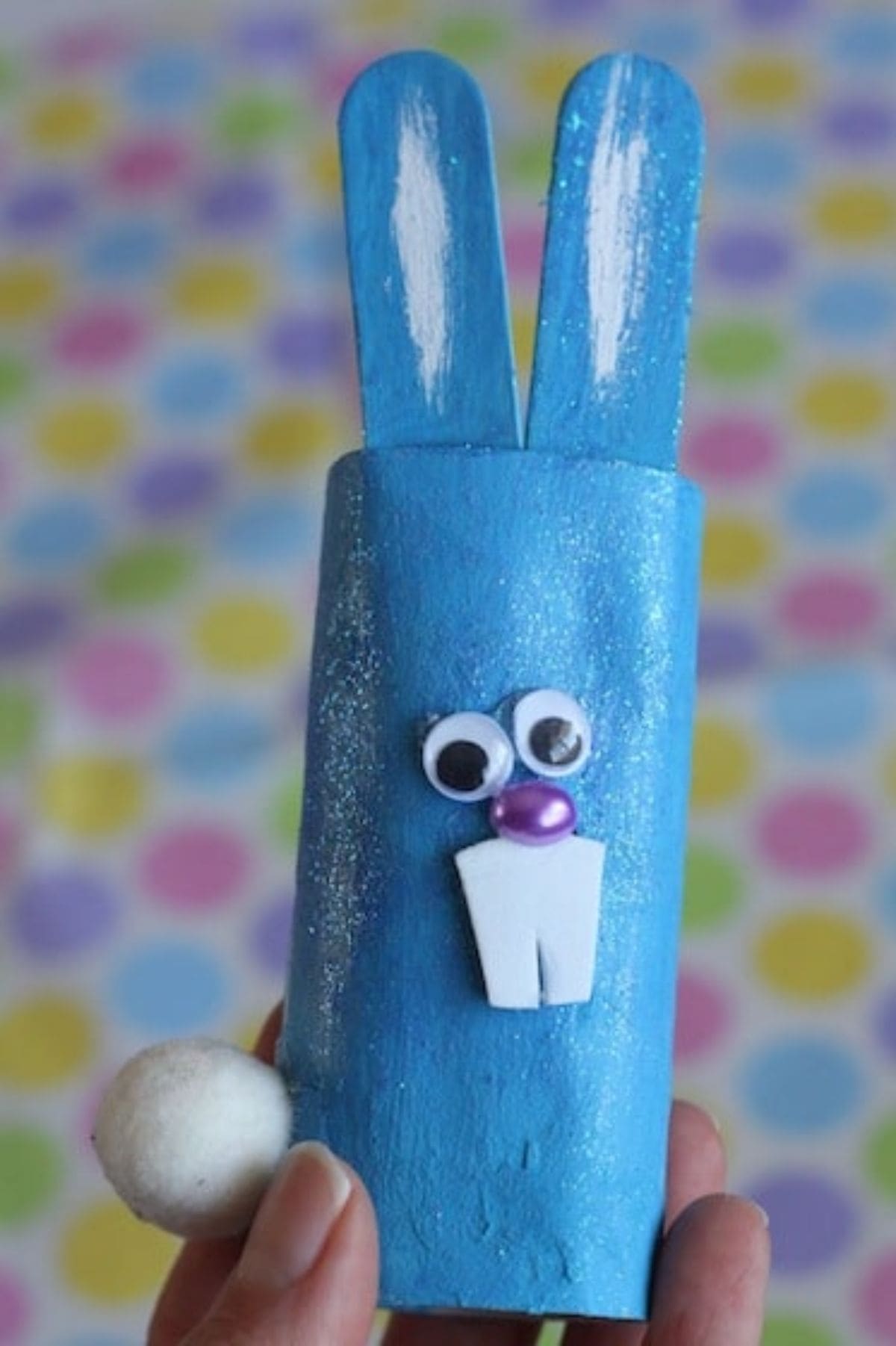 Well, these guys are pretty funny! I think they'd make a cute addition to my Easter table with their googly eyes and big teeth. You can make them in all sorts of different colors to fit your Easter theme, and they're really easy for kids of all ages to get involved with. Happy Hooligans outline all the steps for you here.
Easy Easter banner

If you're crafting with younger children or ones that don't particularly want to get involved, then having something simple like this Easter banner from Joy in the Works is the perfect solution. You can create something that you'd want hanging over your table, without tying them to the table for an hour whilst you create an origami chicken.
Easter baskets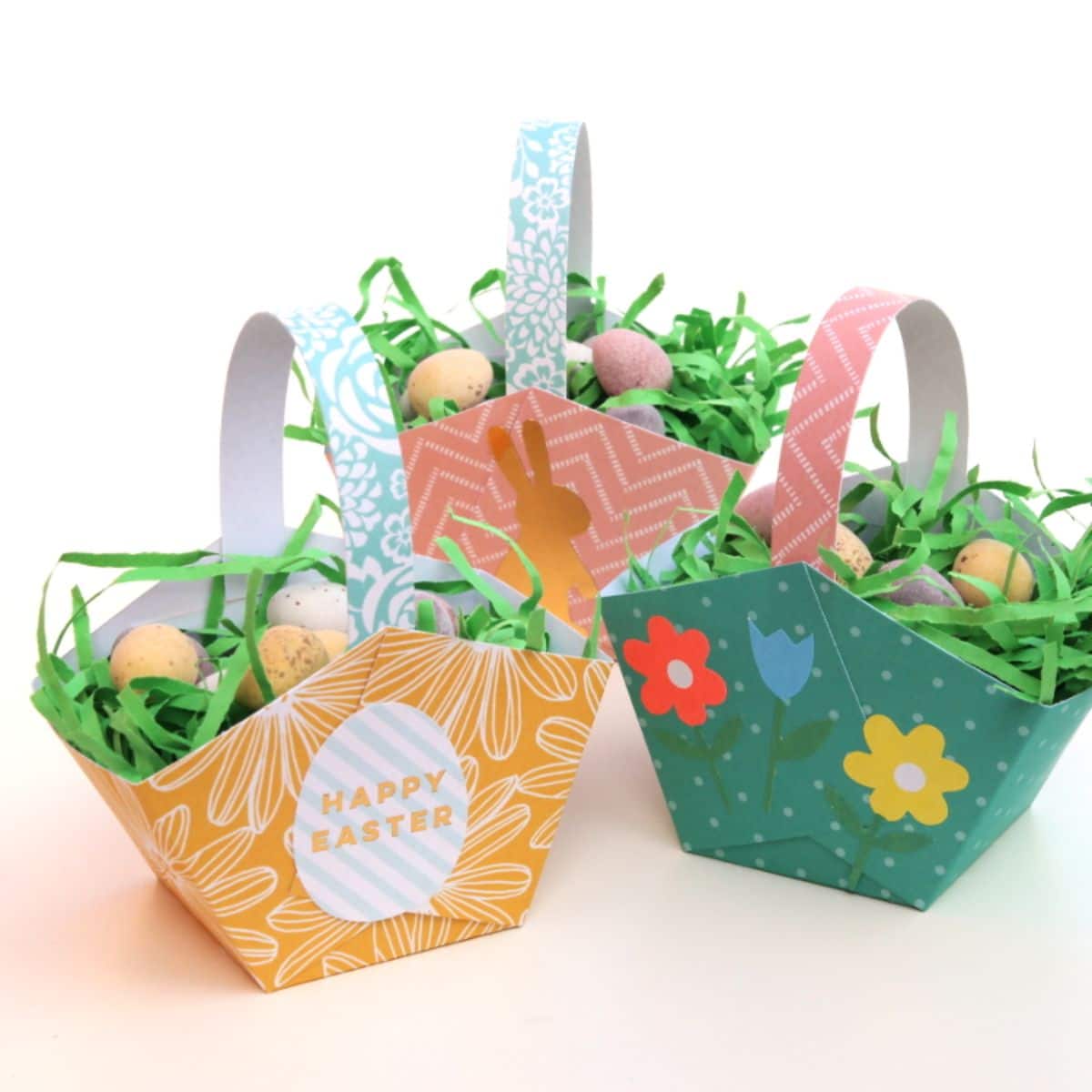 Scissors, glue, and a square piece of paper are all the resources you need to make these super easy Easter baskets. Filled with fake grass and some chocolate eggs they are sure to delight your children as a surprise on Easter morning or be a fun craft for them to enjoy with you. Gathering Beauty has all the details.
Foam cup bunnies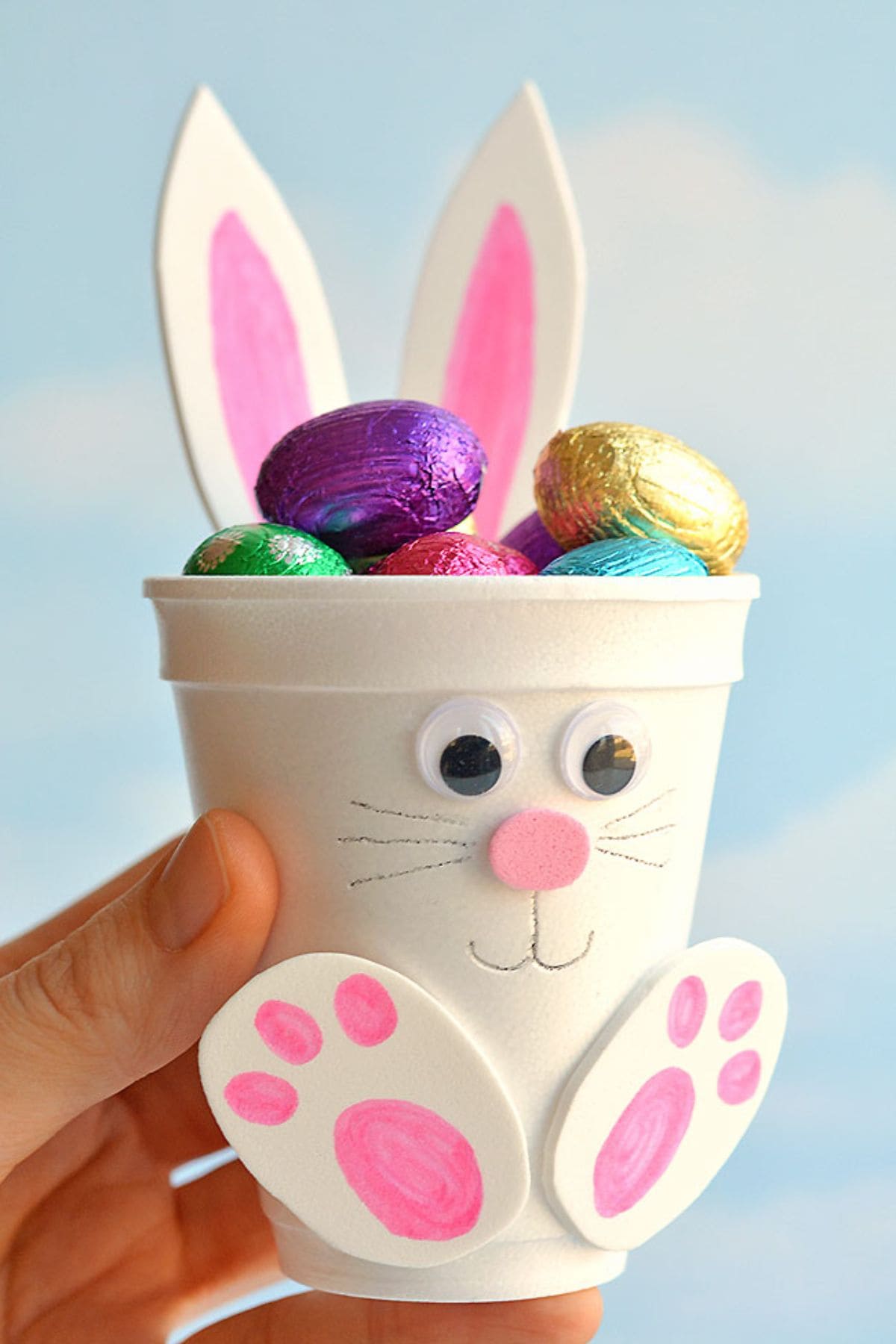 These guys make me smile, especially their cute foam feet! Easy to make from some foam cups, googly eyes, and some glue, they're sure to charm your littlies. Pop them on the breakfast table on Easter morning to see many smiles, or use them as party favors. The bunnies are from One Little Project.
Paper mache eggs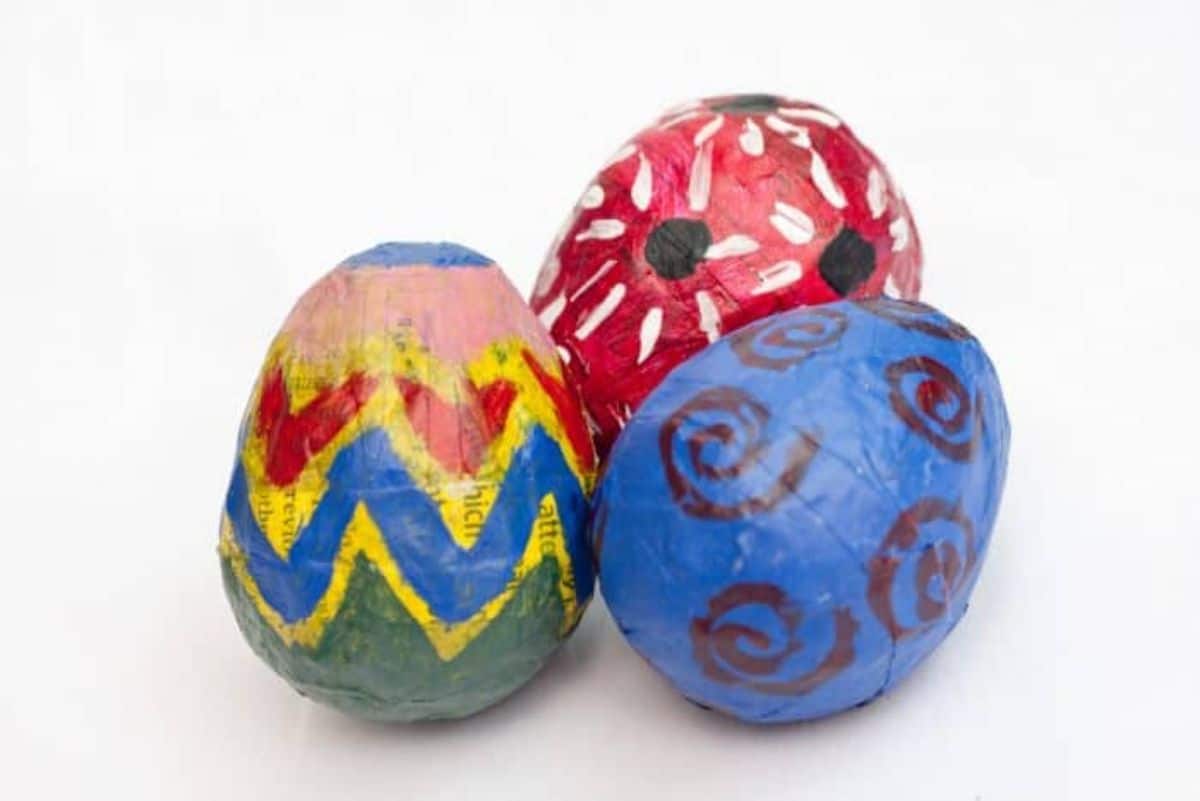 For something a little more involved for your older children, these paper mache eggs from Sweet Makes Three are a great DIY decoration to make and place around your house to up the Easter vibes. Younger children will love getting messy but might need a little more help.
Paper peeps bunnies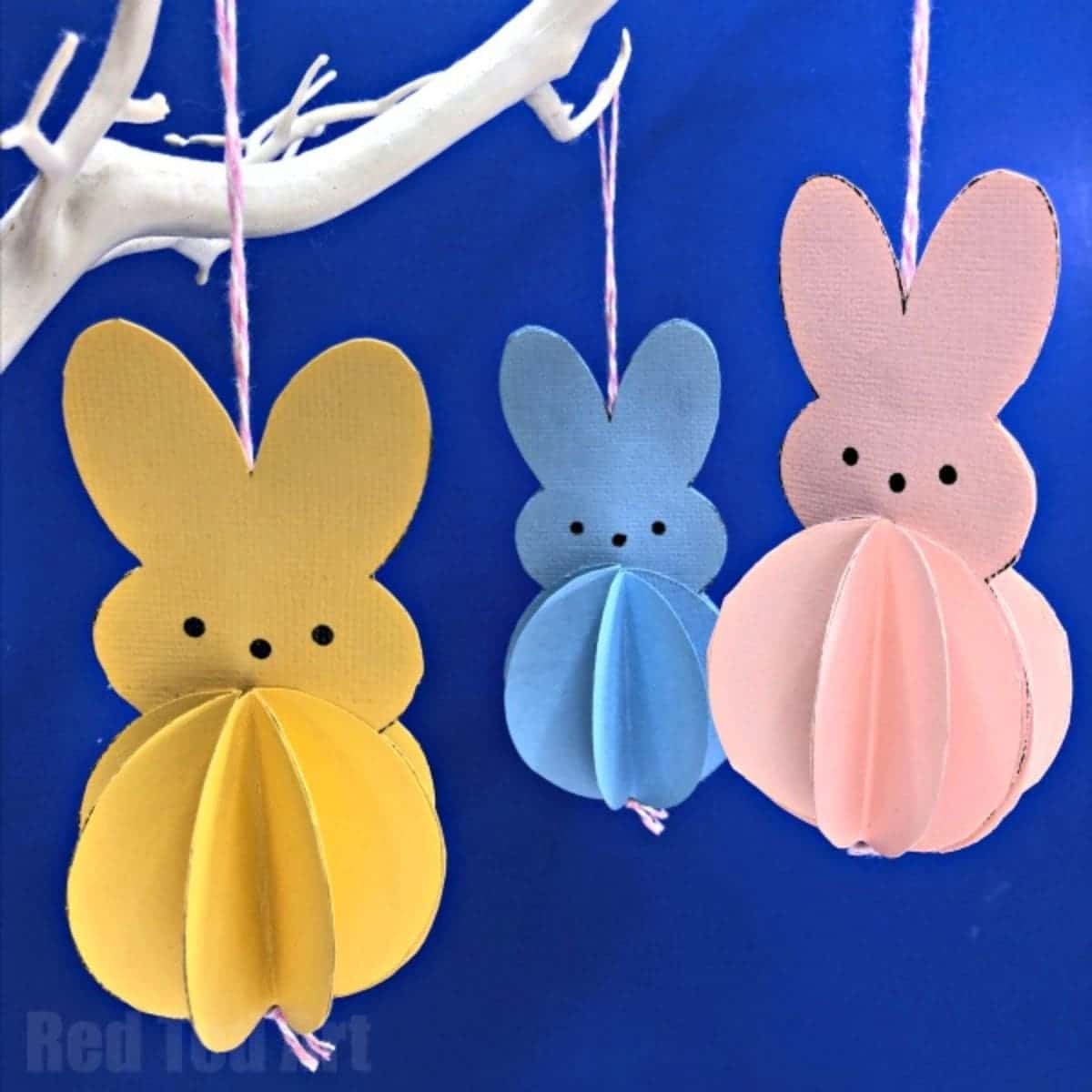 Looking for something interesting to hang on your Easter tree that your kids can help you make? These paper peeps from Red Ted Art are the perfect solution. You don't need many materials, and they can be ready in minutes, whilst older children can spend more time with more detailed decoration.
Easter mason jars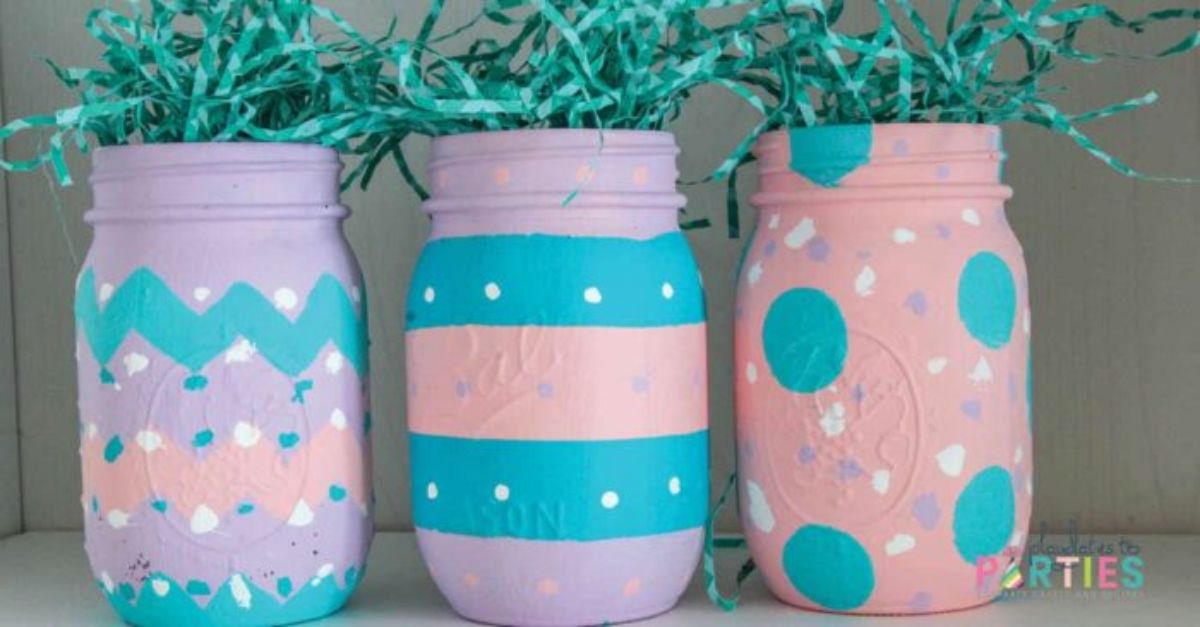 Playdates to Parties have come up with a way that you can make your mason jars fit in with the season. All you need is some acrylic paint, and then you can fill them with yummy Easter goodies for the whole family. They'd make cute decorations or lovely Easter gifts for your neighbors.
Chick handprint card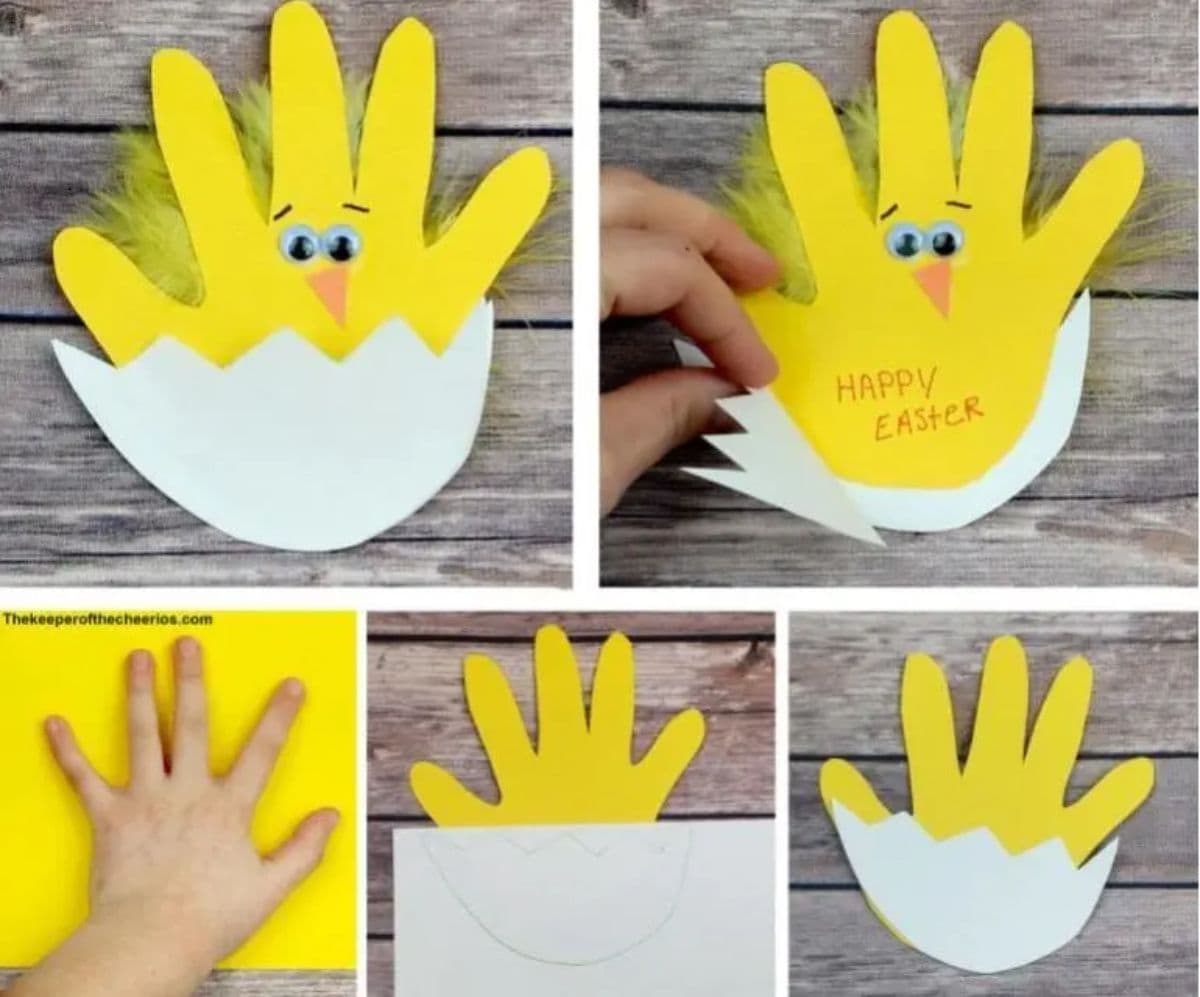 Here we have the cutest little Easter card that you can make with your Preschooler and send to all your friends. Found on Craftsy Hacks, the handprint card uses card, googly eyes, and feathers. You can choose your chick color and write your own message inside the card.
Paper Easter wreath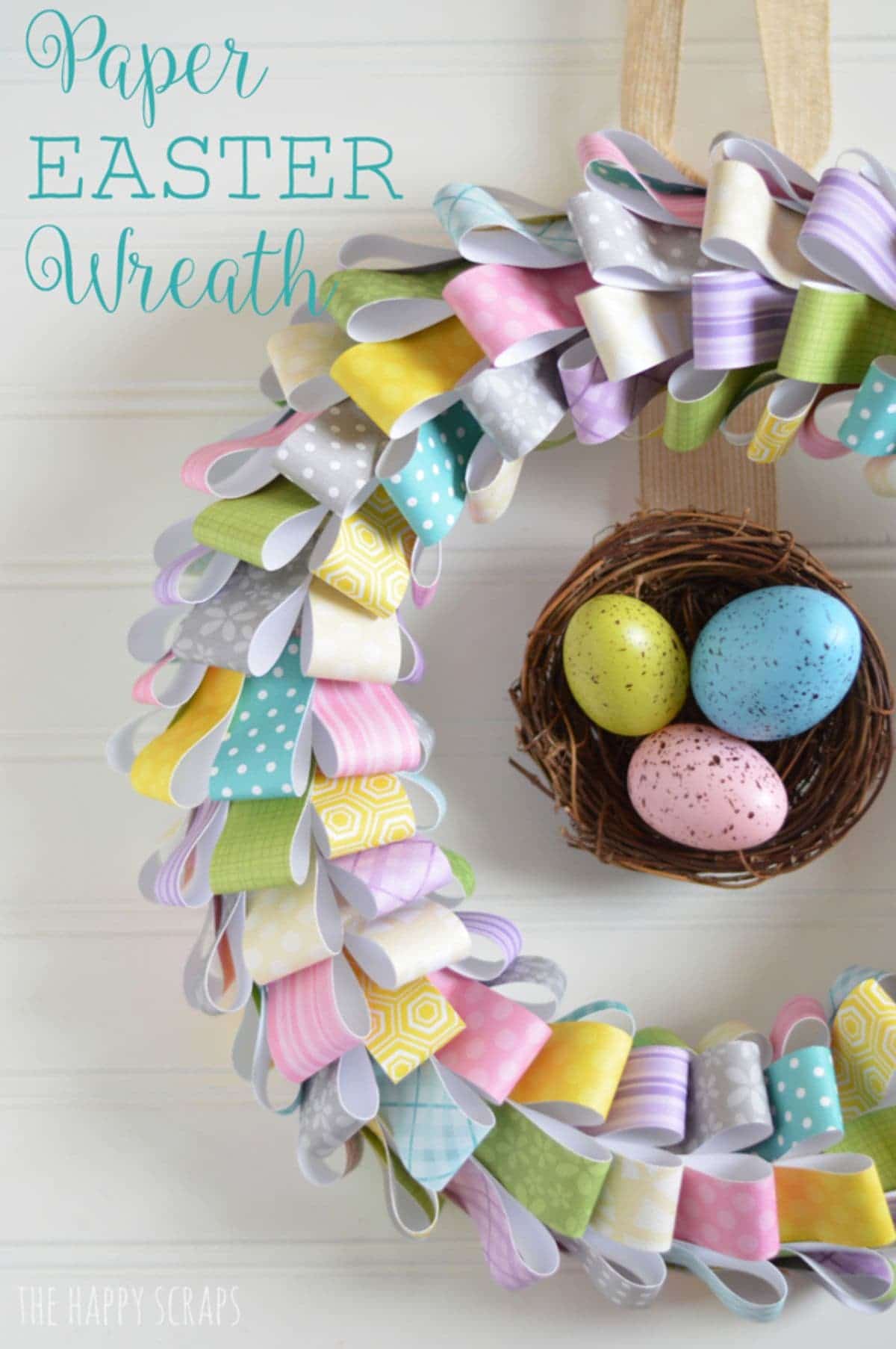 This stunningly effective paper Easter wreath uses scrapbook paper around a wreath form, and just a glue gun to fix. You can create some stunning designs with different patterned papers, just like The Happy Scraps' example over on their site.
Paper strip egg art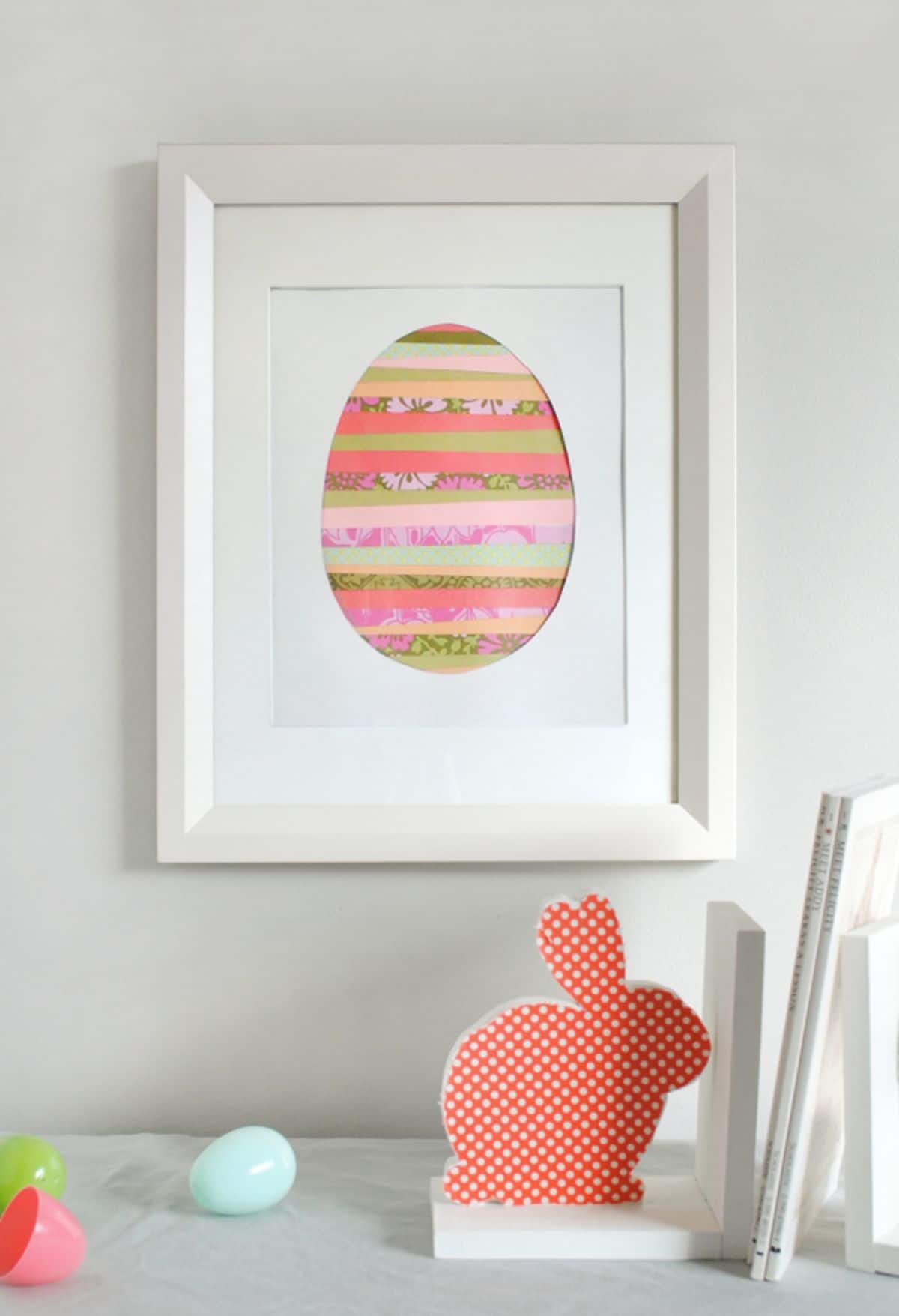 This is a great kid's craft idea that turns into a stunning piece of art that you'd be proud to hang on any wall. Easy-to-follow instructions are over on Minted.com, but you'll need an egg template, an x-acto knife, glue, and some colored paper. You could make a few of these with different templates, or different colors and dot them around the house this Easter.
Egg carton flowers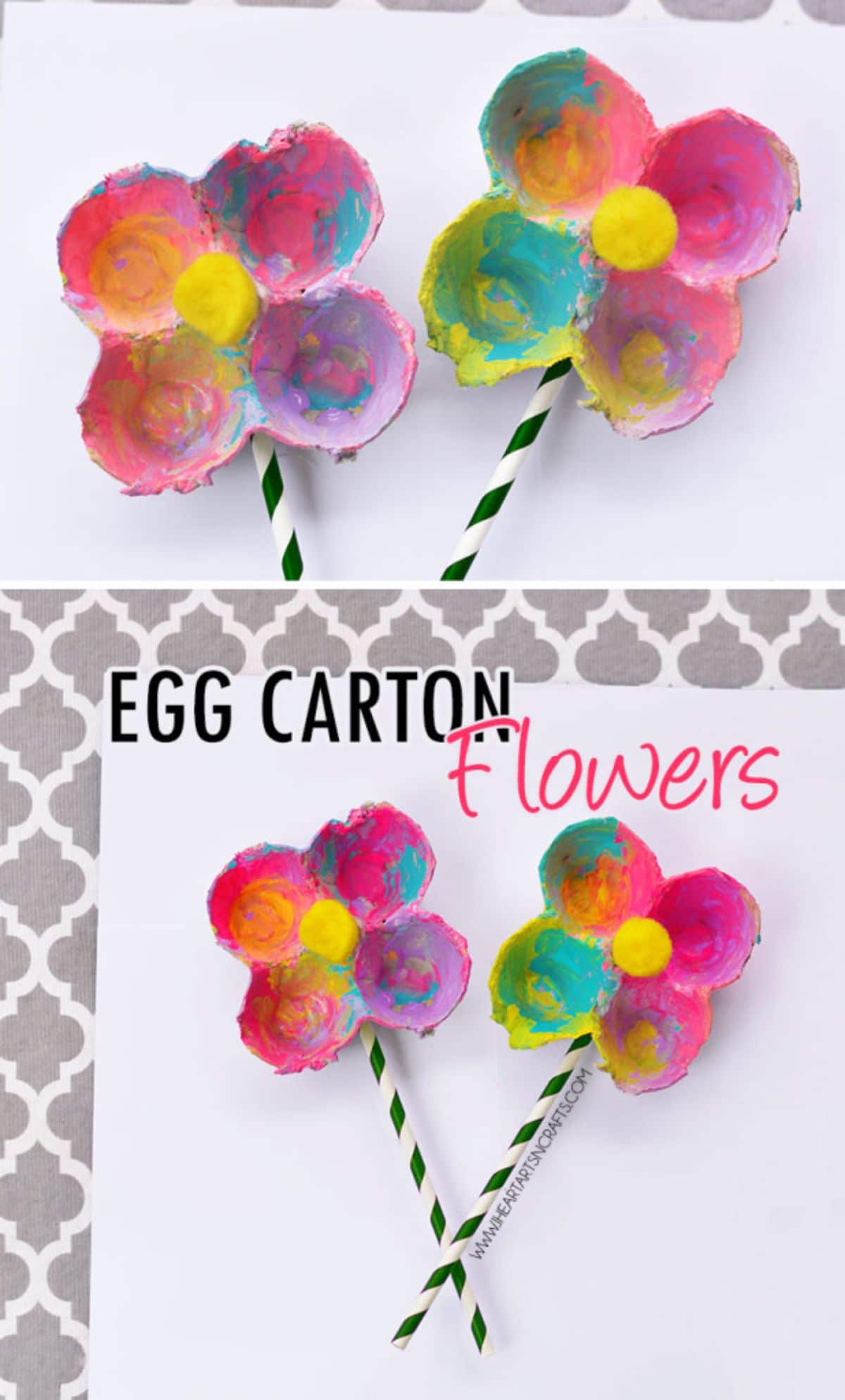 If you're looking for something to use up all those empty egg cartons that you have laying around then these egg carton flowers from I Heart Arts and Crafts are a great way to reduce your waste and involve your little ones in creatively decorating the house. Choose delicate designs, or more Impressionistic blobs if you're dealing with preschoolers, and stick them in your existing flower displays!
Thread spool bunnies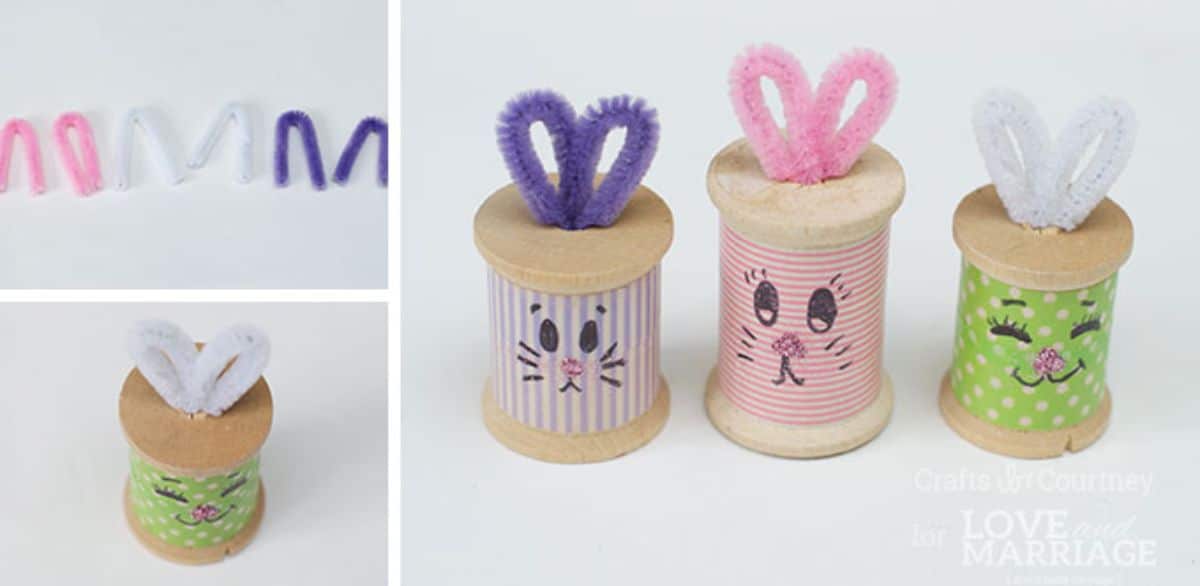 Another cute bunny-themed design for your Easter table vignette, these thread spool bunnies from Love and Marriage are perfect to personalise with funny faces, or even make to look like family members! You use washi tape to color the spools, and pipe cleaners for their cute little bunny ears.
Easter chick coasters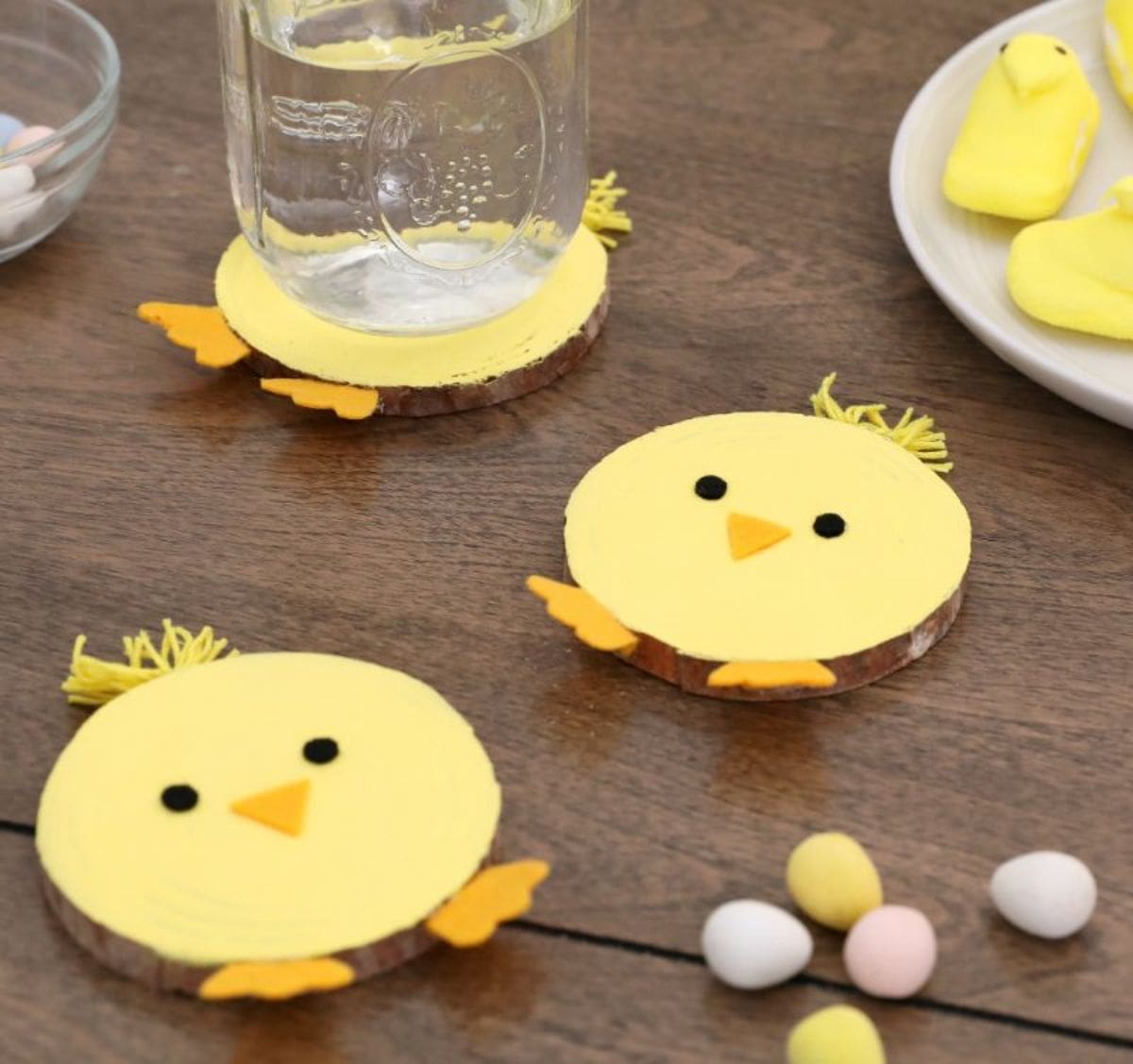 Who doesn't want Easter-themed coasters to go with all the rest of their seasonal decor? These cheepy chappies from DIY Everywhere are just the job of protecting your table from water rings in a seasonally-appropriate fashion. They also brighten up your table!
Tie-Dyed Easter eggs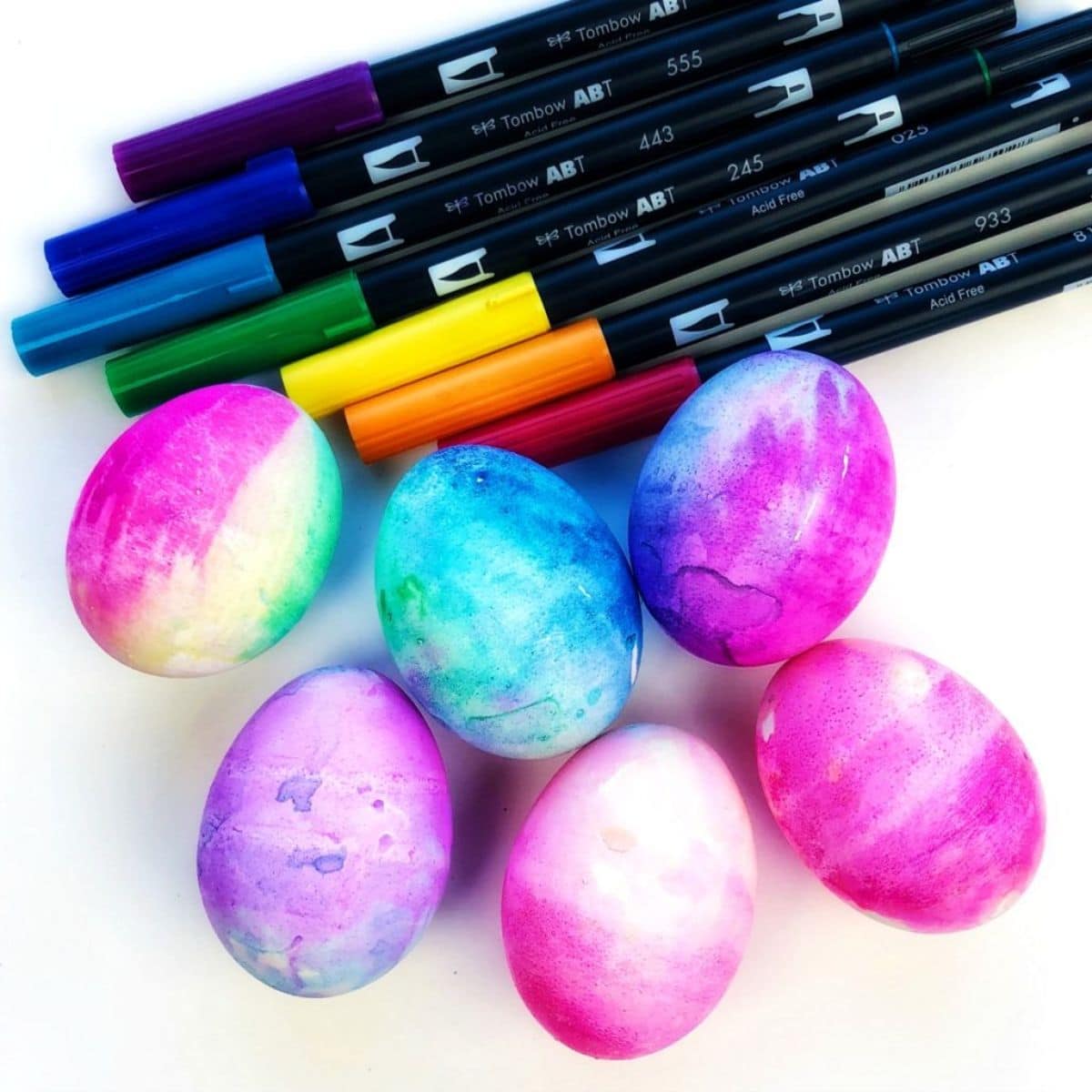 Brush pens are fabulous resources for all kinds of craft activities, especially with younger children. They can create arty designs without having to be that accurate, and these eggs are no exception. Color Made Happy have the instructions for these decorations that can be made with hard-boiled or fake eggs, whichever you have laying around.
Easter treat pouches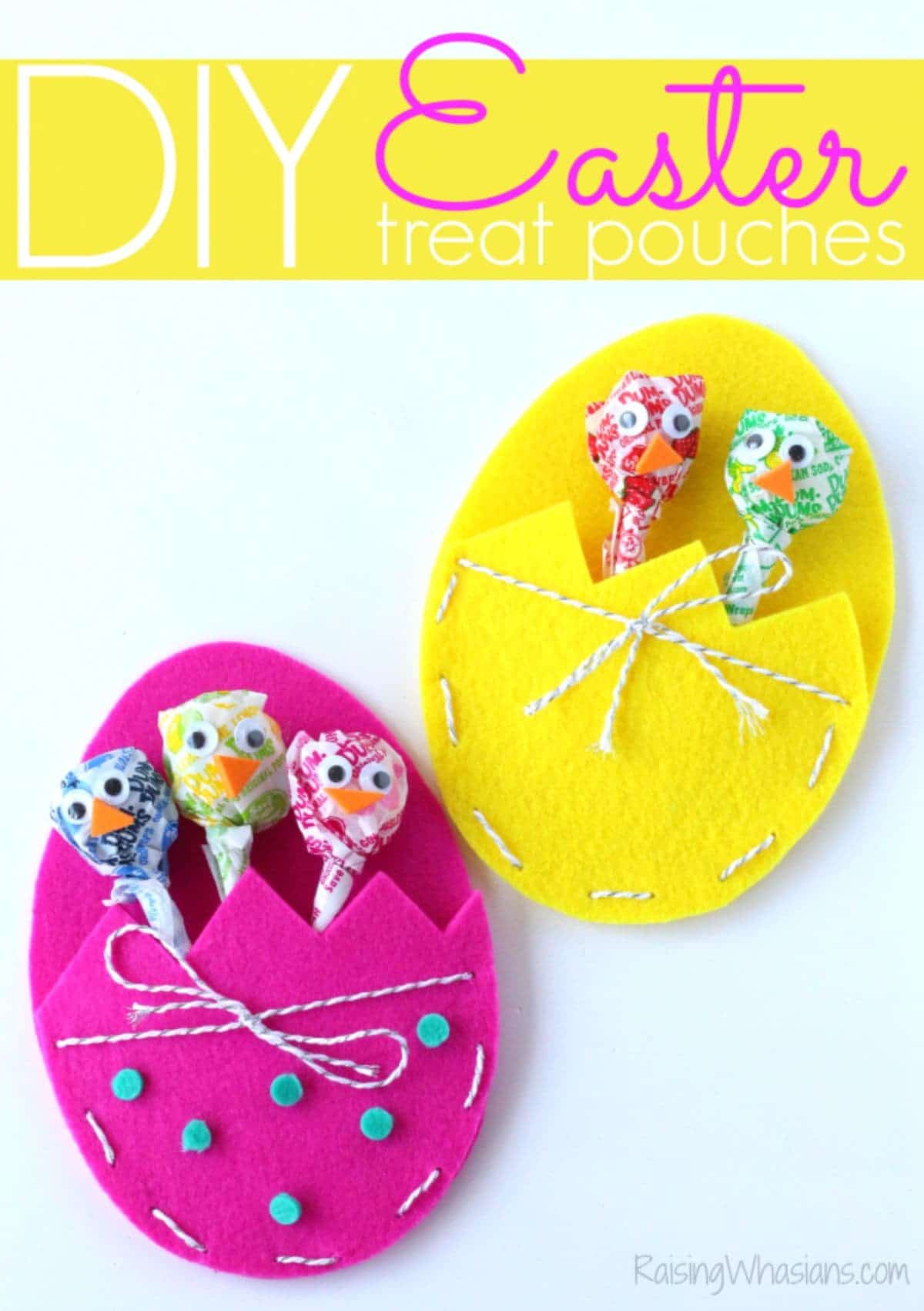 These little treat pouches, made by Raising Whasians are such an original way of laying out treats for your little ones. They're also a great way of introducing beginners to sewing, with a very simple stitch. You need some felt, a needle and thread, and then whatever decorations you fancy to make them.
Paper plate chick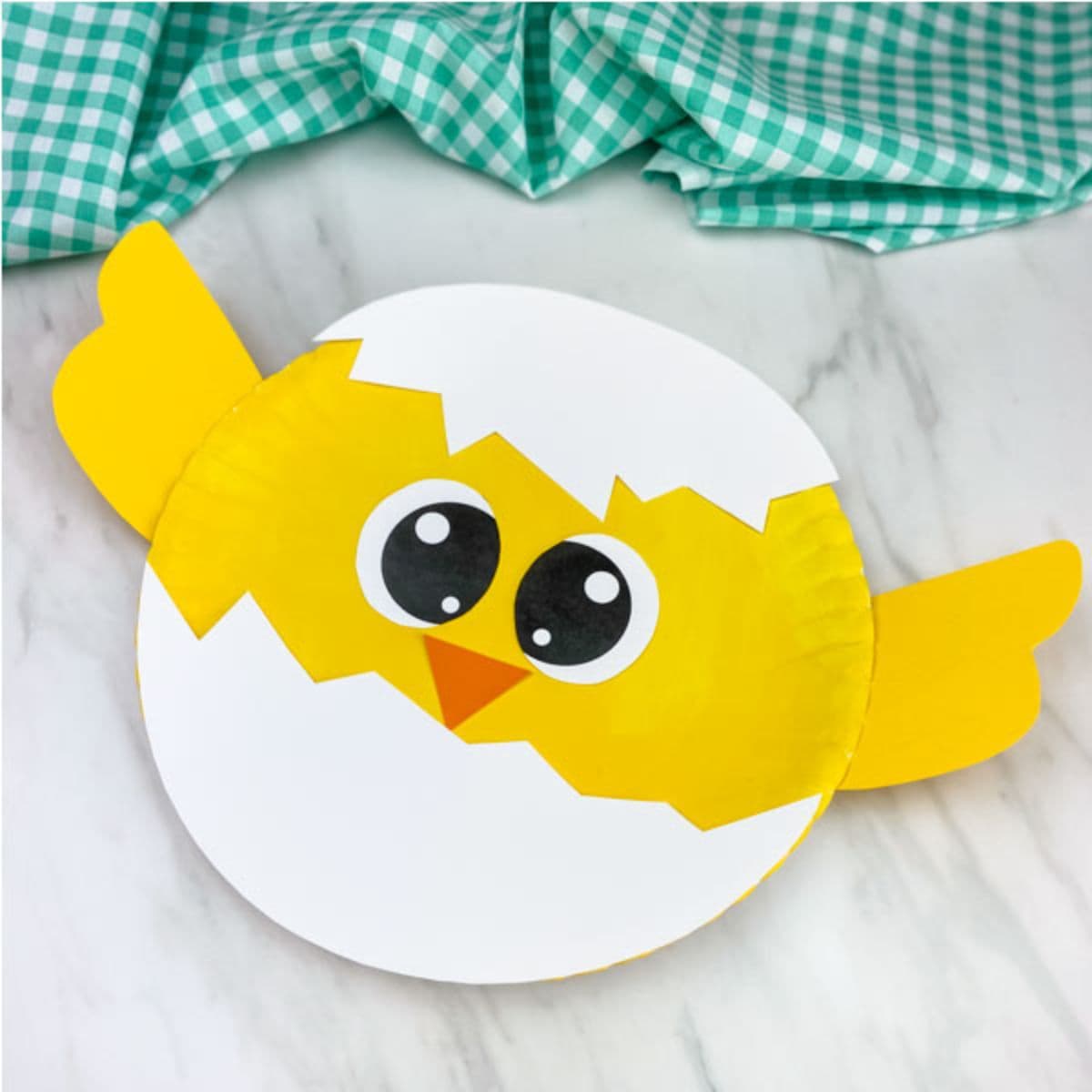 You can download the free printables to make this hatching chick craft from Simple Everyday Mom. She has instructions for older as well as younger children so that your whole brood can get involved. These would look great stuck up on the fridge with different cheeky chick expressions!
Flower field centerpiece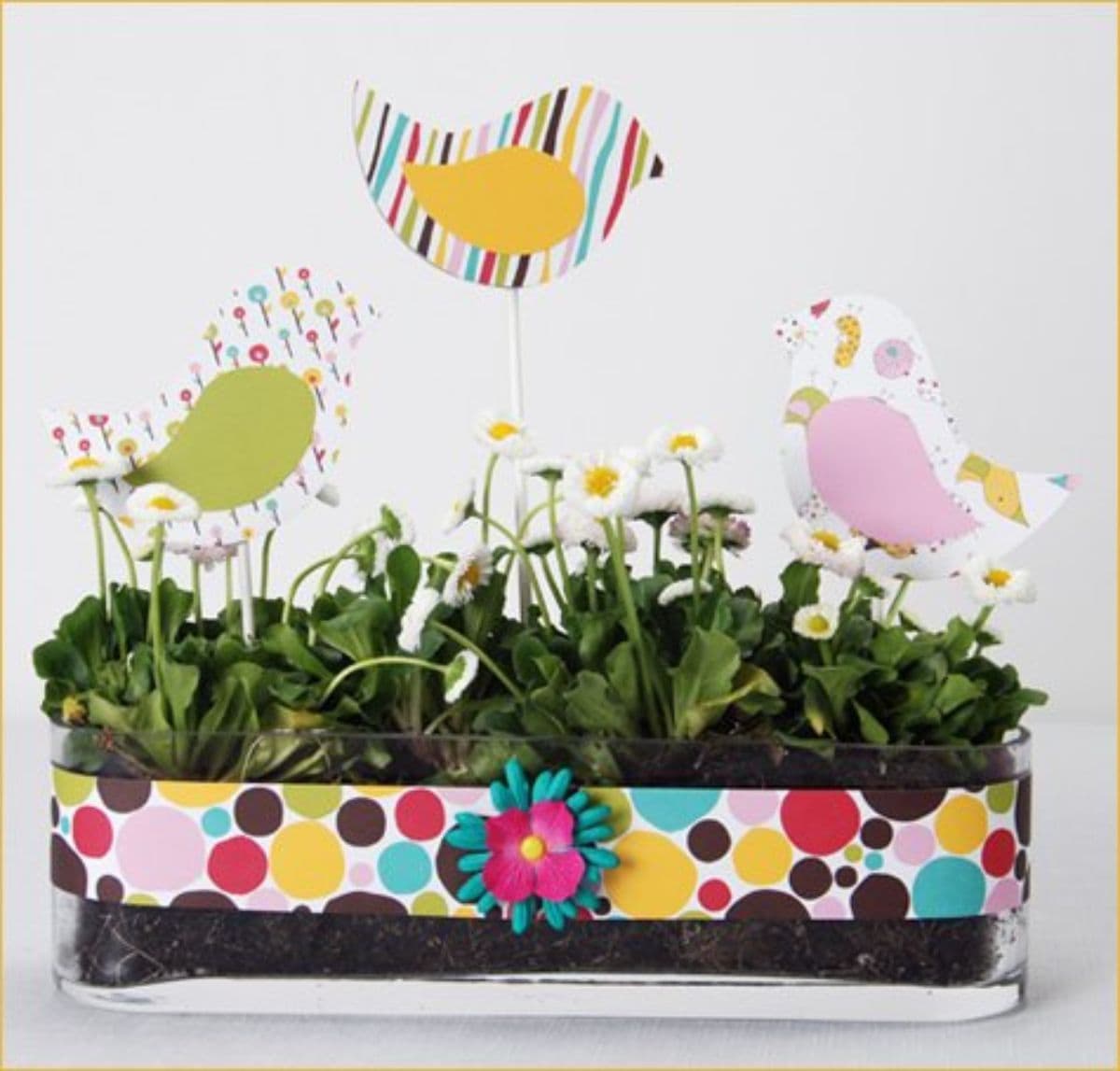 A little more complicated, this centerpiece would be an impressive table decoration for the big day and wouldn't look out of place hanging around well after Easter. You can take the basic design and customize it for any occasion or theme. Hostess with the Mostess has all the instructions over on her site.
Plastic Easter egg flowers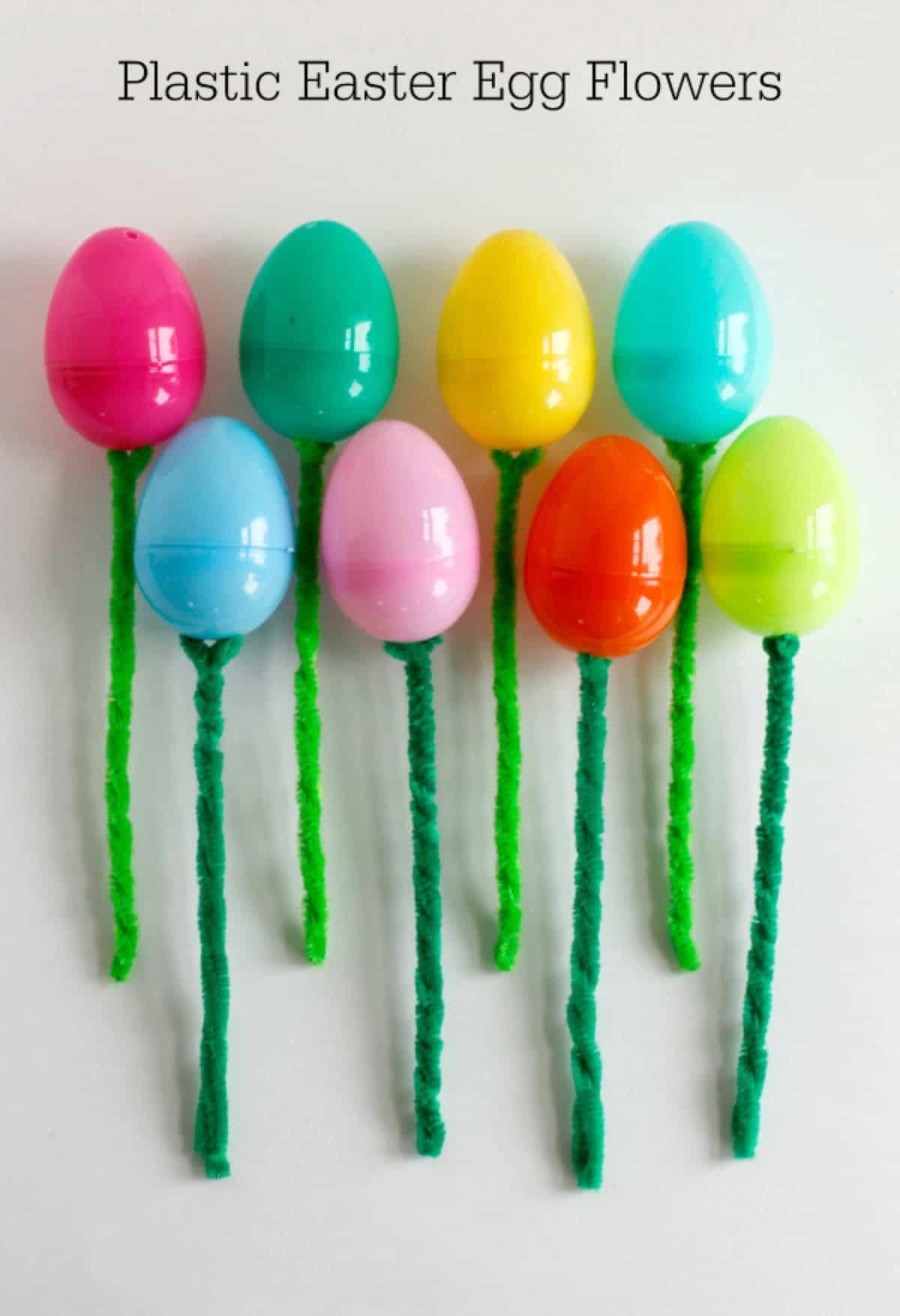 Plastic craft eggs are a brilliant thing to have around for your Easter decor needs. You can hide treats inside them for egg hunts, or make a whole wreath of the things. For a simpler craft idea, why not try these egg flowers from Make and Takes? You can group them together and make your own artificial egg flower displays.
Hoppy Easter sign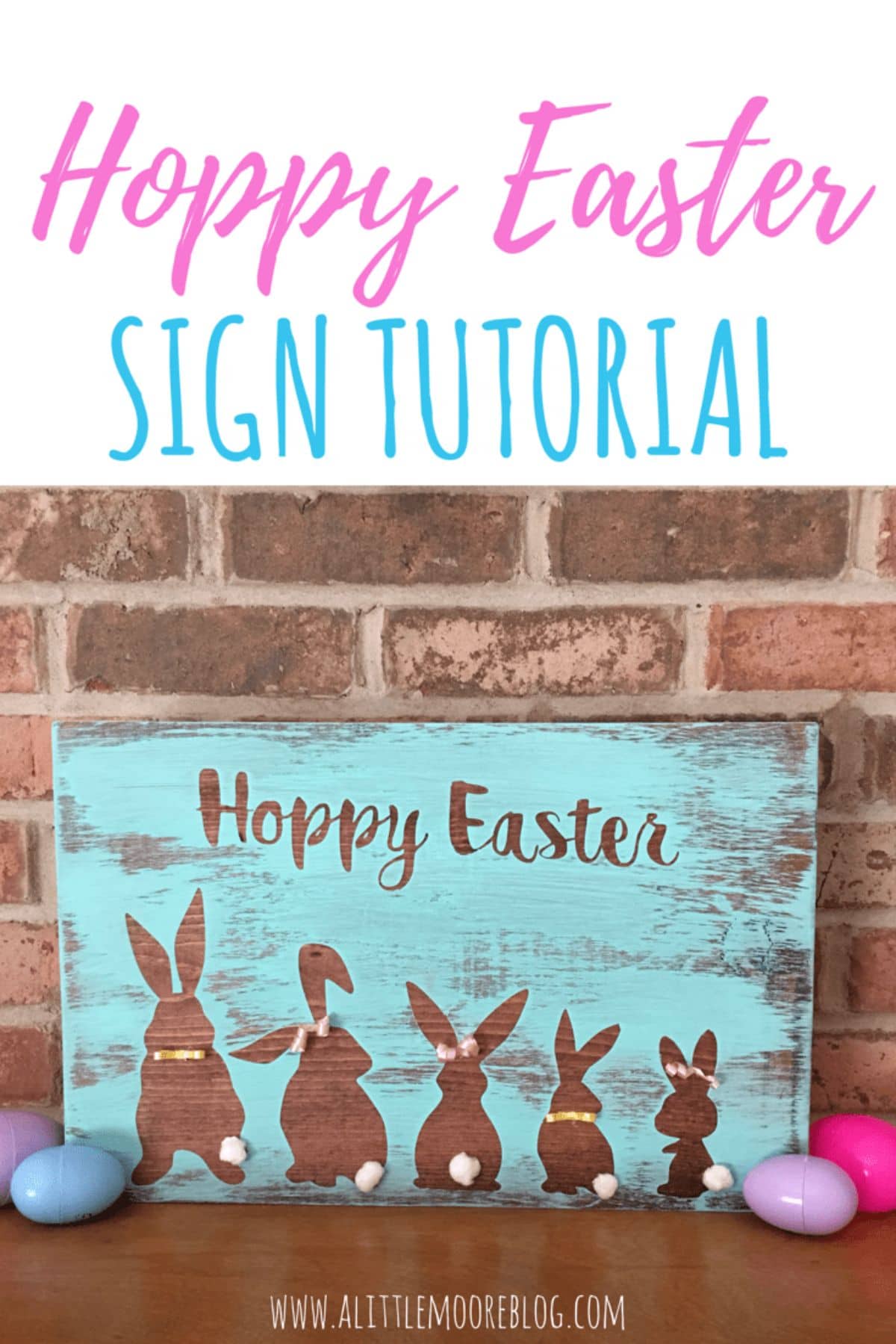 This is the cutest idea! Make your own "Hoppy Easter" sign with personalized bunnies representing each member of your family! A Little Moore has step by step instructions. Just don't forget to give Daddy the fluffiest tail!
Felt hanging decorations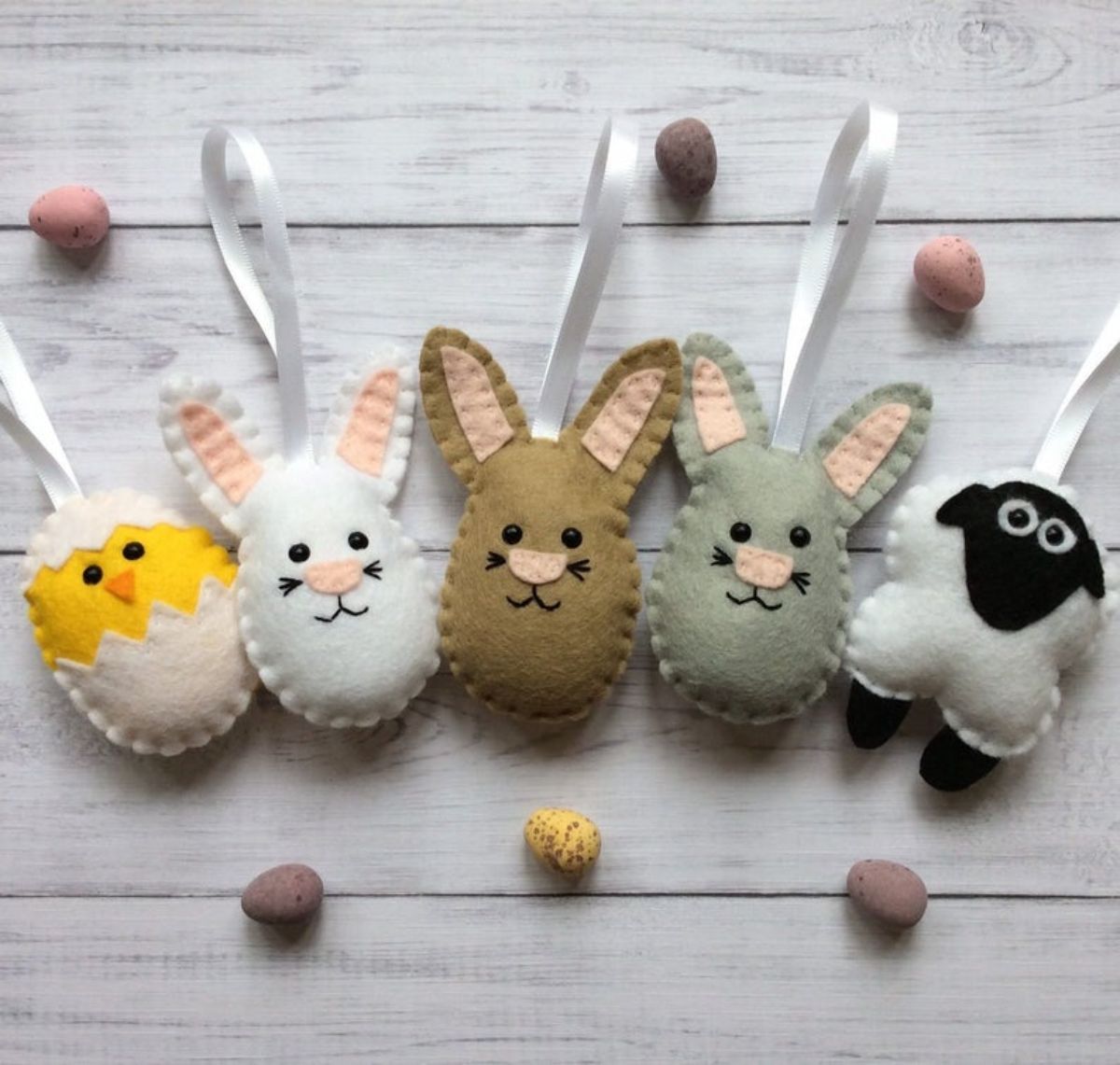 These smiley little decoration for your Easter tree are a good alternative if you're not the sewing type, or you've run out of crafting steam. You can find the whole gang on Etsy made by lovedbylivy.
Square Easter bunting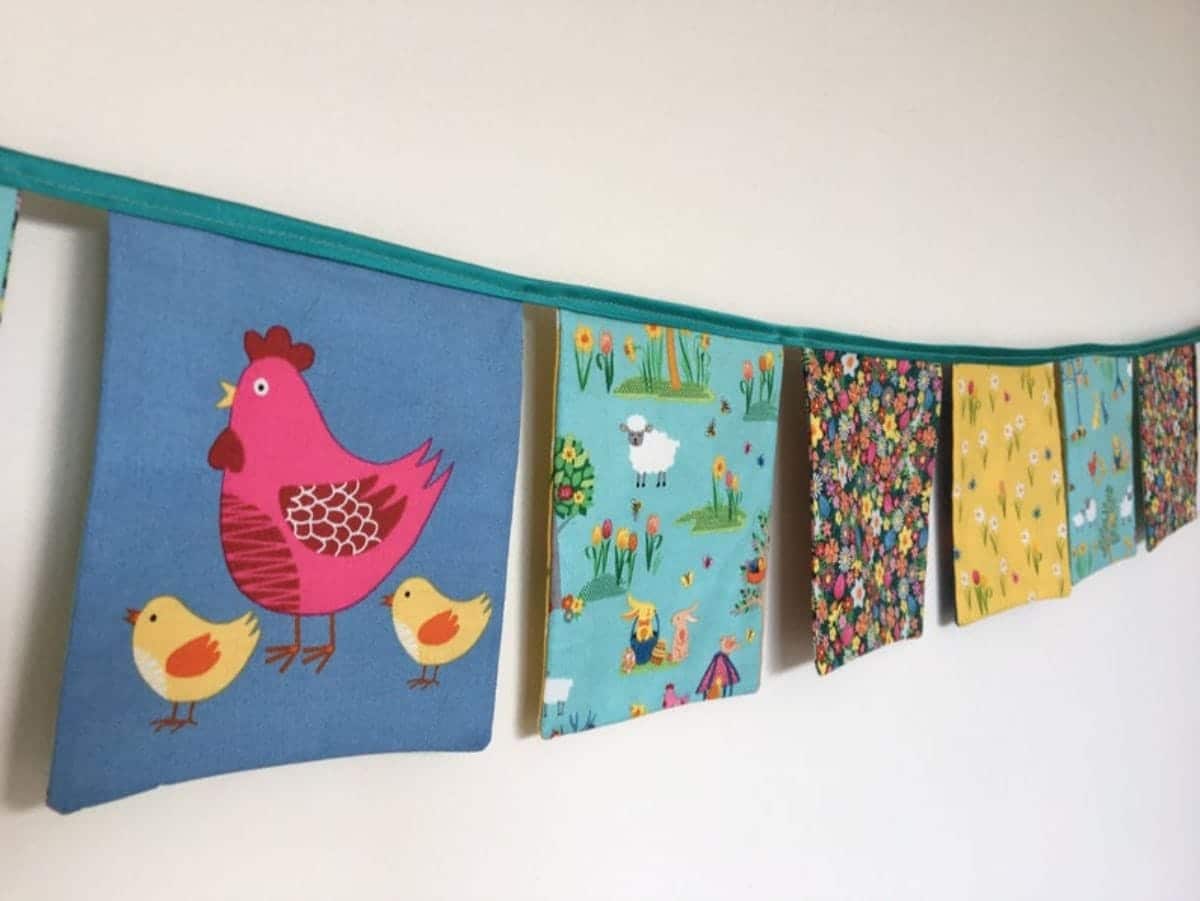 This is the perfect garland/bunting option if you're trying to impress and you'd like something a little more professional hanging over your mantelpiece. Featuring chicks, lambs, flowers: all the Easter greatest hits, from DebbiePatchworkLady on Etsy.
Personalized bunny decorations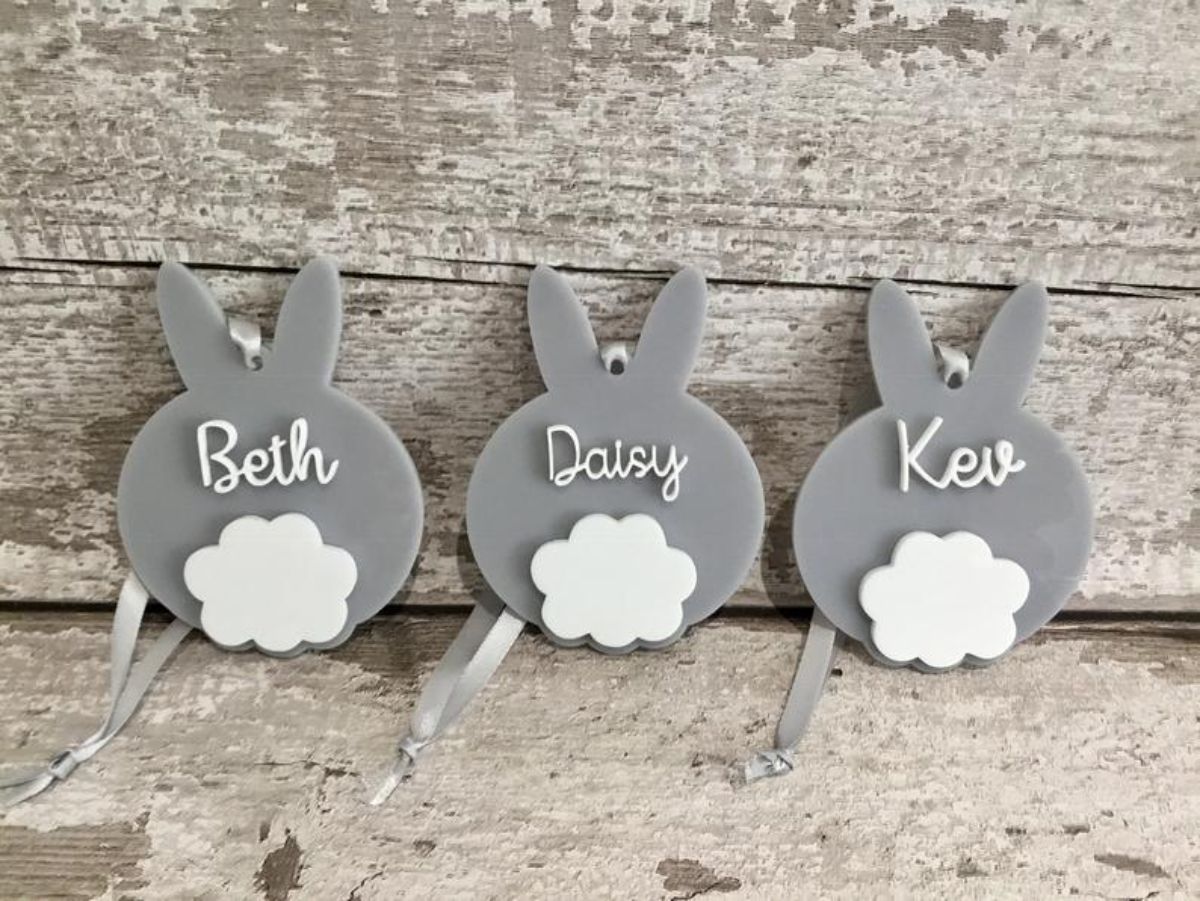 Looking for an adorable gift for someone else's Easter tree, or some additions for yours? With a bunny template and a glue gun, you'd be able to create something similar to these cute grey rabbits, or you could purchase the originals from GertrudesGiftsByBeth on Etsy.
Wood slice chicks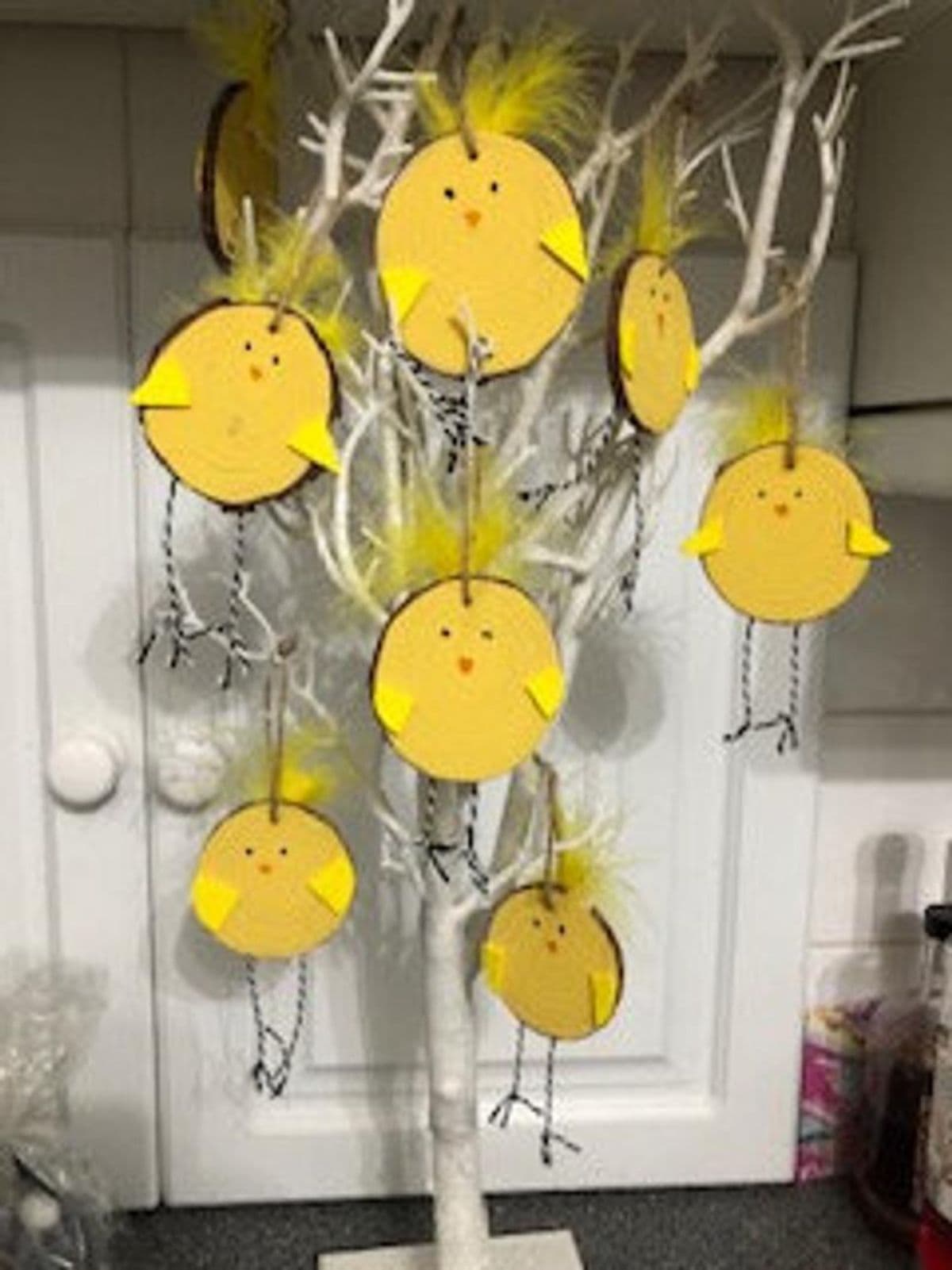 And, finally, if you liked the look of the wood slice coasters we saw earlier, then you might be tempted by these chick hanging decorations from BOLSCreations on Etsy. Bright splashes of yellow are the perfect Spring antidote to a cold and dark winter.