This post was written by Mommy Musings' entertainment guru, Rick Fauquet.
The summer movie season is in full swing this weekend. Marvel's The Avengers is the official first entry, setting the bar VERY high for all who follow. The problem with comic book movies is…well, they're based on comic books. Not everyone grew up reading them and quite a few people just plain don't care for them. If it were up to the fanboy/fangirl culture you'd all be quizzed before being allowed entry into the theater. Your only two easy outs would be a signed picture of Stan Lee or a superhero logo tattoo. If you had a tattoo of Stan Lee's signature… they might make you their leader!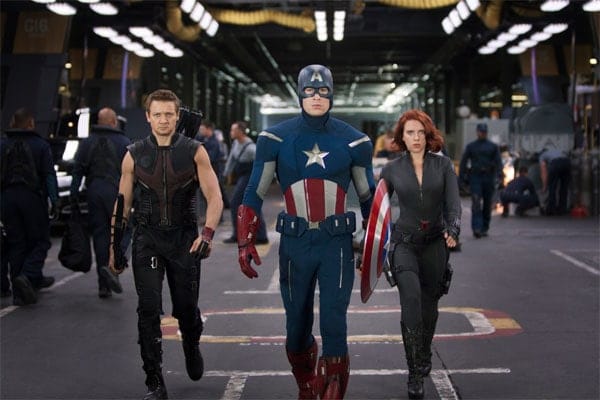 Here are five reasons why a non-fan would still really enjoy Marvel's The Avengers:
1. The Movie Doesn't Make you Feel Like an Idiot or an Outsider
The movie unfolds very fast and furious, but slows down just enough to give you vital information. They put you in the loop very quickly. Some of it they feed you, most of it you figure out for yourself. There is no need to feel intimidated if you haven't seen any of the other intersecting films. Just kick back and enjoy.
2. The Good Story Writing Transcends the Genre
Have you ever gone to a movie just knowing you were going to hate it? I've seen Eat, Pray, Love…or as I like to call it Eat, Pray, Fell Asleep the first 15 minutes... But every once in a while, a movie's story just clicks on all levels. Director Joss Whedon has created just that. You get drawn in to the film because it's basically a relationship story. Even though they're superheroes, you still relate to them as human beings.
3. Lots of Big Stars
As far back as Chuck Heston beating his staff against an indoor pool in The Ten Commandments…Hollywood has subscribed to this simple formula…more "Stars", means more money at the box office. This movie has more than its fair share. Robert Downey Jr.(after Iron Man and Sherlock Holmes this is his third, big movie franchise). Chris Hemsworth came out of nowhere with Thor last summer and is starring as the huntsman in this summers' big budget, Snow White and the Huntsman. Samuel L. Jackson…who doesn't LOVE him!? Seriously!? He puts out like 10 movies a year! Mark Ruffalo, Chris Evans, and Scarlett Johansson round out the rest of the heroes.
4. You Will Score Major Cool Points With Your Kids
Everyone who likes to be the cool parent … raise your hand. That guy in the back who isn't raising his hand is a fibber, fibber, fibber. We all want to be the cool parent. I used to have blue hair and tour in a punk rock band…now, between my mandals (man sandals) and my murse (man purse) my daughter and her friends just look at me and shake their heads. This movie has cartoon style violence and is more than appropriate for grade school children. It's something you and the kids can do together, talk about and maybe get involved with. Load the kids in the car and take a trip to your local comic book store. You can maybe find some titles that appeal to both of you and guess what…it encourages them to read. Sounds like a great summer activity to me.
5. You Deserve to Get Away… If Even for 2 Hours
Marvel's The Avengers hums by at a brisk two and a half hours. From the time the lights go down until the time they come up, you are immersed in another world. It truly takes you away to another place…and isn't that what we're all looking for out of any movie going experience? So turn off the phone, pass the popcorn and let Marvel's The Avengers take you away…you will truly enjoy the ride!