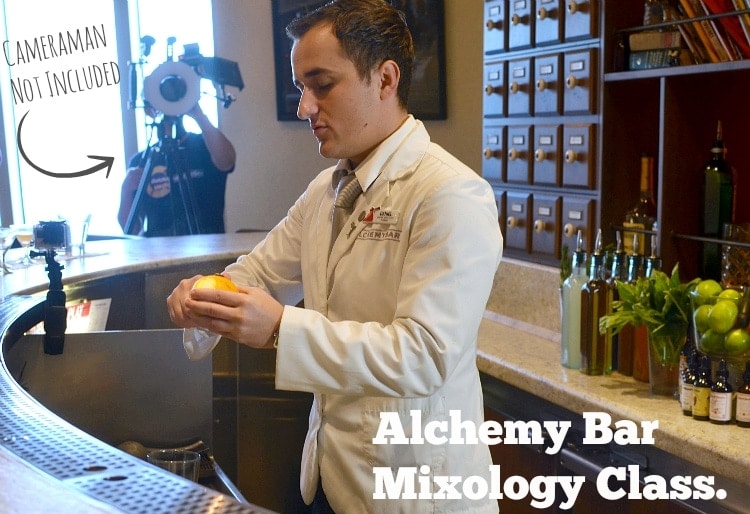 Alchemy is, by far, my favorite bar on land or at sea. The fact that it's on Carnival makes it even more fun because whenever I'm at Alchemy … I'm also on a cruise! Win-win!
For those who have yet to sail Carnival Cruise Lines, or one of their 2.0 ships, Alchemy Bar isn't your average watering hole, in fact there's no soda, or even beer on tap. It's a cleverly themed cocktail pharmacy with the motto "relief for what ails"— "prescriptions" on the menu include The Remedy, The Quick Fix and Forty is the New Twenty.  Each handcrafted cocktail is layered precisely and muddled with fresh fruit and herbs … truly a masterpiece for the senses!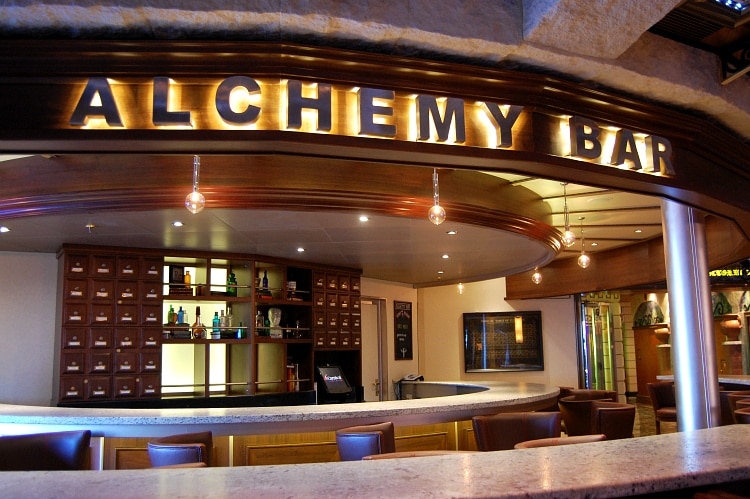 Earlier this summer my husband and I sailed on Carnival Freedom and were let in on a little known secret by Alchemy master mixologist Daniel Zanoaga. On one of the last sea days, Carnival ships with an Alchemy Bar host an unadvertised (not in the ship's daily activity newsletter, the FunTimes) 2-hour mixology class to learn how to make three popular Alchemy Bar cocktails. The session is around $20 and guests should inquire with one of the mixologists at Alchemy at the start of the cruise because space is limited.
The mixology class we attended with Daniel had eight participants, filling up most of the seats at the bar.
Daniel started the class with the history of the cocktail. As the wife of a bartender, I thought I knew all there was to know about making a good drink, but Daniel's knowledge even surpassed my husband's (shhh… don't tell him I said that!).  After going through the history, we learned the importance of ice & good quality spirits (a must for all cocktails!), the essentials for a home bar, and then got a hands-on lesson for how to use a Boston shaker.
Before I knew it we had several mini martinis lined up in front of us for tasting. Can you say yum!? Our flight of martinis included Martini Seduction, Cucumber Sunrise, and my personal favorite, Spicy Chipotle Pineapple. Daniel also threw in a vodka-infused gummy bear for another masterpiece he was working on!
The finale included learning an impressive garnish trick: the flamed orange twist.
Sampling the cocktails was just a small part of class, which seemed to breeze right by with all the fun we were having. At the end of the lesson, each participant received a certificate along with a free beverage card to use on our favorite drink at Alchemy Bar. Can you guess what drink I chose?
I'll make it easy for you, by leaving with this recipe I took away from the class:
Spicy Chipotle Pineapple Martini
2 oz Skyy Vodka
1 oz Monin Chipotle Pineapple Syrup
1 oz pineapple juice
½ oz simple syrup
6-8 mint leaves, muddled
Muddle mint leaves with simple syrup. Add vodka, syrup and juice. Shake vigorously with ice. Strain and enjoy.
If you're sailing with Carnival and love a good cocktail, I urge you to inquire about the mixology class at Alchemy Bar. It's a unique experience that will have you on your way to becoming your own master mixologist.
This post was created as part of my collaboration with Carnival. As always, all of the opinions, thoughts, and ideas in this post are my own.