I often struggle with gifts for my husband for Father's Day. But not this year. This year, I came across what could singly be the most genius concept, taking the standard bakery to the ultimate level.
It's called Baconery -- and every single cookie, brownie, chocolate or other sweet treat is jam packed with bacon-y goodness.
This is what I call heaven in a box.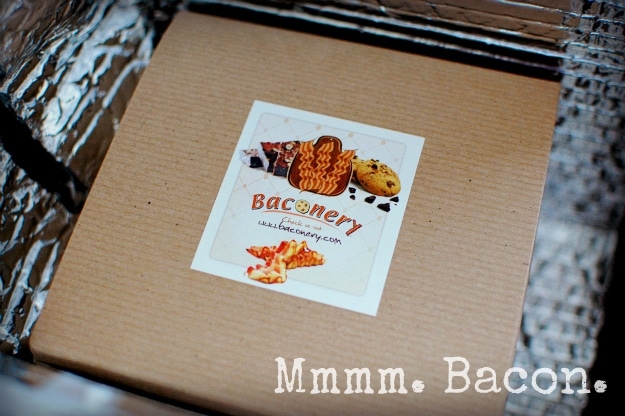 Two thoughts ran through my mind when I found out about Baconery.
Number one: Why didn't I think of this?
Number two: How can I get my hands on some chocolate covered bacon strips?
Thankfully, Baconery sells all of its bacon baked goods exclusively online -- delivering them right to your door. Yummm...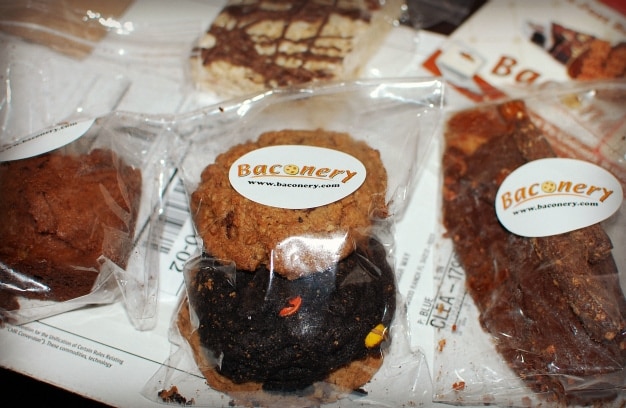 I received a Baconery Sample Pack to review, which I generously gifted to my husband -- but not without sampling a little piece of each item first ...  for research 🙂
Included in the sample box is one of each cookie (Choc Peanut Butter Bacon, Chocolate Chip & Oatmeal Choc Chip Bacon), one bacon brownie, one bacon marshmallow bar, two chocolate bacon pretzel rods, and 2 chocolate bacon strips.
Since I absolutely love bacon, it was no surprise that my favorite items were the ones with the most bacon flavor.
First up, the chocolate covered bacon strips.
The bacon slices used for the Chocolate Bacon are no joke; they're super thick and covered in milk chocolate. The salty-sweet combination is perfect. Mmmmm....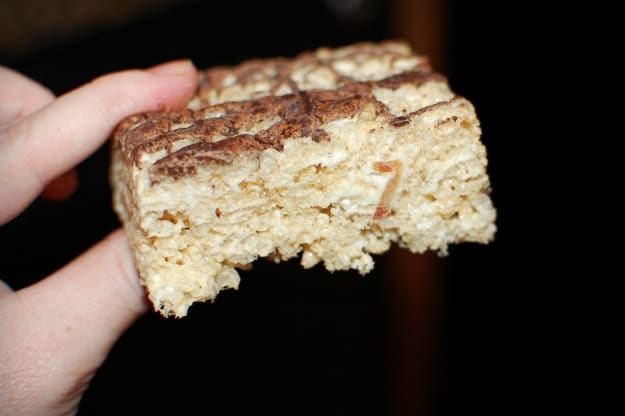 The two other standouts were the bacon marshmallow bar and the bacon brownie. The marshmallow bar has bacon slivers throughout, giving it a hint of saltiness that totally works -- I can't believe I never thought of making rice crispy treats with bacon at home!!
The bacon brownie looks just like a regular brownie, but the taste is so totally bacon and chocolate. It's sweet, salty, delicious and very addicting.
If you love bacon, you can't go wrong with anything from Baconery. My husband devoured his portion of the bacon baked goods and agreed that they made the perfect gift for bacon-loving dads. I have a feeling we will be ordering from Baconery again for other occasions. The goodies make yummy and unique gifts.
Treat your dad this Father's Day to some bacon sweets and save $10 when you spend $35 with code DAD -- the bacon sample pack shown above is just $24.95, and other goodies, like a 6-pack of chocolate back, start at $14.99.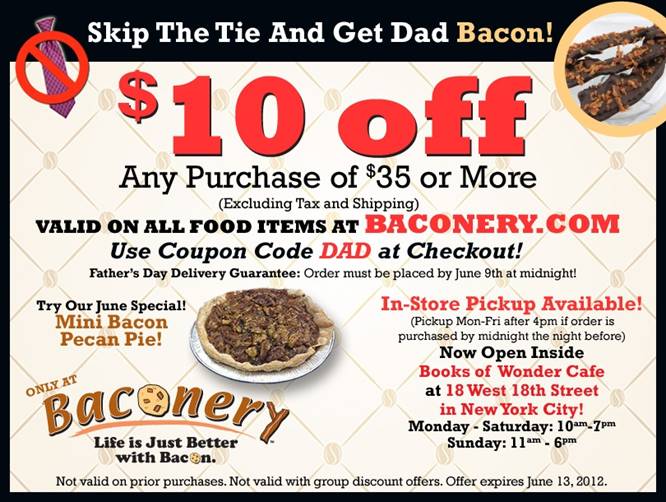 A sample was provided for review. All opinions are my own.