When the full list of new additions for the Carnival Breeze was announced, the one that most piqued my interest was Bonsai Sushi – Carnival's first full-service sushi restaurant.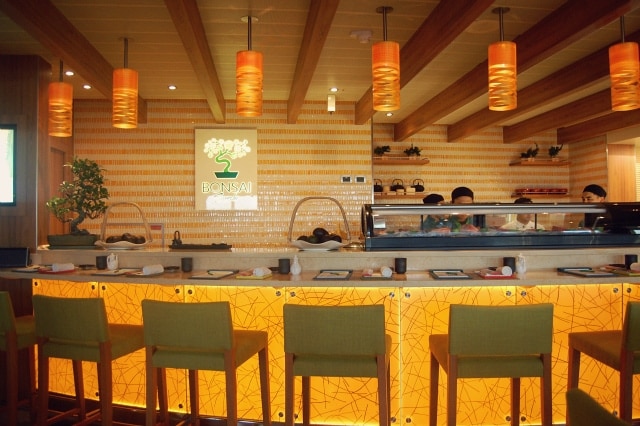 I'm a sushi lover on land, but I hadn't had any great sushi experiences at sea – maybe I'm a little bit of a sushi snob, but anytime I see sushi rolls on the buffet, I have to pass. So the idea of Carnival adding a made-to-order, sit down sushi experience was very appealing, even with an extra cost.
And after sailing the Carnival Breeze -- and eating at Bonsai Sushi multiple times -- I can honestly say it is worth the minimal surcharge, with sushi pieces starting at just a buck.
Bonsai is located in a little nook between the Red Frog Pub and the entrance to the Ocean Plaza on the Promenade Deck (5). Even though the space is open, once you're seated, all the outside noise goes away and you feel like you're in a sushi restaurant. The decor is light and airy -- a trend that is seen throughout the ship.
The place settings are simply perfect.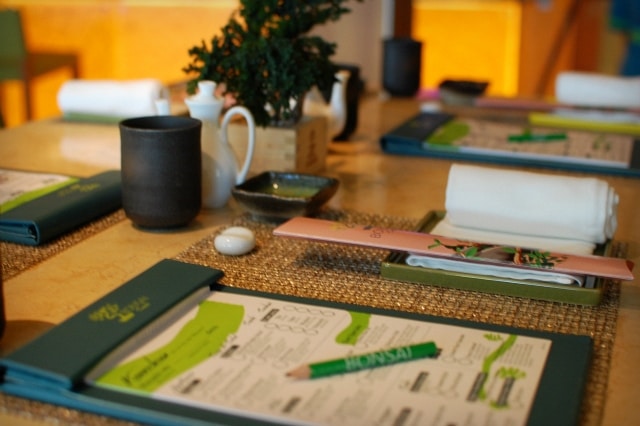 In lieu of traditional chopsticks, each setting includes .... get ready for this ... a Chork! -- That's a plastic chopstick/fork combo. While I can get by with regular chopsticks, I think they can be intimidating to many. That is the beauty (and genius) of the Chork, and the concept of Bonsai Sushi, and even Carnival in general ... Trying new things doesn't have to be complicated!
Because I'm so enamored with the Chork, I found that it can be used three different ways:
1. fork
2. trainer chopsticks (great for beginners & kids!)
3. separated to resemble regular chopsticks.
If you must have the standard wooden kind, Bonsai has those too 😉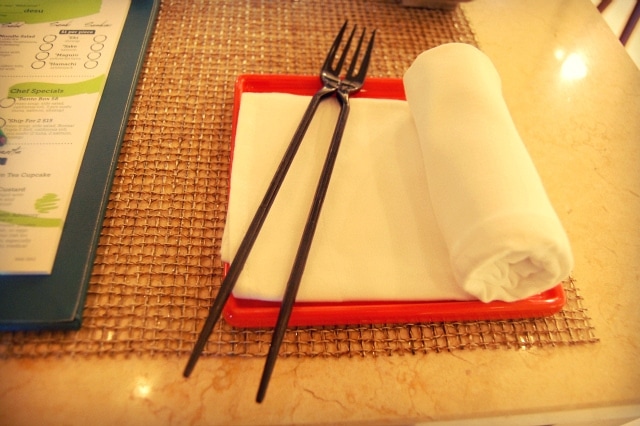 I know what you're thinking, the Chork is great and all ... but what about the food? The menu at Bonsai Sushi is à la carte -- meaning you can pick and choose what you want from the menu, creating your own meal or snack. With options ranging from $1 for individual sashimi pieces, to $15 sushi ships big enough for 2, there's an endless amount of combinations at different price points. If you've never tried sushi before and just wanted to try one piece, you can sit down and order just that. If you're like me and want a little more, Bonsai delivers an enjoyable experience -- and it's still only a couple of bucks.
One afternoon after a day in port, I went and had a little sushi snack. I started with a $2 bowl of miso soup. No detail was spared in presentation -- the waitress poured the hot soup over a garnish of daikon and nori. It was perfect, and I can't stress this enough ... only $2!  Each table also receives complimentary edamame.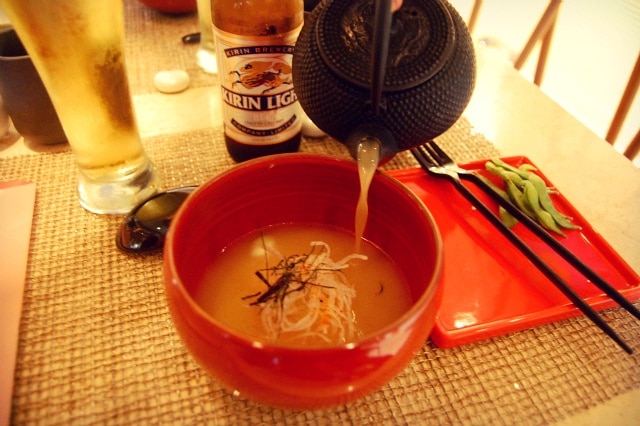 I followed the soup with my all time favorite sushi roll -- spicy tuna. For $4, this was a steal. The tuna tasted very fresh and it was prepared perfectly with spicy mayo, asparagus, tempura flakes and a crunchy potato straw topping. Yum!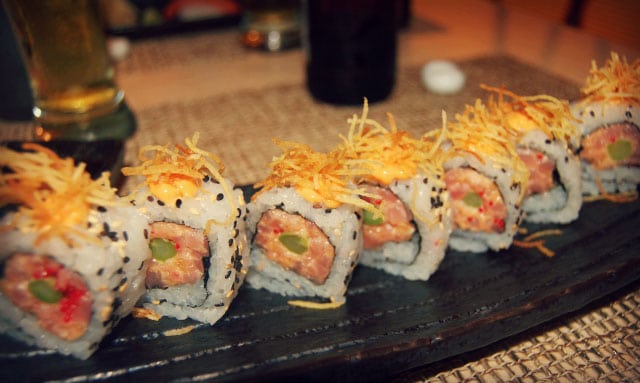 My little snack (which really could have been a meal) was just $6 -- totally worth it for the quality and atmosphere. The sushi was so good, I went back the next night for dinner, having another bowl of miso soup, another spicy tuna roll and a shrimp tempura roll. The portions are very generous, with each roll averaging eight large pieces.
A really nice value if you want to try a variety of foods is the Bento Box for $8. This includes miso soup, a side salad, a California roll, and 3 pieces of sashimi (tuna, salmon & shrimp). Here's a peek at the Bonsai Sushi Menu on the Carnival Breeze for all of the options.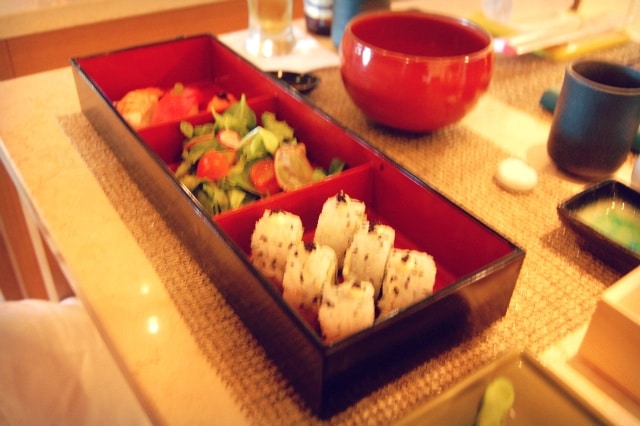 While most of the food on the Carnival Breeze is complimentary, Bonsai Sushi (along with Cucina del Capitano, Fahrenheit 555 Steakhouse, and the bar food at the Red Frog Pub) comes at the additional cost. I know some people shy away from these add-ons, but after trying it for myself, it's most definitely delicious and worth the splurge. I would encourage anyone sailing Carnival Breeze to give it a try-- you may find yourself skipping dinner to get in a daily sushi fix!
Bonsai Sushi is open daily from 5pm until Midnight, with an additional time slot on sea days from 11:00am-3:00pm.
--> Check out all my posts on the Carnival Breeze
I was invited as media on the Carnival Breeze. All opinions are completely my own.