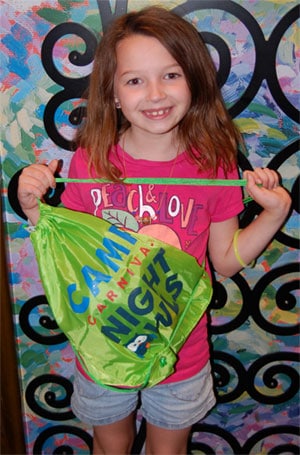 Traveling with my daughter, this week, to Mexico, Belize, Honduras and Grand Cayman via Carnival Liberty has been a wonderful experience for us both. It was great to have some mother/daughter bonding time while exploring new destinations…and a new Fun Ship!
But, as much as I love spending time with her, it's also important that I have some of my own to meet with friends for a few after dinner drinks or to see a show.
For nights when I want to stay out until after 10pm (when regular Camp Carnival ends), I am thankful for Camp Carnival Night Owls-- an after-hours party for kids 3-11 from 10pm-3am.
What I love most about Camp Carnival Night Owls is the flexibility; I don't have to set a specific time to pick up my daughter, and the hourly rate is charged in 30 minute increments. Most nights I find that I just need an additional hour of care for her, which is $6.75 per child per hour plus a 15% gratuity.
On select nights there are special late night parties, which typically run from 10pm-12am or 10pm-1am. Carnival Owl Jams is for 2-11 year olds from 10pm until midnight and is $13 per child/per party plus gratuity. Fun 'Til One is from 10pm until 1am for 6-8 years olds and is $20 plus gratuity per child/per party. Plus, all party participants get a goodie bag filled with Carnival treats. For Owl Jams, my daughter received a Camp Carnival bag with a night light, a stuffed owl and a toothbrush.
Camp Carnival works well for us because my seven-year-old absolutely adores it. It's a chance for her to meet new friends, play games, watch movies and make crafts without me hovering over. This trip she has opted to go to camp every night, even for additional time after I've come to pick her up. I'm usually pretty happy to oblige because I think it's a great value-- at $6.75/hour, that's less than one drink at the bar and I get some extra time to see the late-night comedy shows that I would normally miss.
Camp Carnival Night Owls is a win-win for us both.