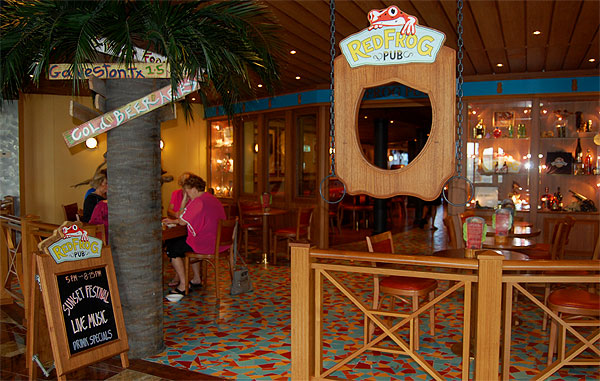 I've only been on the Carnival Magic for 2 days, and I already know my favorite spot on the ship: RedFrog Pub.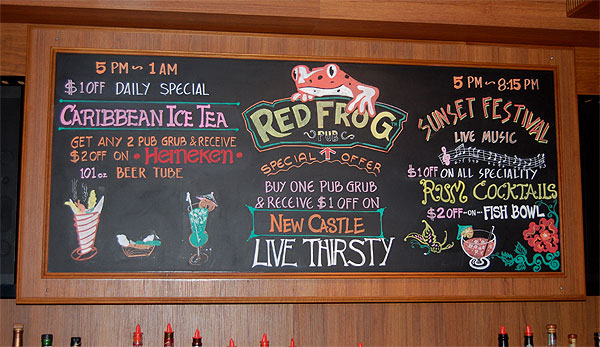 What I love about the RedFrog Pub is that it feels like a local watering hole, with an easy-breezy Caribbean vibe. If you didn't know any better, you wouldn't believe you were on a cruise ship! The walls are adorned with an eclectic mix of nautical décor, Polaroids line the back of the bar and I'm pretty sure every bartender knows your name—or perhaps they just looked at your sign and sail card 😉
Either way, RedFrog Pub is a relaxed atmosphere with the best variety of pub grub and libations at sea. I mean, where else can you get flights of rum, fishbowl cocktails and 101 oz tubes of ThirstyFrog Red?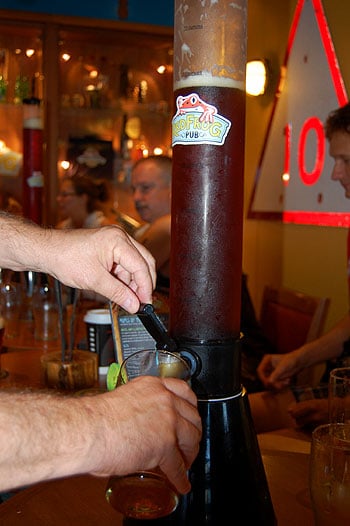 Speaking of ThristyFrog Red, it's a light and frothy lager brewed exclusively for Carnival. I've been told, due to its popularity, it is now available on every Carnival ship, but it first debuted right here, on the Carnival Magic. I'm not a big beer drinker, but I've already had my share of ThirstyFrog Red!
Another thing I love about RedFrog Pub is that they offer bar food. Really good bar food. The menu includes Caribbean favorites like conch fritters and coconut shrimp, with each appetizer costing only $3.33.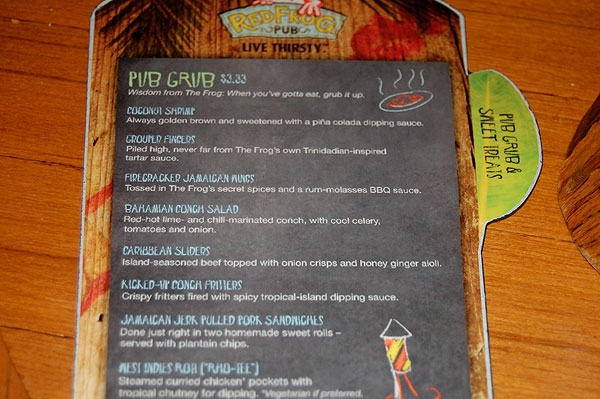 I highly recommend the conch fritters!
Here's a really hot tip: If the Lido Deck is packed for lunch, head down to the RedFrog Pub and order a variety of apps and a pint of ThirstyFrog—believe me, it's a great way to spend the afternoon!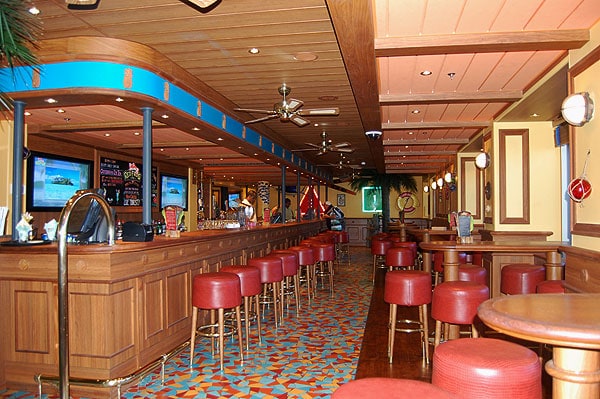 In the evenings, the bar comes alive with live music and it's just a great place to hang out and have a couple of drinks with friends. More than anything, RedFrog Pub is FUN and I just love it as a new addition on the Carnival Magic.
Special thanks to Carnival Cruise Line for hosting me on Carnival Magic's inaugural cruise from Galveston.