Cold & Flu Kit Essentials — Get ready for cold & flu season by making your own Cold & Flu Kit with OTC medicine, thermometer and Puffs Plus Lotion Tissues.
Cold & Flu Essentials
We all know that back to school season is here— but do you know what other season is upon us, too? Cold and flu season. Unfortunately, it didn't take long for it to hit our home as we're dealing with some untimely bugs right now. My daughter seems to have quickly recovered, but my husband is still suffering with a stuffy head and cough.
For the past few years I have been creating a cold care kit to keep on hand for when illness strikes. There's nothing worse when you're sick than having to drive to store to get everything you need. Having a box of cold and flu essentials not only saves you time, but helps you or your loved one feel better faster.
I started this tradition when my daughter was in elementary school because, without fail, she would get sick the first week after school started. Clearly not much has changed. 
Because I have many of the basics on hand, instead of creating a new cold and flu box year after year, I just update my existing one. Before restocking, I make sure there aren't any expired medications. The shelf-life of OTC meds usually isn't longer than a year or two. Here's what I have in my cold and flu kit.
Cold & Flu Kit Essentials
Puffs Plus Lotion Tissues – for sneezing and runny noses
Thermometer – to check for fever
Antimicrobial Soap (We use Hibiclens Soap) & Hand Sanitizer – to keep germs at bay
Acetaminophen/Ibuprofen – to reduce pain/fever
Digestive Relief Tablets - for upset stomach
Electrolyte Powder Packs – to avoid dehydration
Neti Pot – to clear sinuses
Vitamin C – to boost immune system
Cough Drops – to ease sore throat
Over-the-Counter Meds - Includes allergy spray, daytime/nighttime cold & flu liquid and caps, mentholated topical ointment and chest expectorant
Additionally, I keep a stash of tea bags, honey and canned soup in the pantry for sick days.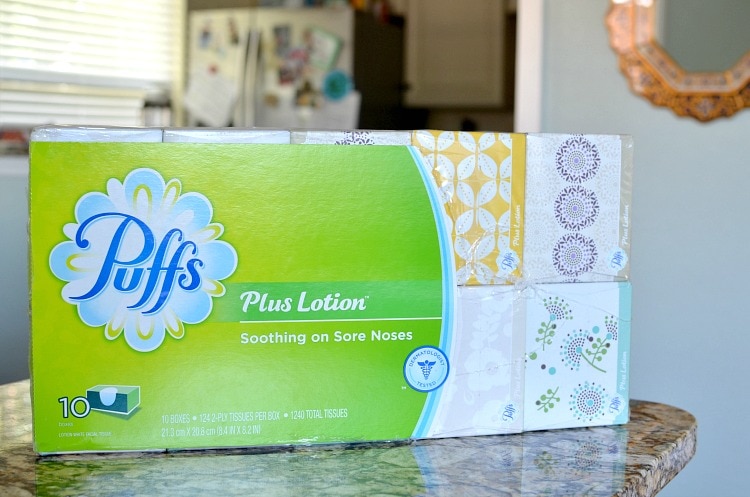 As you can see, the #1 item in my cold & flu care kit is Puffs Plus Lotion Tissues. It seems that we go through A LOT of tissues throughout the year and we've learned that not all are created equal. When you have a runny nose, rough tissues make life even more miserable. Puffs Plus Lotion is America's #1 lotion tissue and is dermatologist tested to be gentle on sensitive skin.. so they're perfect for the entire family.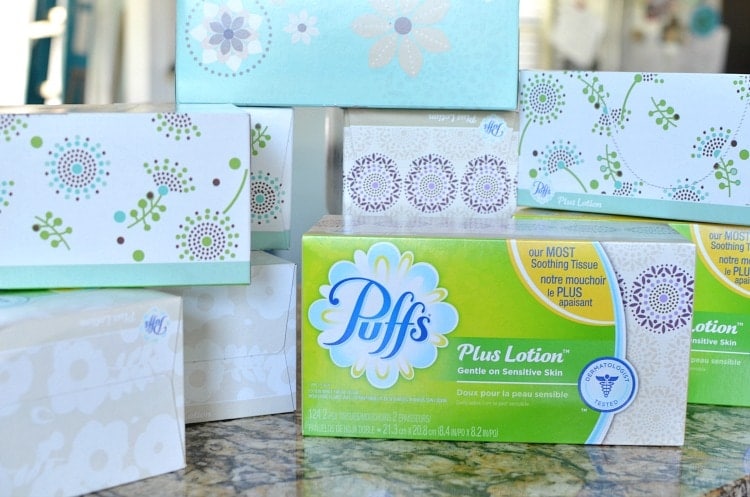 I was pleasantly surprised to find 10-packs of Puffs Plus Lotion at Sam's Club because it made stocking up for cold & flu season even easier (at a great value!).
Having 10 boxes of Puffs Plus Lotion means I'll be prepared for whatever life throws at me— whether it's sniffles, sneezes, tears, runny mascara or small messes that need a quick clean-up. I can even store a box in every room of my home if I wish.