Another new addition to the Disney Fantasy is Bibbidi Bobbidi Boutique -- a magical salon where aspiring young princesses and princes receive pixie-dusted makeovers from a very special Fairy Godmother-in-training.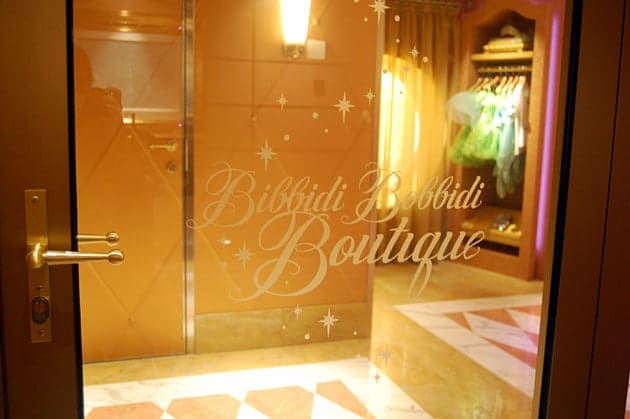 If you've ever been to one of the land-based Bippidi Bobbidi Boutique's at either Disneyland or the Walt Disney World Resort, you'll be happy to know that the look and experience is very similar -- with a few new makeover packages found only on the Disney Fantasy!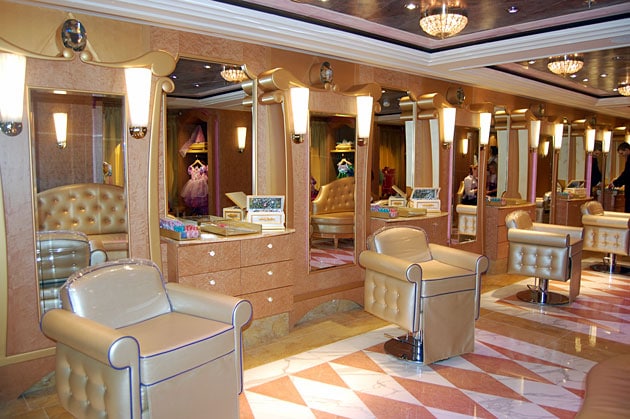 New Makeover Packages Exclusive to the Disney Fantasy:
The Under the Sea Package transforms little cruisers into little mermaids with a two-piece swimsuit, "mermaid tail" wrap, vibrant sunblock, Del Sol floral clip, necklace and nail polish - $99.95

The Disney Fantasy Package includes a frilly tutu with Disney Fantasy and Disney Cruise Line logos subtly printed into the gold ribbon around the hem. A fitted graphic T-shirt has a stylish jewelry design and the outfit is topped off with a poufy headband - $119.95

The Royal Sea Package is dedicated to every little girl who ever dreamed of becoming a princess. This deluxe package comes complete with a Princess Royal Rolling Trunk, PLUS three makeover experiences (Castle, Under the Sea & Pirate), a boutique frame with a photo of the Fairy Godmother and a keepsake glass slipper with a ribbon necklace from Cinderella's helpers - $595.00
Other cruise exclusive packages include Princess Minnie Mouse and First Mate Minnie Mouse and Captain Mickey Mouse.
Here's a great post from Disney Parks with the new package looks available on the Disney Fantasy.
Standard Bibbidi Bobbidi Boutique Coach, Crown and Castle Packages are also available:
Coach - Choice of hair style, shimmering makeup, face gem, cinch sack and princess sash - $54.95
Castle - All elements of the Coach Package PLUS nail polish - $59.95
Crown - All elements of the Castle Package PLUS choice of costume and coordinating wand, tiara and shoes - $184.85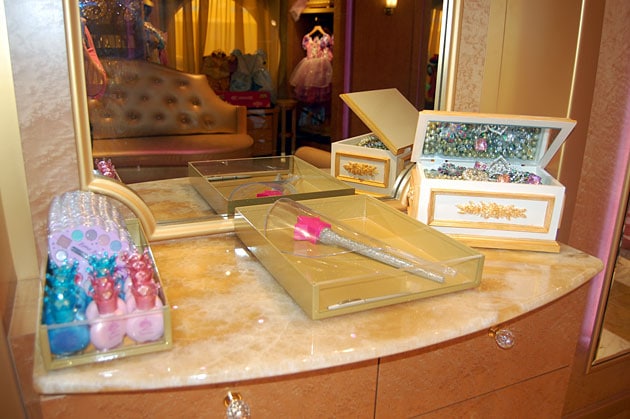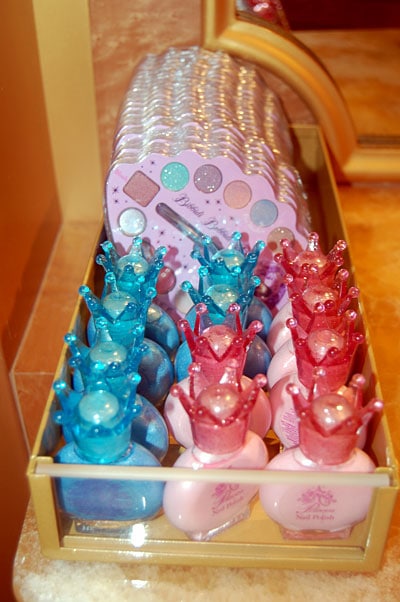 In addition to the new makeover packages, there are new costumes exclusive to Disney Cruise Line and the Disney Fantasy.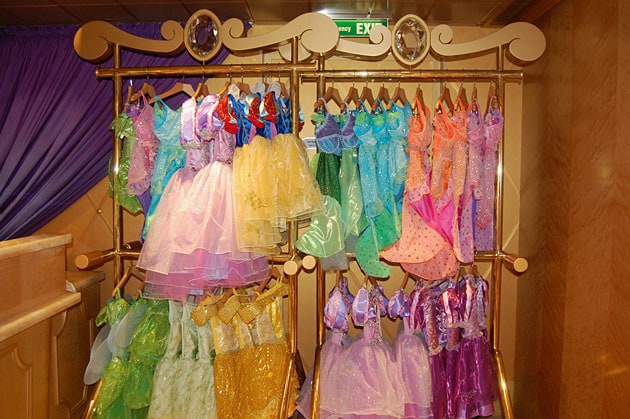 Exclusive Disney Cruise Line Costumes
Princess Minnie Mouse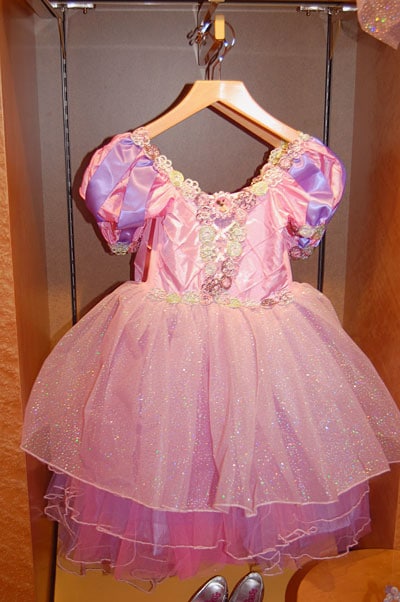 DCL Exclusive Ariel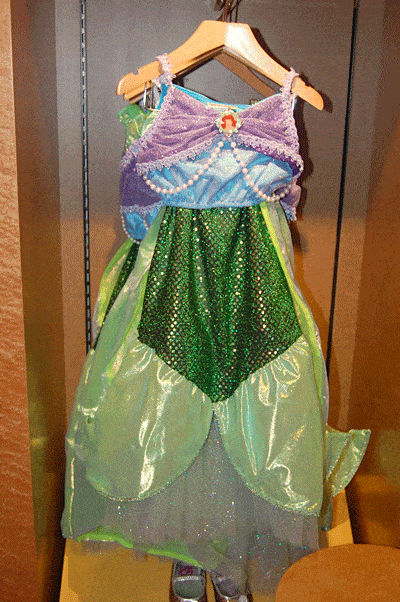 Mermaid 2-Piece Swimsuit with "Tail" Wrap (Choice of 3 colors)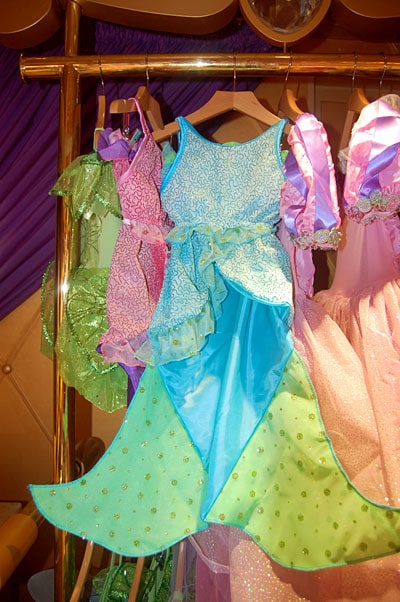 First Mate Minnie Mouse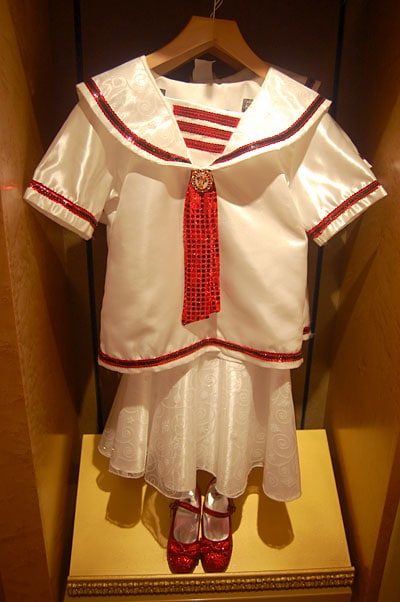 Bibbidi Bobbidi Boutique makeovers on the Disney Fantasy are available for guests 3-12 years old and children must be accompanied by an adult. Reservations are recommended.
The Pirates League on the Disney Fantasy
On Pirate Party night, the Bibbidi Bobbidi Boutique is transformed into The Pirates League, where swashbuckling boys, girls and grownups can get piratical makeovers of their own. There are currently two pirate packages available at The Pirates League on the Disney Fantasy:
Applications of beards and bandanas, swords and scars, earrings and eye patches are done with the savvy skill of veteran pirates who share their own tales of sea-sailing adventures. After reciting a sacred pirate oath, shipmates and scoundrels are turned loose on their pirate vessel - $34.95 for ages 3 & up (includes adults!)
For children, a full pirate makeover is available with the First Mate package for boys including bandana, scars, fake teeth, eye patch sword and more. For girls, an outfit available only on the Disney ship is the Empress which includes a Disney Cruise Line exclusive dress, shimmering makeup, face gem, nail polish, earring, eye patch sword and more - $99.95
Reservations are strongly recommended as The Pirates League is only open on Pirate Party night.
Special thanks to Disney Cruise Line for hosting my family on the Disney Fantasy Inaugural Media Preview Cruise. All opinions are my own.