The Disney Fantasy was built with families in mind, which is obvious in the design of its well-appointed staterooms. On the Disney Fantasy Inaugural media cruise, my family stayed in a Deluxe Family Oceanview Stateroom with Verandah. As soon as we walked in, I was floored at the size. This was by far the largest stateroom that I have stayed in on any cruise line. This stateroom category is the largest -- in both size and occupancy, sleeping up to 5 -- before concierge.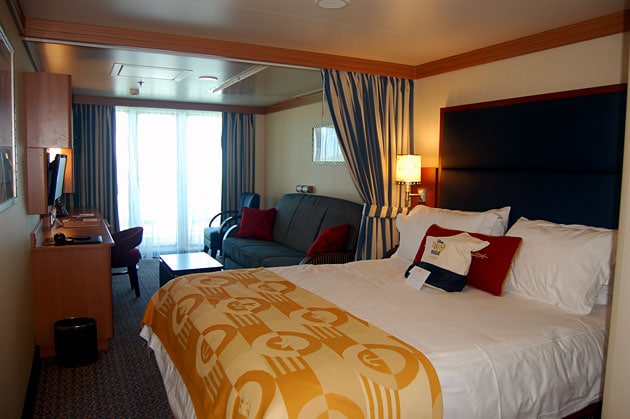 At 299 sq. ft. (including verandah), my family of three had plenty of space. This room is ideal for families of five, who traditionally would have to book 2 cabins or a suite on other cruise lines.
Having sailed on almost ten cruises now, I can tell you that having a balcony is the way to go! The verandah doors on the Disney Fantasy are extremely heavy, making it almost impossible for a child to open, plus there are child safety locks. Believe me, I had the same fears the first time we stayed in one. My daughter is almost eight and she couldn't open the balcony doors in our stateroom. Once outside, the railings are high and completely covered-- there is no exposed railing as you would assume from the picture, it's plexiglass.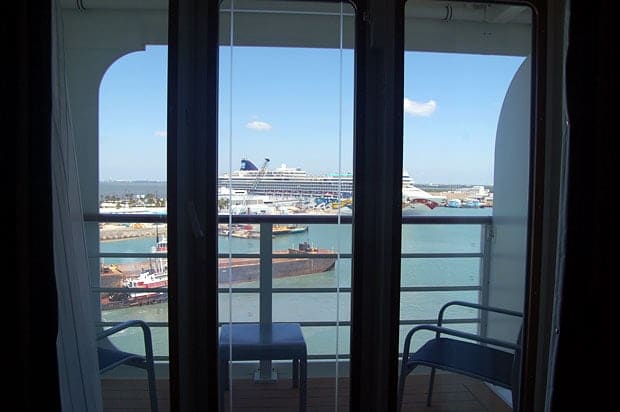 The Deluxe Family Oceanview stateroom has one queen-size bed, a single convertible sofa, a wall pull-down bed (in most) and an upper berth pull-down bed (in some).
Our room (8098) on deck 8, category 4B, had both the single convertible sofa and upper berth pull-down bed.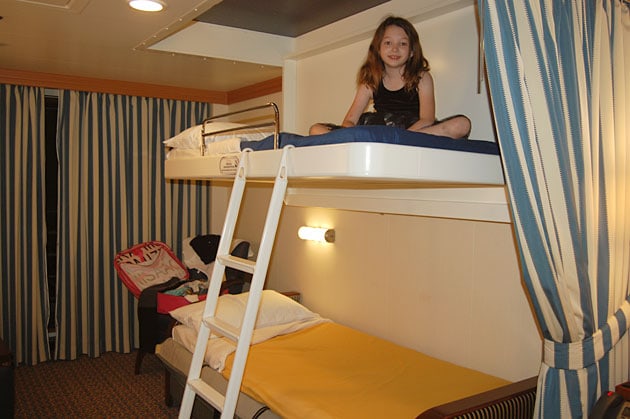 Before I move on to the bathrooms, I have to mention how comfortable the beds are. I think my husband would also vouch that the beds on the Disney Fantasy were by far some of the comfiest we have slept in. From the mattress to the linens ... and the PILLOWS, everything is top of the line. It was hard leaving that bed after a three-day cruise!
The most noticeable difference between Disney Cruise Line's staterooms and other lines is the split bath. This configuration is simply genius for families (and it's still great if you're traveling without kids). Instead of one small bathroom, you get two!
One bathroom has a sink, shower and tub. The other has a toilet and sink.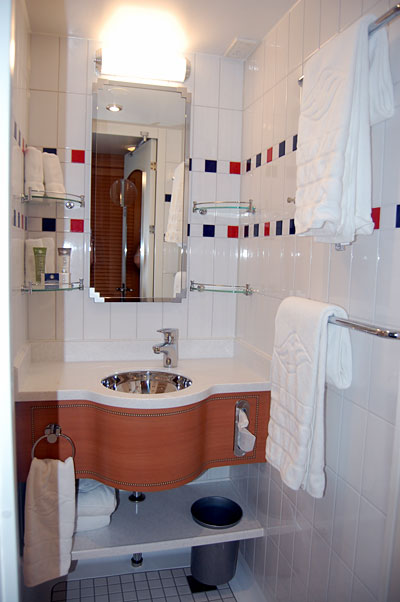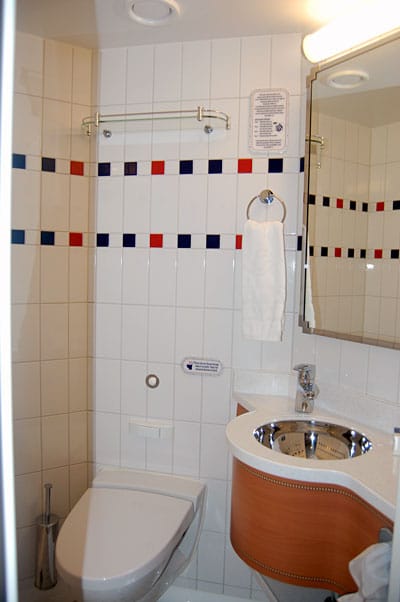 If you have small children, this little bathtub is perfect. I didn't take a photo, but there is a rainfall shower overhead!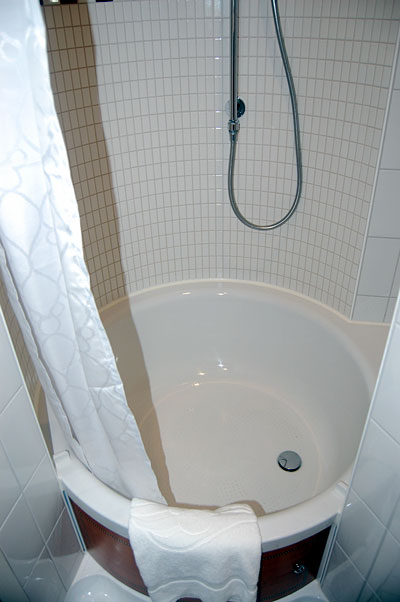 The bath amenities are from H20 Spa, just like the Disney deluxe resorts. I really love the quality of these products and have found that I don't need to bring extra shampoo or conditioner as these work great. ~Love, love, love the sea salt body lotion!
Recommended Reading: Rainforest Room on Disney Fantasy - The Best Spa Bargain at Sea!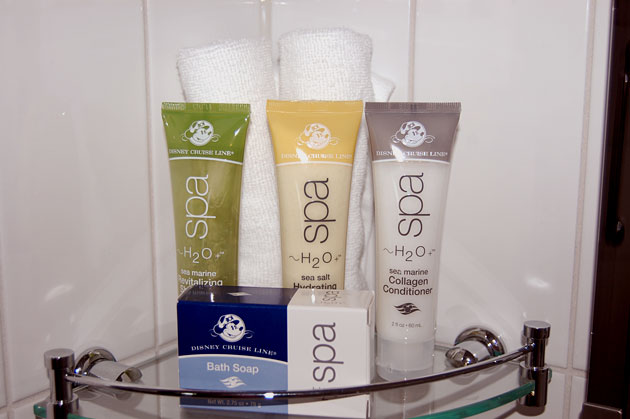 What We Loved About the Deluxe Family Stateroom with Verandah
The fact that it sleeps up to five -- very roomy.
Super cozy towels, linens, pillows and comforter -- even if you don't plan on it, you will find yourself spending more time in bed!
An AWESOME selection of movies and TV shows -- in addition to the Disney channel, there's a huge list of Disney (and non-Disney) movies on demand, including newer releases for no extra charge.
Super swanky hairdryer with attachments!
The split bath with mini-tub is perfect for when two people want to get ready at the same time.
The verandah! It's so great waking up to views of the ocean. You can order room service for breakfast or lunch and sit on the balcony and eat -- heavenly!
My daughter loved the upper pull-down bunk. An adorable detail is the night sky with Disney character constellations on the ceiling above the bed -- so cute!
The Wave Phone! Another genius idea only found on Disney Cruise Line -- the Wave Phone is a portable phone (think cell phone without outgoing calls) that allows you to call other staterooms and stay in contact with your kids while they're in the kids' club.
Special thanks to Disney Cruise Line for hosting my family on the Disney Fantasy Inaugural Media Preview Cruise. All opinions are my own.