There's no doubt that the Senses Spa & Salon is the most relaxing spot on the Disney Fantasy. Once my daughter was secured at Oceaneer Club (having a blast, mind you), I had a block of time to myself and made an appointment at the Rainforest — a heat, steam and hydrotherapy circuit that was guaranteed to relax my mind and body. The cost for this experience? A mere $16.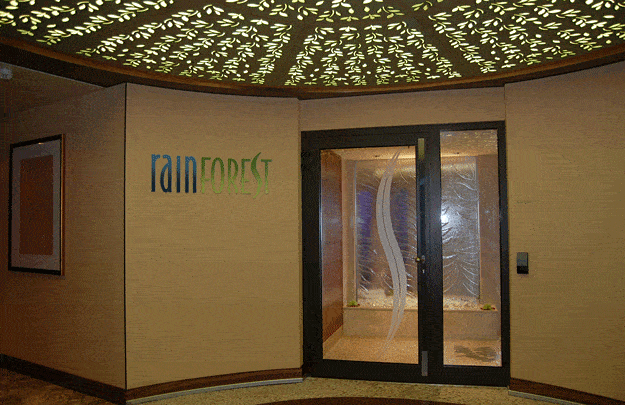 My jaw dropped when I heard the price. "Really?", I asked. This was a first for me. I don't think I've ever been so shocked about how inexpensive a day pass to the spa was. For an extra $11, I was offered a DIY scrub in my choice of Vanilla Orange, Chocolate Peppermint, Lavender Herbal or Tangerine to enhance my experience. Since we were still only talking $27, I selected the Lavender Herbal Salt Scrub (which also came with a loofah for application) and I was on my way to a relaxing afternoon.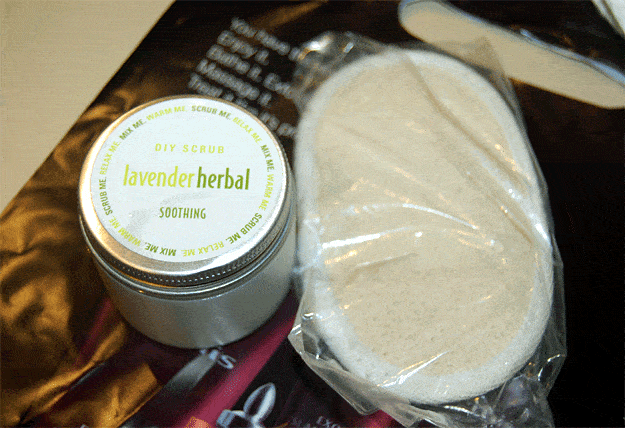 After a brief tour of the facility, I was guided to the women's locker room and handed a robe and sandals for use in the spa. Since the Rainforest is co-ed, all guests must wear a swimsuit.
I decided to go by the recommendation of one of the spa staff members and spent 10-15 minutes in each of the saunas, with a visit to a different shower between each session.
I started with the "Rainforest" shower (the warmest of the four showers) and then spent 10 minutes in the Laconium (dry sauna). I followed this with the "Water Fun" shower (my favorite — has a great mix of warm/cool water and aromatherapy with three different pressure settings) and then 15 minutes in the Caldarium (steam room).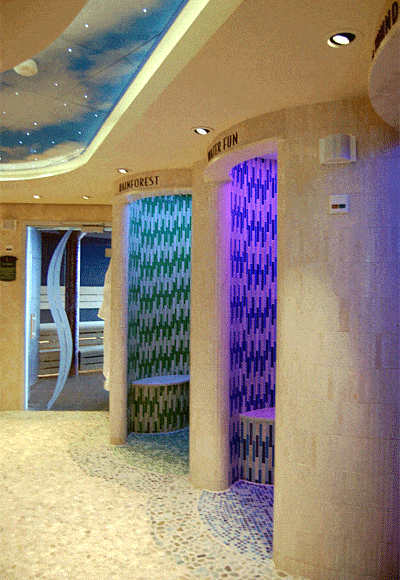 Next up for the showers was the "Tropical Storm", which I also enjoyed. There are two settings in this shower which mimic a "Southern Storm" and a "Caribbean Storm" — Each shower experience is enhanced with the use of lights, scents and sounds and was incredibly invigorating!
My final treatment room was the Hamam (steam bath), which is where I was instructed to apply my lavender scrub and to let it sink into my skin.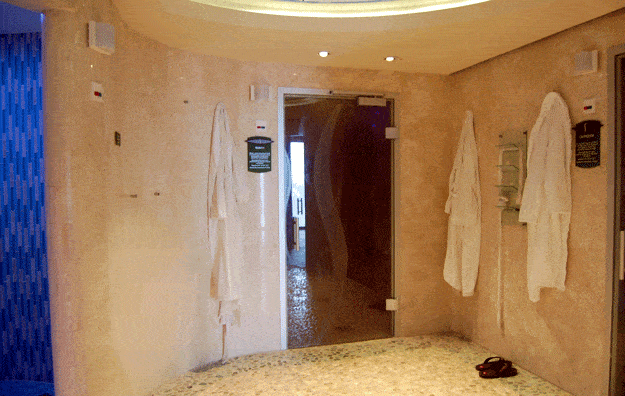 After 15 minutes, I rinsed off the scrub (my skin glowing, by the way) and showered in the "Cool Mist Experience". The showers go from warmest to coolest, with the Cool Mist "Siberian Night" setting being down right chilling — I should have known! Part of the experience of the Rainforest room is allowing your body to adjust to the warmer saunas and colder showers, so that is becomes revitalized.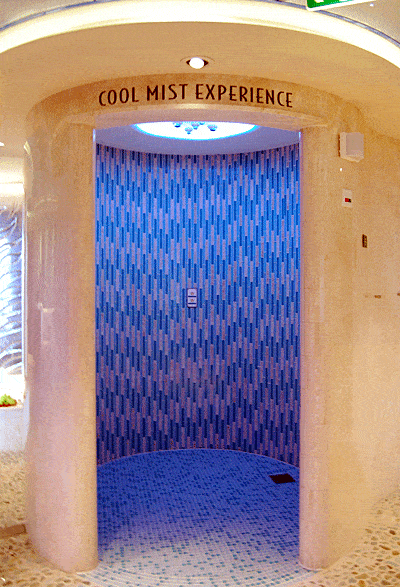 I say, mission accomplished!
Once you've had your fill of the showers & saunas, the next area is one of pure tranquility. Overlooking the ocean, a row of heated tile beds and two spa jacuzzi await you in a separate area that can only be described as "blissfully calm".
I took a 10 minute dip in one of the whirlpool tubs, followed by a 30 minutes nap on a mosaic tile lounger. I could of sleep here for hours!
This. Is how I like to cruise.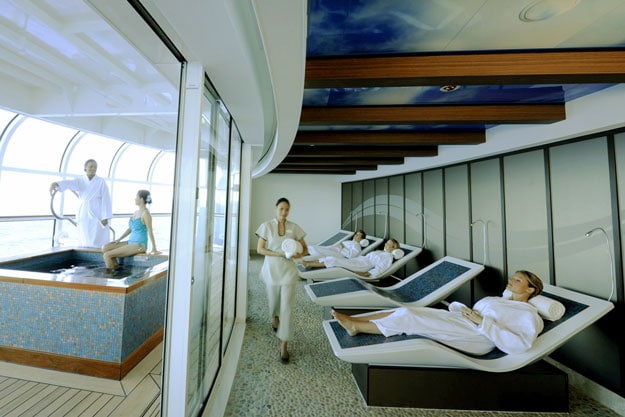 In total, I spent around 2 hours in the Rainforest room at the Senses Spa and consider it to be a bargain at $16 (or $27 with the optional scrub). If you buy your pass in the morning, you can come back as much as you'd like throughout the day with complimentary use of the spa amenities, including the locker rooms and showers with beauty products — great perk after a day at the pool or a few runs on the AquaDuck!
I didn't have time to book a treatment, but the spa menu was extensive with choices for everything from massages and facials to mani/pedis, and even acupuncture. The prices were on par with other cruise lines, if not a little better. For example: a 45 minute fire and ice manicure was only $50 … I don't think that's bad at all!
I enjoyed my experience at the Rainforest so much, I will be booking a multi-day pass on my next Disney Cruise. The Rainforest room is available on both the Disney Fantasy and the Disney Dream.
Edit 12/5/16— Since writing this article, it seems the only way to get a single spa day pass for $16 is to pre-purchase online before your cruise. Once on board, length of cruise passes are available for the following rates, plus 18% gratuity:
3 Day Spa Pass – $42
3 Day Deluxe Spa Pass (with scrubs) – $69
3 Day Couples Spa Pass – $75
3 Day Deluxe Couples Spa Pass (with scrubs) – $102
4 Day Spa Pass – $56
4 Day Deluxe Spa Pass (with scrubs) – $101
4 Day Couples Spa Pass – $99
4 Day Deluxe Couples Spa Pass (with scrubs) – $144
Enjoy this post? Feel free to post this image on Pinterest – Just hover over the image and click "Pin It".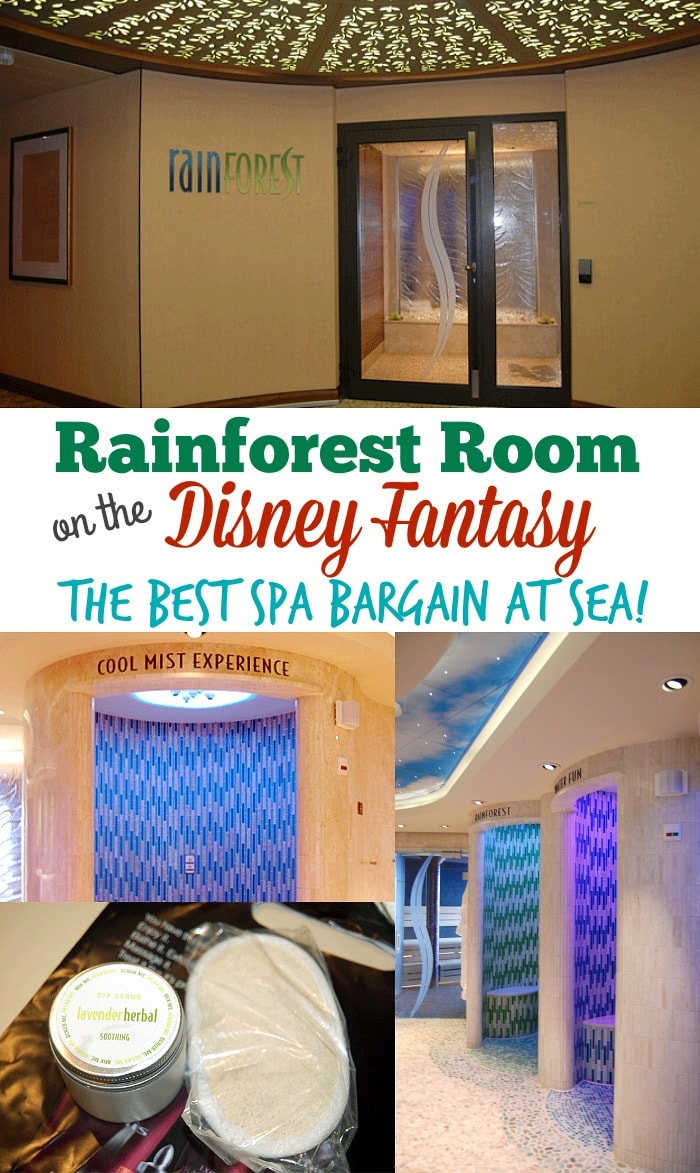 Special thanks to Disney Cruise Line for hosting my family on the Disney Fantasy Inaugural Media Preview Cruise. All opinions are my own.