A few weeks ago my family got the opportunity to check out Disney's Vero Beach Resort in Vero Beach, Florida. This Disney property is part of Disney's Vacation Club, also known as DVC. The great news is that non-DVC members can book rooms at this, and any other DVC resort -- So, you don't have to be a member to experience one of the best kept Disney secrets.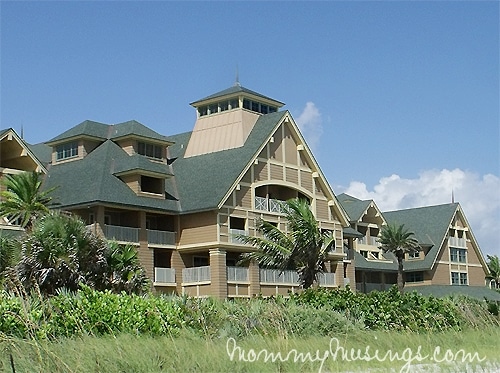 Living in Florida all my life, I really consider Disney's Vero Beach to be a hidden gem. While this was our first time heading over to the Treasure Coast, it will not be our last. I feel silly that it took us this long to get over there- obviously, we didn't know what we were missing. Disney's Vero Beach Resort is just 2 hours southeast of Disney World. After a week of fun and chaos at the Disney parks, Disney's Vero Beach is the perfect escape to relaxation.
We visited Disney's Vero Beach early in the week, Monday through Wednesday. While we definitely got a feel for the resort and a chance to relax, we learned right away to experience everything Disney's Vero Beach has to offer, a stay Thursday-Sunday is the way to go. For example, there is a Thursday night seafood buffet, a character breakfast on Saturday and a Sunday brunch- which we completely missed. The one fine dining restaurant, Sonya's, is also only open Thursday-Sunday. This doesn't mean we didn't have a great awesome time, but good info to know if you are planning a visit.
With that being said, here are 10 of my favorite things at Disney's Vero Beach Resort:
1. Pool Area & Water Slide - I have visited every one of the Walt Disney World Resorts, and I think the pool area at Disney's Vero Beach Resort is my favorite. This could possibly be because this resort is so much more intimate, but for once I actually got in the pool and swam! The water slide is also pretty cool. It looks innocent, but you definitely pick up some speed going down the corkscrew.
The kid's splash place area is also fun, very reminiscent of Disney's Caribbean Beach Resort with the pirate ship (love that it's named "Tiger Lily"). It has a mini slide and water cannons.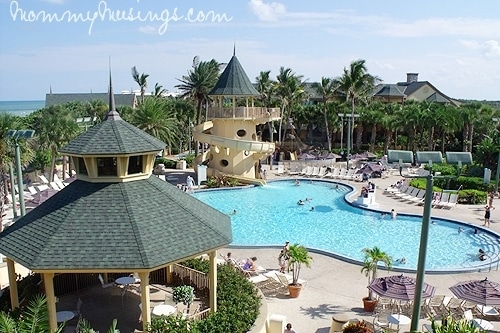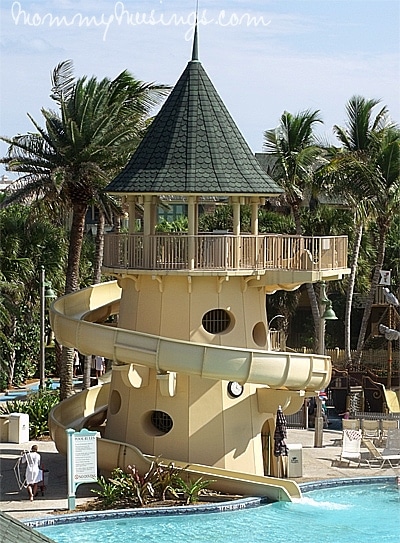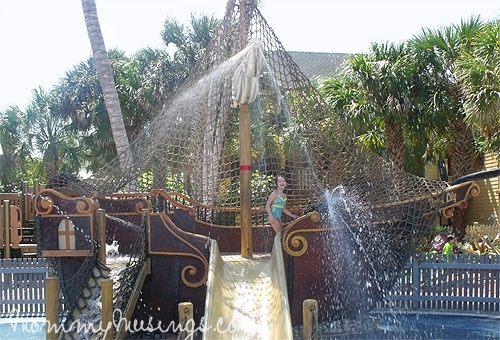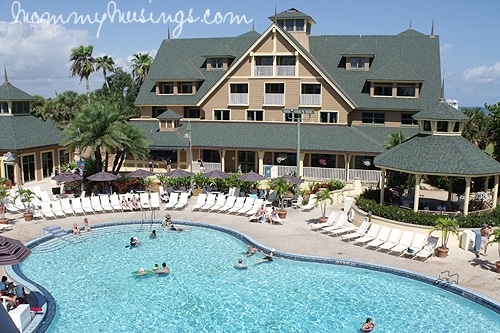 2. Campfire - Our favorite (and free!) activity was the nighttime campfire sing-a-long with roasting marshmallows. I really tried to get pictures at night, but it was a no-go. Here is what the fire-pit looks like in the daylight. I think this was the highlight of the trip for my daughter...did I mention it's free to all guests? 😉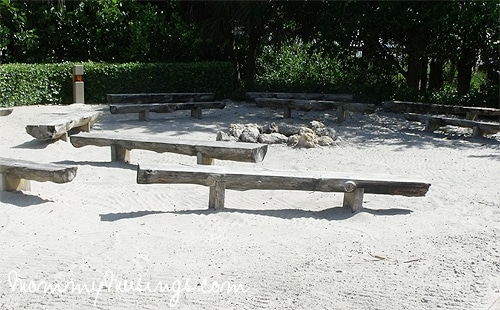 3. The Beach - The beach, of course, is the star of the show at Disney's Vero Beach Resort. We live near the Gulf of Mexico and this was actually my daughter's first time to the Atlantic Ocean. The water here is much more choppy then our side of the state, so there was no swimming in the ocean for her. Instead, this beach is all about the sand and sun! It really is a beautiful, well-kept and private beach. Only guests at Disney's Vero Beach Resort have access to this stretch of sand.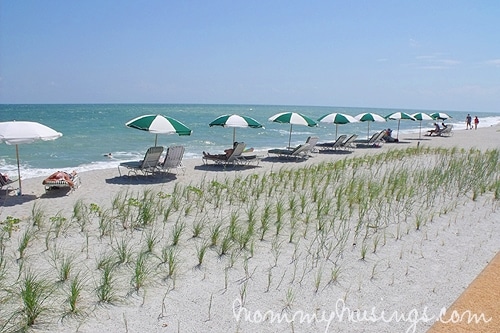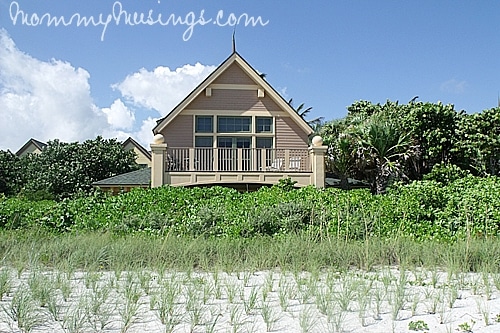 4. Seafood Boil at Shutter's - Shutter's is the on-site, casual sit-down restaurant that serves breakfast, lunch and dinner. Our first night we enjoyed dinner here. I ordered the Seafood Boil and it was awesome! If you love seafood, this is a great choice with plump shrimp, clams, oysters and crab legs accompanied by sausage, potatoes and corn on the cob. Yum!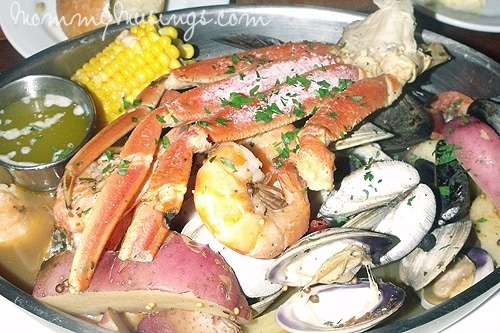 5. Miniature Golf - Miniature Golf is just one of the many activities at available  at Disney's Vero Beach Resort. Golf clubs and balls can be rented at Eb & Flo's. The good news is it's cheap to play, with a round at only $2, or $5 unlimited for the length of your stay.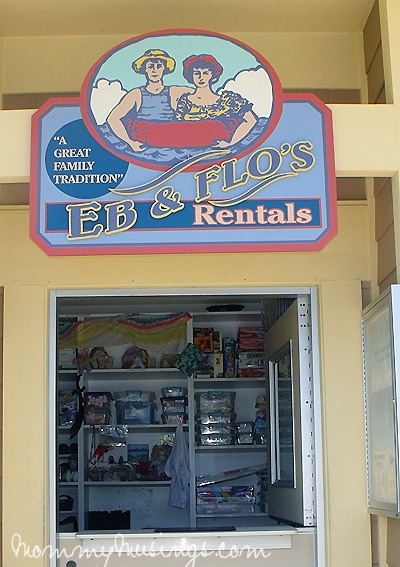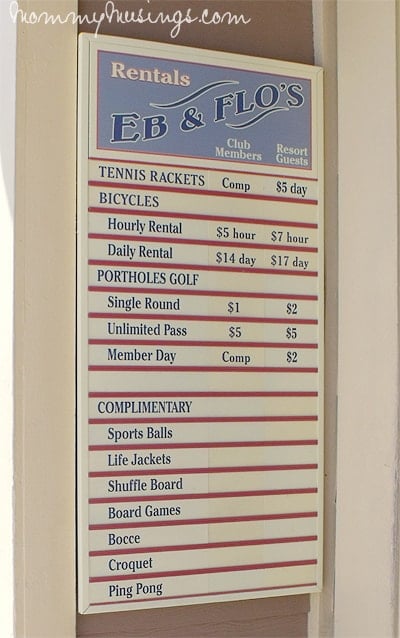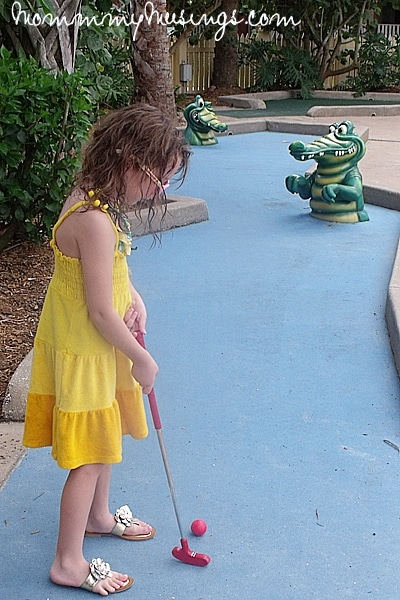 6. Hidden Mickey's - I mentioned in my pre-post that I consider Disney's Vero Beach Resort to be "Disney-lite", as the property has magical Disney touches without being over the top. Those magical touches are seen throughout the resort as Hidden Mickey's.  It never fails to put a smile on my face when I find a new one. 🙂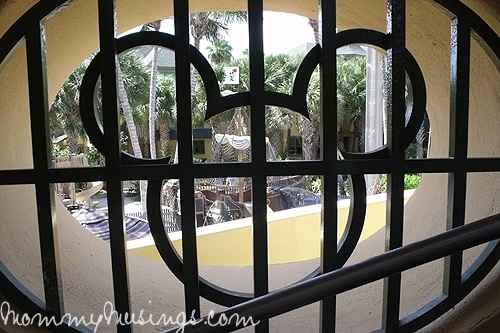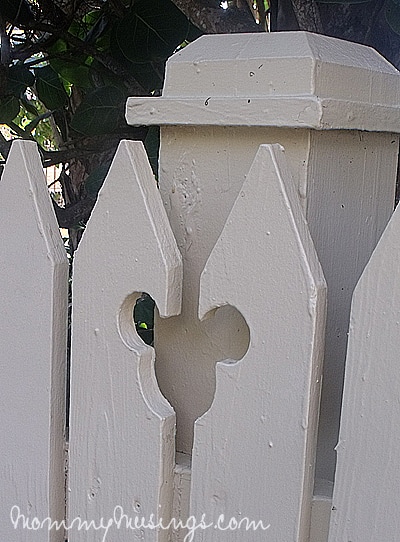 7. In Room Kitchenette - Staying at a DVC resort is a little different than a regular Disney resort. This is because DVC resorts also offer timeshare suites which are more like small apartments than hotel rooms, and which offer a lot more amenities. At Disney Vero Beach, the rooms range from studios that sleep 4, to Beach cottages that sleep 12. All rooms including, and in between, have either a kitchenette or full kitchen. We stayed in a studio which provided us with a microwave, coffee maker and mini fridge. Having this amenity allows for more freedom to eat meals in room, saving your family money. We brought a case of bottle water, some sodas and snacks for our 2 night stay.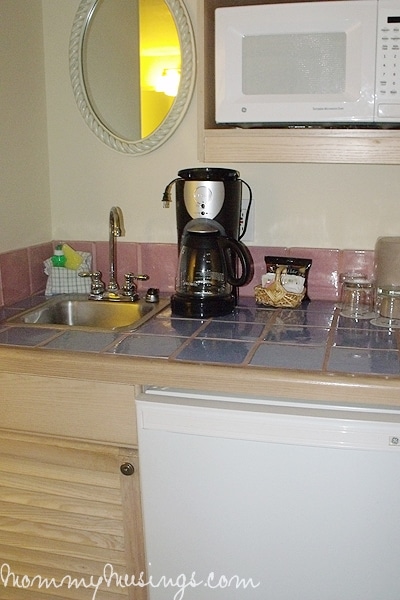 8. Pina Colada Pancakes at Shutter's - When I saw Pina Colada pancakes on the menu at Shutter's I knew I had to have them. They didn't disappoint! The topping  had a rum base with pineapple and coconut...decadent.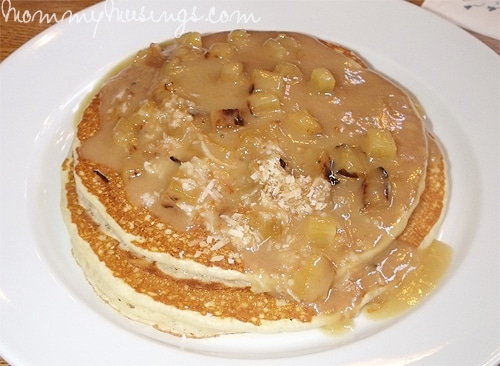 9. Turtle Conservation - Disney's Vero Beach Resorts works hard to protect and raise awareness about the threats of sea turtle nesting. There is even a program set up at the resort where you can adopt a baby sea turtle nest. Check out www.disney.com/conservation for more info.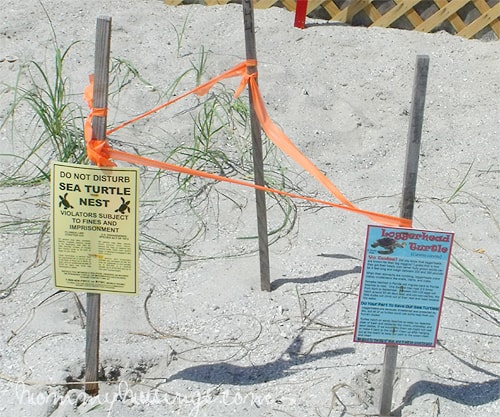 10. Resort Spa- Confession. I didn't actually get a treatment at Disney's Vero Beach Spa...but the Mother/Daughter Ice Cream Pedicure was calling my name- if I had time for it, I totally would have splurged. I did take a look around and the facilities were fabulous! Next time, a trip to the spa is on top of my list.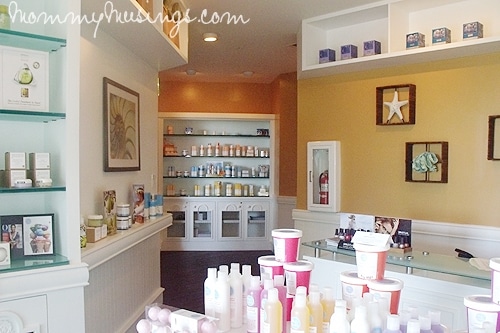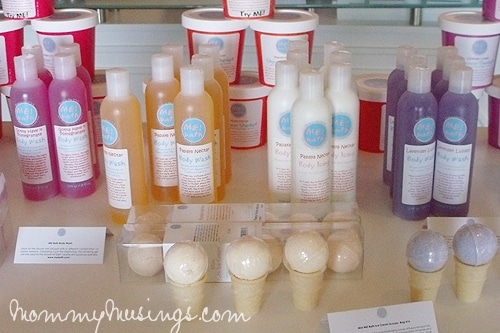 BONUS!
11. Runaway Blue Crab!
Disney's Vero Beach Resort is celebrating15 years on Florida's treasure coast. For more information, contact 407-W-DISNEY.
Special thanks to Disney for proving my family with accommodations and gift cards for dining. All opinions are my own.