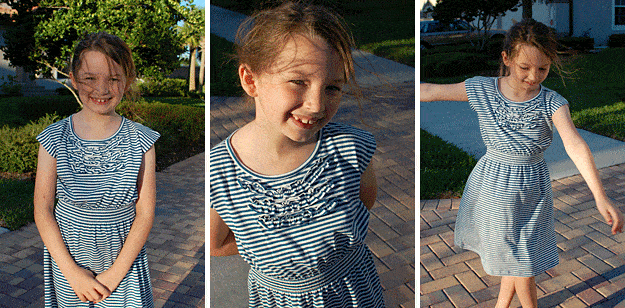 Finding cute, age-appropriate clothing for children can be challenging. Especially when you have a girl. Right now, we're in that in between stage where my daughter deems much of the clothing in her size "too babyish"-- with the alternative being too mature for an 8-year-old.
Recently, we were introduced to DownEast Girls, the cute line for girls in sizes 2-14 from DownEast Basics.
Both DownEast Basics and DownEast Girls are new to us. I had no prior experience with the brand and I let me daughter choose whatever she wanted from the spring DownEast Girls' line. I was sure she was going to pick a swimsuit, and was secretly hoping she would go for the feathered friends suit, but she surprised me and selected the New England Dress in Midnight Stripe (seen above).
When we received the dress, I knew right away it was going to look great. The quality was (surprisingly!) amazing since it only cost $24.99. The fit? Perfect! We both couldn't be more pleased.
The selection of apparel at DownEast Girls isn't huge, but from the looks of the line, it seems like you could do a lot of mix and matching with the skirts and tops-- and everything is very reasonably priced!
Beyond the price and quality, I'm loving the wearability of the pieces, which are cute and modest--  exactly what I need for my little girl 🙂
We're sailing on the Disney Fantasy this week, and the DownEast Girls' New England Dress was her choice for our first day on board.
Have you purchased from DownEast Basics or DownEast Girls?
We received the New England Dress from DownEast Girls for review. All opinions are my own.