For the past six months, I have been dealing with some pesky allergies. I really believe it has to do with our cat and the hair and pet dander that she leaves around the house. I have tried my best to keep the carpets and furniture clean to no avail...I think it all comes down to our old vacuum not being able to pick up the hair, dirt and debris that lay deep in the carpet.
That was until I received a Dyson DC23 Turbinehead Canister for review.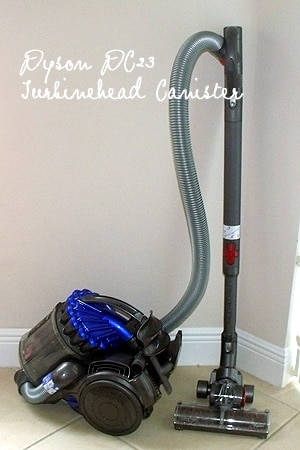 I have had this vacuum for a few months and for good reason, I haven't posted until now.
The last vacuum I owned was very expensive. Even more costly than a Dyson. Everything started out great when I first got the vacuum. It sucked up and did everything it was supposed to...that was until about a month and a half later, and everything went down hill. The vacuum stopped sucking and the bags were a hassle to change and the whole concept of vacuuming irritated me. My allergies only got worse and I knew something needed to change.
I had heard nothing but great things about Dyson and was thrilled when I received the opportunity to try one out.
It have been using the Dyson DC23 for almost 2 months now, and I can't begin to tell you the difference it has made in our lives.
First off, the Dyson DC23 really sucks...in a good way!! The very first time I used it, I was disgusted with what came out of my carpet. For testing purposes I vacuumed with my old vacuum, and then with the Dyson. The results were mind blowing. For once in my life I could actually see the pet hair coming out of my carpet!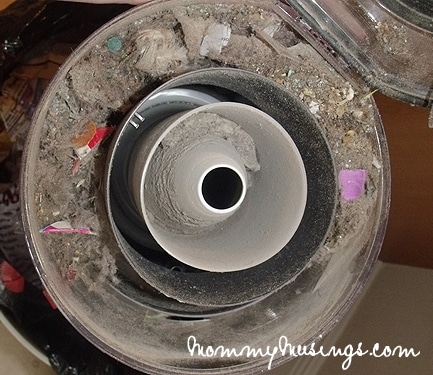 I love the canister because it requires no bags, and it's instant gratification. When I vacuum, I want to know my carpet is getting clean. I look forward to emptying out that canister every time I vacuum.
In the past 2 months, the Dyson DC23 has never lost suction. It still picks up dirt and hair as if it was the first time I was using it.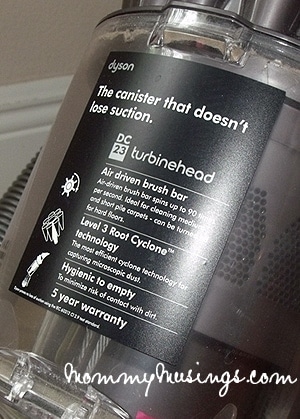 I adore the compact size which fits easily in the closet. Since my house is half carpet-half tile, the Dyson DC23 Turbinehead Canister is the perfect choice as it easily travels from one surface to another. It also has attachments which make it very easy to clean pet hair off furniture or clean between the nooks and crannies of the wall. I also love how the cord retracts into the canister for storage.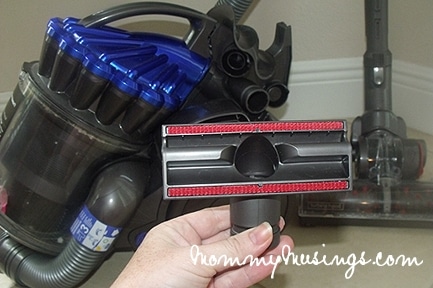 Since using the Dyson for some time, I have noticed a decrease in my allergies. I chalk it up to the fact that the Dyson picks up debris better, and I am vacuuming more because I enjoy using it so much. At this rate, Dyson is the only brand vacuum I *ever* want to own.
Check out Dyson.com for more information or to order. The Dyson DC23 Turbinehead Canister retails for $399.99 (and is worth every penny!).