Disney's FROZEN is finally (FINALLY!) out on Blu-Ray and DVD. I, for one, am beyond excited. I traveled to Los Angeles last year for the red carpet premiere, and since then my household has been obsessed with all things FROZEN. To celebrate this momentous occasion, I whipped up some Frozen Chocolate-Covered Popcorn for my daughter and I to munch on while we watched the movie tonight. Loaded with blue and white chocolate ribbons, shredded coconut and candy sprinkles, this Frozen-themed popcorn snack is sure to be a hit.
Frozen Chocolate-Covered Popcorn Treat
Ingredients
1 bag lightly salted popcorn (the combo of sweet and salty is oh so delicious!)
1/2 bag white Wilton Candy Melts
Shredded coconut
Blue Candy Sprinkles
White candy pearl sprinkles
Blue food coloring
1 tablespoon coconut oil
2 Ziploc bags (any size)
Directions
Pop bag of popcorn and place in a large bowl.
Melt 1/2 bag of Wilton Candy Melts in a double boiler. If you don't have a double boiler, the microwave method can be used, though, you can easily make your own double boiler with a saucepan and a heatproof bowl (glass, metal, Pyrex). Fill the saucepan with 2 inches of water and bring to a boil. Place heatproof bowl with melting chocolate on top on saucepan, making sure the bowl fits snugly.
Add 1 tablespoon coconut oil and stir until smooth.
Scoop half of the melted white chocolate into a ziploc bag. Be careful when handling as it will be hot. Snip a small corner of the bag and drizzle ribbons of white chocolate on top of popcorn.
Add a few drops of blue food coloring to the remaining white chocolate. Repeat step 4 with the blue colored chocolate, drizzling over popcorn.
Add desired amount of shredded coconut and blue/white candy sprinkles.
ENJOY at your next FROZEN movie night!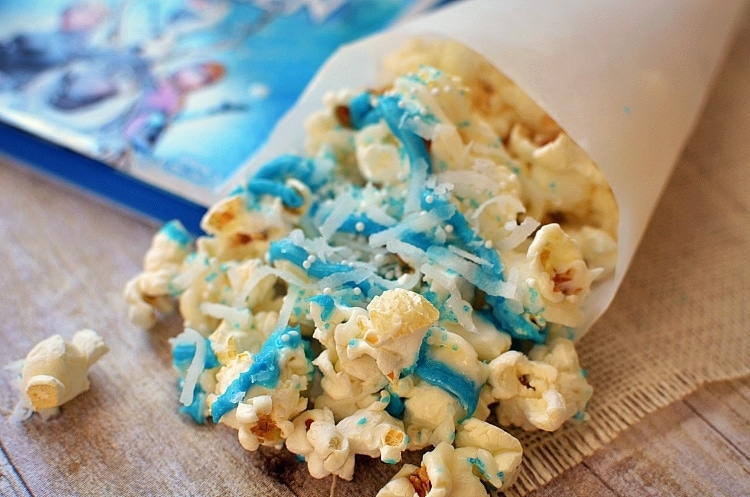 Be sure to pick up your own copy of Disney's FROZEN on Blu-ray Combo Pack today!
Haven't seen it? Check out of my FROZEN movie review.